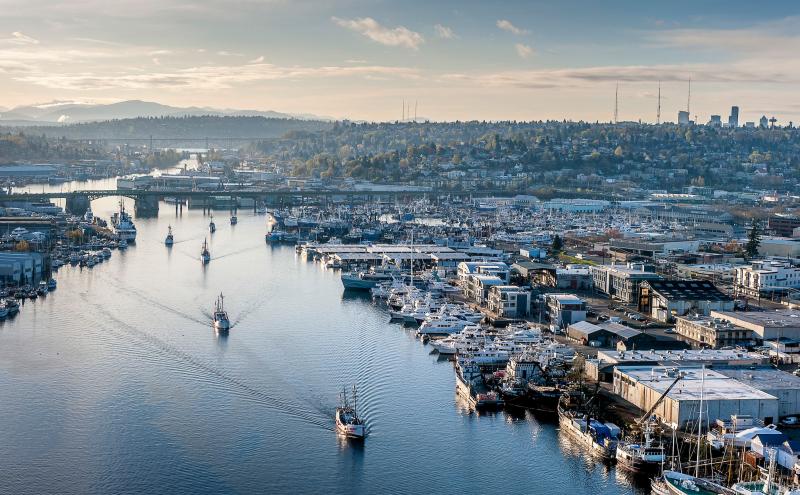 The Port is acutely aware of the far-reaching impacts that climate change is having on the region today and is planning for the future. From investing in emission reduction technologies like shore power for cruise ships to restoring natural habitats along the Duwamish, the Port is taking steps to fulfill its responsibility to address climate change. Here are some of the environmental initiatives tied to Fishermen's Terminal.
---
Certifications
 
The Clean Marina Washington program, an expansion of the EnviroStars program, helps boaters and marinas leave a healthy wake. Through this incentive-based certification program marinas assess their operations and implement improvements to better protect the environment. 

Green Marine is a voluntary environmental certification program that encourages its participants to reduce their environmental footprint by taking concrete actions. It is a rigorous, transparent, and inclusive initiative that addresses key environmental issues through its 14 performance indicators.

To become certified, participants must  benchmark their annual environmental performance through Green Marine environmental program's exhaustive self-evaluation guides. The results are verified by an accredited external verifier and published for transparency. 

The Port of Seattle was the first west coast port to be certified Green Marine.

Salmon-Safe is one of the nation's leading ecolabels with more than 95,000 acres of farm and urban lands certified in Oregon, Washington, California and British Columbia. Through their peer-reviewed certification ad accreditation program, Salmon-Safe leads the movement to implement farming practices and developments that protect water quality, maintain the watershed health, and restore habitat.
---
Solar Energy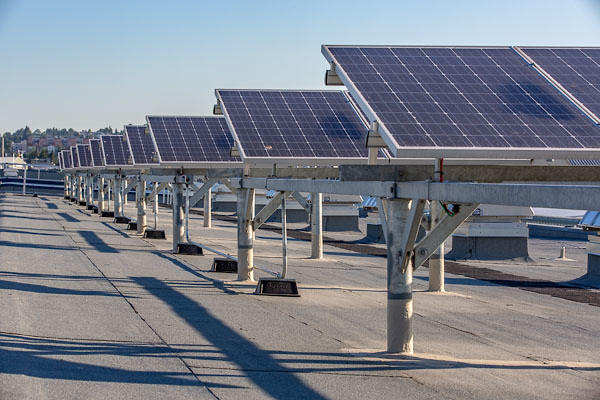 In 2017 the Port completed installation of its first solar array — a pilot project to learn more about renewable energy generation for buildings. The project installed 44 solar panels on Net Shed 5 at Fishermen's Terminal in conjunction with a roof replacement project. The net sheds are used to store gear for the North Pacific Fishing Fleet. In its first year of operation, the solar array produced more electricity than anticipated  rendering Net Shed 5 a "net zero" building. The energy that Net Shed 5 doesn't use powers other needs at Fishermen's Terminal.
---
Electric Vehicle Charging Stations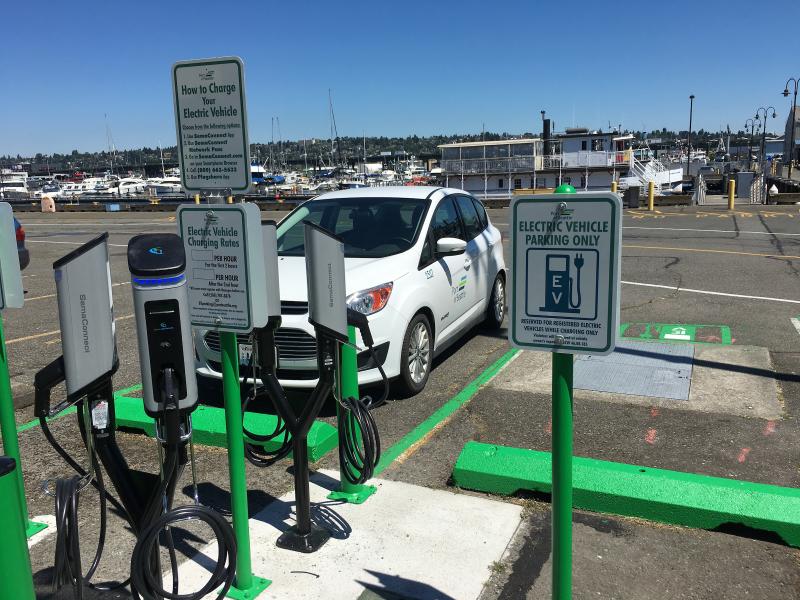 The Port adopted a green fleet policy in 2008 and since then has switched most diesel-powered vehicles to B20 fuel and increased purchases of hybrid sedans and SUVs. In 2018 the Port installed electric vehicle charging stations at Fishermen's Terminal for travelers, customers, tenants, and employee use.
---
Protecting the Orcas
 
The Port of Seattle partnered with the Port of Tacoma, the Northwest Seaport Alliance (NWSA), and other agencies, tribes and organizations to develop a blueprint for a program to reduce impacts to orcas from large commercial vessels. The Quiet Sound Program is a collaborative initiative that will — among other things — improve the reporting of whale sightings and get that information to the pilots of large vessels, so they can take action to slow down or move away from orcas. Learn more
---
Information