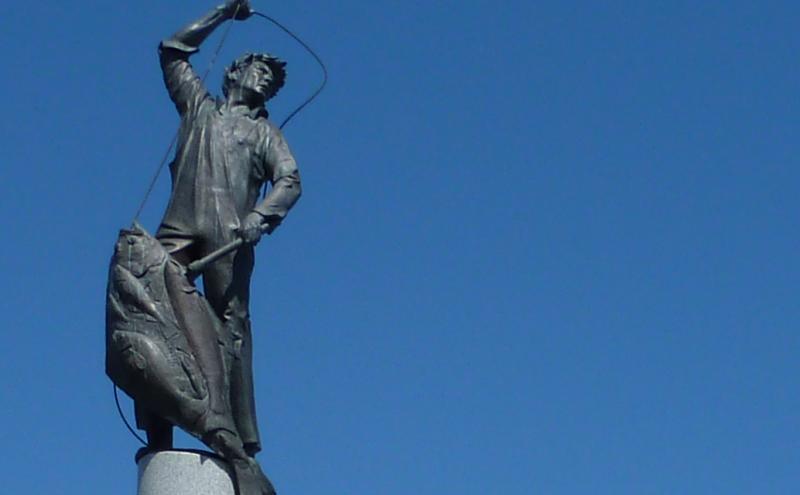 A place of reverence, reflection and healing for people in the fishing industry and their families, Fishermen's Memorial is a central feature at Fishermen's Terminal in Ballard. The magnificent bronze and stone sculpture includes plaques inscribed with the names of more than 500 local commercial fishermen and women who have been lost at sea since the beginning of the 20th century.
Each year on the first Sunday of May, a service is held to honor all of those who have died pursuing their livelihood and to place additional names on the plaques.
Support for families
A grief support professional is available at no charge to assist bereaved families. At the family's request, the committee's grief coordinator will visit the home and guide family members through the special emotional hardship that accompanies the sudden loss of a loved one.
The Educational Scholarship Fund is available for the family and other dependents of persons whose names are on the memorial. Recipients must establish financial need for tuition and fees at various types of educational institutions, such as colleges and universities, vocational and technical schools and schools providing special education needs.
Safety training
Available are "hands-on" Coast Guard-approved courses in first aid/CPR, fire fighting and vessel stability. In addition, Committee scholarships have helped fund safety drill instructor training for more than 500 commercial fishermen and women who have brought those teaching skills back to their own vessels.
Donations
Maintaining the memorial's important activities requires broad community support from both corporate donors and generous individuals who respect the commercial fishing community and value its men and women. Please contact the Seattle Fishermen's Memorial Committee for information about making a donation or our annual fund-raising events, including the Fishermen's Fall Festival in September.
Contact
Seattle Fishermen's Memorial Committee
P.O. Box 17356
Seattle, WA 98107
206-782-6577
Website
---