How to Download the Sea-Tac App
For iOS:
Open the Apple App Store and go to the search bar.
Type in "SEA-TAC" (SeaTac with no hyphen works as well.) OR Download directly!

For Android:
Open the Google Play Store and go to the search bar.
Type in "SEA-TAC" (SeaTac with no hyphen works as well.) OR Download directly!

You will see the SEA App logo and hit the "GET" button next to it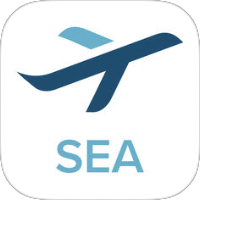 Your app will be downloaded on your homepage!
Make sure that when you open the app for the first time you select the ALWAYS ALLOW option in order to get all push notifications related to your flight and directions.
How to Use the Sea-Tac Airport Interactive Map
 Use the Search bar under WHERE IS?
 Select SHOP, FOOD, RELAX or SERVICES
To find by areas at Sea-Tac Airport by location, tap ALL at the top of the menu, a list will appear with the concourses, satellites and baggage  claim select one of the nearby locations in the top pull down menu and tap the place where you want to go or want more information on.
To view and search the entire map tap VIEW FULL MAP
Type in any (or more) of the following:
  Name

(of restaurant or retailer)

  Food Type or Genre
  Amenities
  Point of Interest
To browse select LEVELS, to realign your location select  MY LOCATION, to get directions to where you want to go hit DIRECTIONS.
Hit the DIRECTIONS button, use your current location and select GO in the top right-hand corner  and you will be guided on a route to your destination.
How to Search and Get Notified for Flights
Use the Search bar under HOME or FLIGHTS
Select DEPARTURES, ARRIVALS or ALL
Type in any of the following:
Airline

(Code or Full Name)

Flight number
City
Airport
Once you have found the flight or flights you want to track, tap it to bring up the information and menu.
You will be asked if you want to ADD THIS FLIGHT, the notifications are automatically selected this can be toggled on and off by tapping the slider.
To confirm press "YES, ADD IT NOW"  and the flight card you logged will be on your app's home.
Tap on the flight card on the HOME page for more information, to remove the flight and its notifications and to get directions to baggage claim.
Repeat the same process to add another flight. You can swipe left and right between multiple flight cards on the home page of the app.