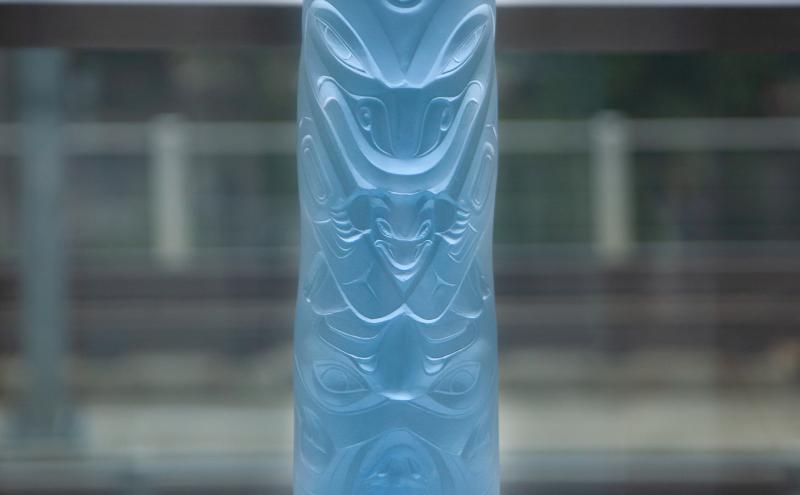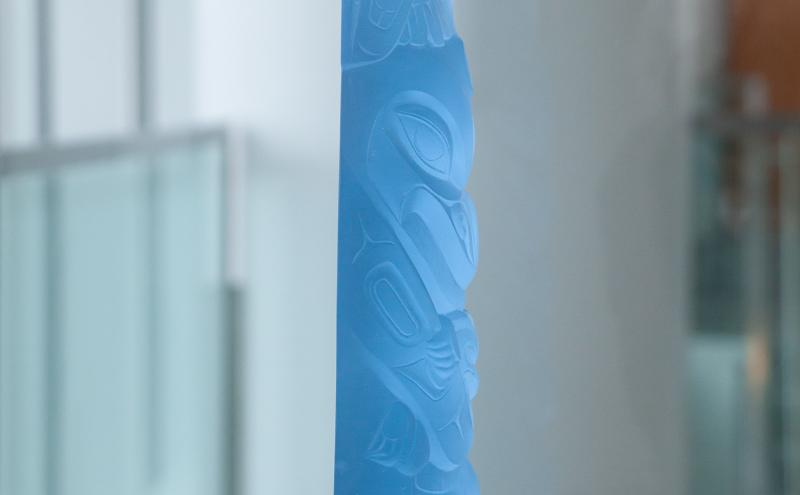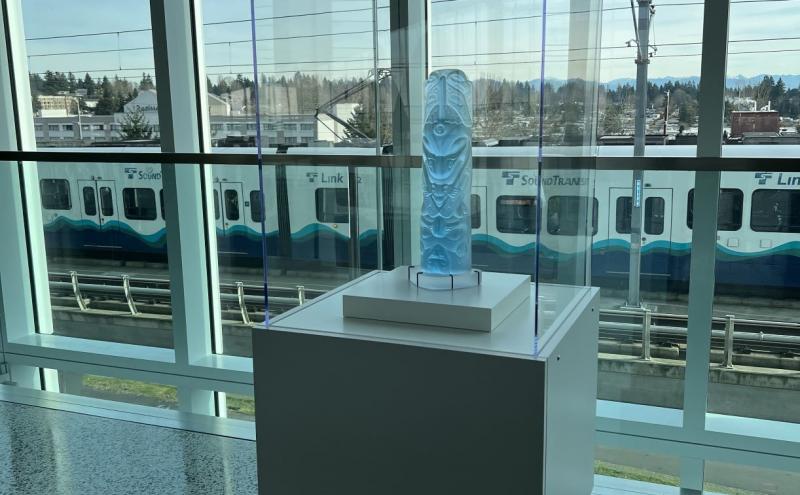 Title: Kéet
Artist: Preston Singletary
Year: 2012
Medium: Lead Crystal 
Dimensions: 20"h x 7"w x 5"d
Description of the artwork
"Kéet is the Tlingit word for Killer Whale. This is also my main crest symbol. I am Kagwaantan and from the Eagle moiety. The original wood sculpture was carved by David Svenson and depicts the Killer Whale with an Eagle on the top representing my family symbols. Emerging from the mouth of the Killer Whale is a Thunderbird, which was the clan that Svenson was adopted into. The bottom form is a double headed wolf, as a kind of soul catcher and morphing  into a three-dimensional wolf at the center.  
David Svenson spent many years in Haines, Alaska learning to carve at Alaskan Indian Arts. His teachers include John Hagen, Jenny Lyn Smith and Leo Jacobs. His cultural teachers were Edwin Kasko and Charles Jimmy Sr. David Svenson is a mentor to me and is a multi-disciplinary artist in his own right—working with wood, glass and neon." - Preston Singletary 
About the artist
Preston Singletary is a Tlingit and Filipino-American musician and artist who has garnered fame with sculptures that join European glassblowing techniques with Northwest Native culture. He started working with glass in 1982 and has since become an important figure in the international world of art. Singletary strives to inspire others from underrepresented indigenous cultures to create art that goes beyond typical style and medium.  
Singletary's artworks are included in museum collections such as The British Museum (London, UK), The Museum of Fine Arts (Boston, MA), The Seattle Art Museum (Seattle WA), the Corning Museum of Glass (Corning, NY), the Mint Museum of Art and Design (Charlotte, NC), the Heard Museum (Phoenix, AZ), and the Smithsonian Institution (Washington, DC).