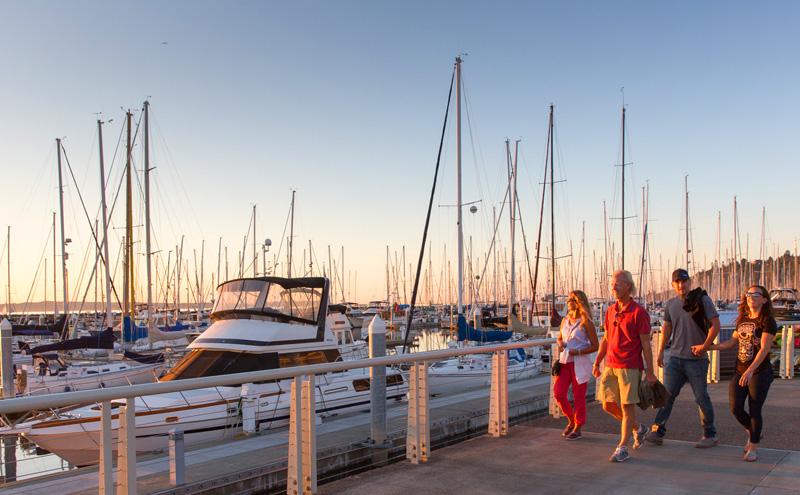 Time off to rest and rejuvenate is key to continually being a highly effective public agency. This page outlines the many types of time-off and leave benefits available to the Port's non-represented employees. Represented employees should consult their respective collective bargaining agreements regarding their specific time off benefits. Managers and employees may also refer to the HR-5: Leave policy, HR-5 Addendum, or the Total Rewards Guide (accessible on Compass) for specific administrative details about the benefits described below.
Paid Holidays
Non-represented Port employees receive 11 paid holidays per year:
New Year's Day
Martin Luther King, Jr. Day
Presidents Day
Memorial Day
Juneteenth 
Independence Day
Labor Day
Thanksgiving Day
Native American Heritage Day
Port Designated Floating Holiday (in lieu of Veteran's Day)
Christmas Day
Payday/Holiday Calendars
Paydays shown are based on a biweekly schedule
Paid Time Off
Paid time off (PTO) is personal time that may be used for vacation, appointment time, and for other personal reasons. New employees may use PTO after the completion of the six-month probation period. The maximum accumulation of PTO is 480 hours. The following chart applies to full-time employees.
| Years of service | Max. hrs. accrued per pay period | Max # days per year |
| --- | --- | --- |
| 1-3 | 6.03 | 19.6 |
| 4-7 | 7.57 | 24.6 |
| 8-11 | 8.34 | 27.1 |
| 12+ | 9.11 | 29.6 |
Voluntary Cash-out
Employees are permitted to voluntarily cash out any amount of their accrued Paid Time Off hours, provided at least two work weeks of Paid Time Off hours remain available immediately following the cash out. Cash outs are processed at your current hourly rate of pay. Specific details about cashing out PTO are available on the Compass intranet site.
Sick Leave
Most non-represented employees earn .027 hours of sick leave for every hour paid. This is equivalent to about 56 hours (7 days) of sick leave per year. 
Personal Day
Employees who are eligible to accrue PTO per the Salary and Benefits Policy Directive and are working more than 21 hours per week, are eligible to receive one (1) Personal Day per payroll year after successful completion of probation. Unlike PTO, the Personal Day must be used during the payroll year in which it is provided and is not eligible for cash out. 
Paid Parental Leave
The Port recognizes the importance of time spent with new additions to your family. The Paid Parental Leave benefit provides up to four weeks of paid time off following a birth, adoption, or foster care placement. Once your family is aware of an upcoming arrival, it's time to start planning time off to bond with your new child. Contact HR for additional details.
Family Medical Leave Act (FMLA) and Washington State Family Care Act (FCA)
The Family Medical Leave Act (FMLA) gives eligible employees the right to take job-protected leave for a period of up to 12 work weeks in a 12-month period with benefit coverage for specified personal and family medical reasons, and for bonding time with new children.
The Washington State Family Care Act (FCA) entitles eligible employees to take job-protected leave to care for specified family and medical reasons. Leave is equal to the amount of paid leave an employee has accrued. For more information, visit the website of the Washington State Department of Labor & Industries.
Shared Leave Program
The Port of Seattle's Shared Leave Program allows us to support fellow Port employees by donating accrued leave hours to those who are suffering from a serious illness, injury, or other condition.