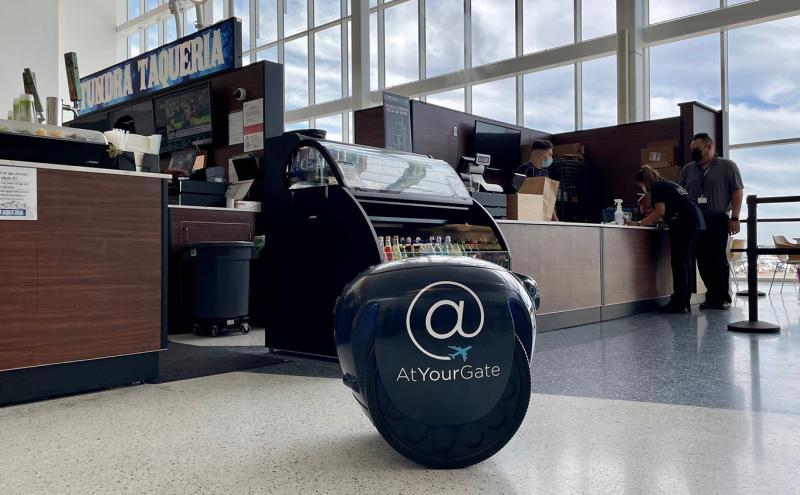 November 18 update:
Thanks to your creative genius, we are one step closer to naming the OrderSEA food delivery robot ! With a few months under its tires, our newest friend wants its own special SEA identity. So naturally we called in the experts – our travelers – and you came up with clever robot-worthy names. Now it's time to vote for your favorite of the three and help us name the robot.
And the final names are …*Drum roll*….
SEA-runner
D-Livery
Aerobot
Food and fun — what more could you ask for from an airport visit? OrderSEA, a mobile food ordering service that includes delivery to your gate, launched this summer at Seattle-Tacoma International Airport (SEA). Not standing in line is a bonus, but getting your grub delivered by a robot is next-level cool.  
The OrderSEA robot is small, sleek, and happy to work hard for you. Meal delivery by robot will save you time, keep you out of crowds, and give you peace of mind. And maybe even make you smile.
Name the robot! 
With a few months under its delivery belt, the robot no longer wants to be known as "Hey Robot!" So it's time for a new name and we need your help. 
Share your creative robot names!  
Deadlines 
Submit your name ideas between 10:00 a.m. on Monday, Oct. 25, and 5:00 p.m. on Friday, Nov. 5 
A list of the top names  will be published on this page on Tuesday, Nov. 16  
Public vote will take a place between 10:00 a.m. on Tuesday, Nov. 16, and 5:00 p.m. on Tuesday, Nov. 30  
The final name will be announced on Tuesday, Dec. 14 
For inspiration 
What do you like the most about the Pacific Northwest? Seattle-Tacoma International Airport (SEA) reflects the best things about our region and all residents, and so should this robot. 
Here are a few inspiring ideas for what we love the most about our region: 
Innovative — never happy with the status quo and forward looking 
Technology-forward — what other region can boast that they're the home for global technology companies? 
Considerate — customer service that is friendly, kind, proactive, and helpful 
Diverse — we celebrate the history, heritage, and rights of everyone in our region 
Culture — leading in art, music, and food from all cultures 
Beauty and nature — organic materials, beautiful vistas, and natural splendor 
Naming guidelines 
Any submitted names that do not meet these guidelines will be disqualified 
1. Names should represent one of the SEA values:  
Helpful: Intelligent, Empathic, Anticipatory, Proactive, Guiding  
Discovery: Delightful, Engaging, Surprising, Invigorating, Experiential 
Natural: Uncomplicated, Instinctive, Vivid, Authentic, Comfortable, Green/Sustainable 
Efficient: Considerate, Respectful, Productive, Effortless 
Original: Creative, Individual, Local, Personal, Authentic, Diverse, Unique
2. Names should be inoffensive and appropriate and represent positive values of the Port 
3. Names should not represent actual individuals, living or deceased 
4. Names should be gender neutral 
5. Any person submitting a name agrees that the Port can use their name, likeness, social handle, and robot name to promote the naming campaign and OrderSEA service. 
6. Port and SEA Leadership will vote on the final name from the list of top names that comply with the stated guidelines
Announcements 
Be the first to find out the top selections and final name announcement by subscribing to FlySEA newsletter!  

Top names and final selection will be announced on other platforms following the announcement in the newsletter.  
How to submit a name 
1. Check that your name submissions comply with these guidelines  
2. Provide background on why you chose this name and how it relates to SEA Airport and its values. Don't forget your name, social handle, and phone number.  
3. Email your submission to SEAsocial@portseattle.org, with "OrderSEA robot name" in the subject line.
Name submission period runs from 10:00 a.m. on Monday, Oct. 25, to 5:00 p.m. on Friday, Nov. 5
Submissions received after 5:00 p.m. on November 5 will be discarded
4. Port or SEA Airport staff may contact you by email if additional details are needed
By submitting a name, you agree to be featured on the Port's website or social media. And you may even be photographed with the robot!  
 Fine print 
Port and SEA Airport leadership will select the final name  
No monetary prize will be given to the submitter of the chosen name
Voting 
We will announce a list of top names on Tuesday, Nov. 16 on social media
Voting can take place on social media polls and by submitting your favorite name to SEAsocial@portseattle.org, indicating "OrderSEA name vote" in the subject line.