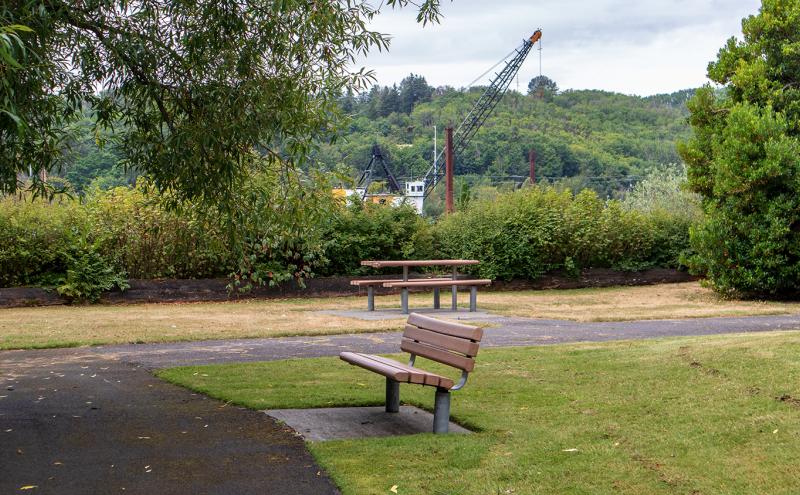 Map & Directions

Latitude, Longitude

473338° 0' 0" N, 1222040° 0' 0" E

General Information

sbəq̓ʷaʔ Park and Shoreline Habitat (formerly Terminal 108/Diagonal Park) is probably the best small boat launch site on the Lower Duwamish Waterway (LDW). Protected by a small indentation at the end of Diagonal Way, sbəq̓ʷaʔ Park offers plenty of parking and is notable as one of approximately 12 habitat mitigation areas along the LDW shoreline. It's a perfect site to watch tugboat activities or have a picnic lunch. Hours are from dawn to dusk.
sbəq̓ʷaʔ Park and Shoreline Habitat
sbəq̓ʷaʔ (s-bah-qwah) is the Great Blue Heron. Spoken by Warren King Geoge, historian for the Muckleshoot Indian Tribe. 
Formerly: Terminal 108 Park/Diagonal Park
Next time you're traveling on 99/E Marginal Way just south of the West Seattle Bridge, take a few minutes to explore this beautiful riverfront park. Just a few hundred feet from SR-99 leads you to one of the best, expansive views of the Duwamish River where you can see barges, great blue herons, and even seals if the tides are right.
Coast Salish uses and history
sbəq̓ʷaʔ Park and Shoreline Habitat is located near the ancestral site of the Indigenous water-related place, c̓əqas (TSU-kas), "Something Muddy." This site was where the original Duwamish River split into two major channels. This exact site was once on Mud Island, along the largest river channel called, xwEq3 (WHU-k). This area was rich in wildlife and fish habitat due to the intersection of river, tidal saltwater, land, and marsh. The largest of the branches into which the Duwamish River divides at its mouth, this area is known as tcE'btcEbid "Fir Trees on the Ground, Place for Harvesting Bark for Fuel (dry bark)". 
Settler uses and history
In the first decades of the 1900s, the river and estuary were straightened and deepened to facilitate industrial uses. The land today in the approximate area, and a half mile east, was created by filling in the Duwamish River channel and marsh extending east to Beacon Hill and west to the West Seattle peninsula. As a result, the land the park sits on is only about 100 years old.
Industrial uses and history 
In the 1930s, during the Great Depression, the site had large, semi-permanent informal settlements by people needing housing and community. King County purchased the site in the 1930s and constructed a sewage treatment plant, operating from 1940 to 1968. The treatment plant effectively rerouted treated sewage from Lake Washington to instead go into the Duwamish River. This helped clean up Lake Washington by instead polluting the Duwamish River. Decisions like this were tied to discriminatory practices at the time such as redlining and racial biases by local civic leaders.
In 1968 the treatment plant closed, and the site was purchased for the purpose of constructing a chemical processing plant and pier. In the late 1970s, the former King County sewage treatment ponds here were used to dispose of heavily polluted PCB contaminated sediments resulting from a spill at a nearby federally operated shipping facility. The Port of Seattle purchased the area in 1984 and cleaned it up to develop a marine cargo facility. From 1987 to 1995, this site was used for marine container cargo services and dry bulk cement shipping.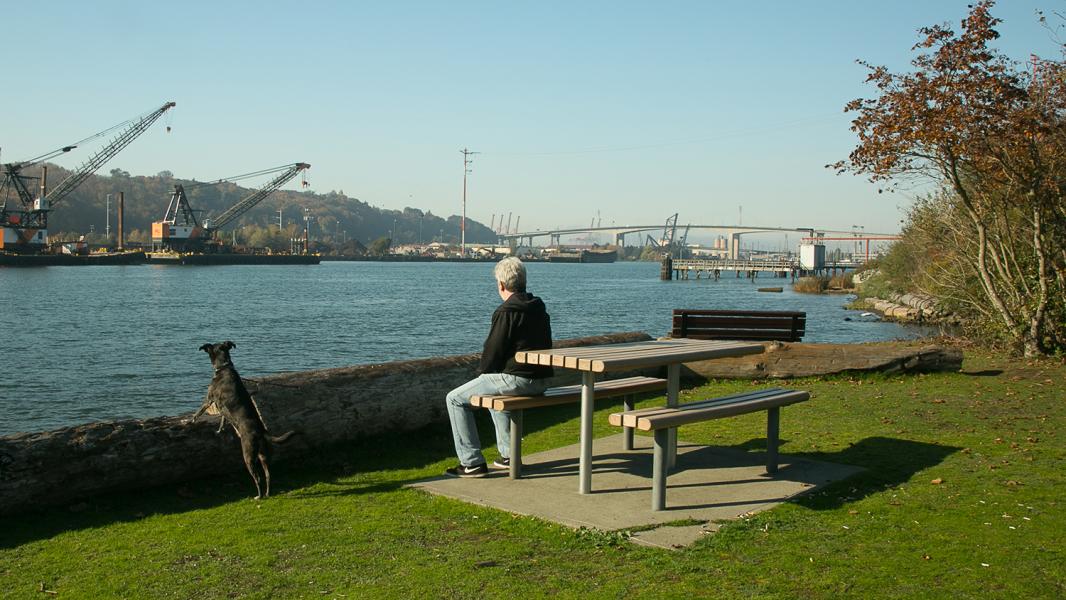 Conservation uses and history 
The present public shoreline access site was constructed in three phases between 1986 and 1994. Phase 1 included 0.4 acres of inter-tidal (spanning water and land) fish and wildlife habitat restoration and a shoreline pathway. Phase 2 of site improvements included installing native vegetation on 1.2 acres of public access land. Phase 3 installed native vegetation landscaping, seating, tables, a water fountain, two interpretive panels, and shoreline access. Since 1994, 310 linear feet of shoreline was improved to stabilize the riverbank with marsh, native trees, and shrubs, and anchored large wood to both provide erosion control and wildlife habitat.
Community uses and history 
In 2015, three acres of the shoreline were chosen as one of seven sites used for public art and performances as part of the Duwamish Revealed Arts Festival. Giant shipping container sculptures covered the site and were the set for multiple performances. At one performance, hundreds of spectators sat on the shore and watched an aerialist dancer dance on water after descending from a moon sculpture held 50 feet aloft by an industrial construction barge.
Lushootseed is a Coast Salish Indigenous language spoken by many tribal communities in the Puget Sound region. The Duwamish River area has ancestrally been, and still is, a very active cultural area for Indigenous peoples from many backgrounds. This area is also one of the most ethnically and linguistically diverse in the city. Many immigrant and refugee communities are residents or have cultural connection to the area, especially Latinx, East Africans, Southeast Asians, and Pacific Islanders.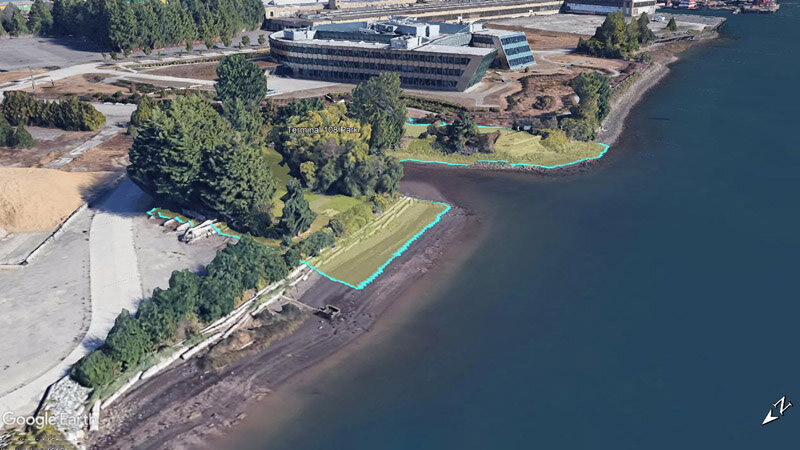 Public shoreline access features
Beautiful wide river view from elevated position
Public shoreline access with rocky beach area
Seating and picnic tables
275 feet of paved pathway
Small formal landscaped park area with lawn and native vegetation
Salmon Safe Certified Park
Views of passing barges and vessels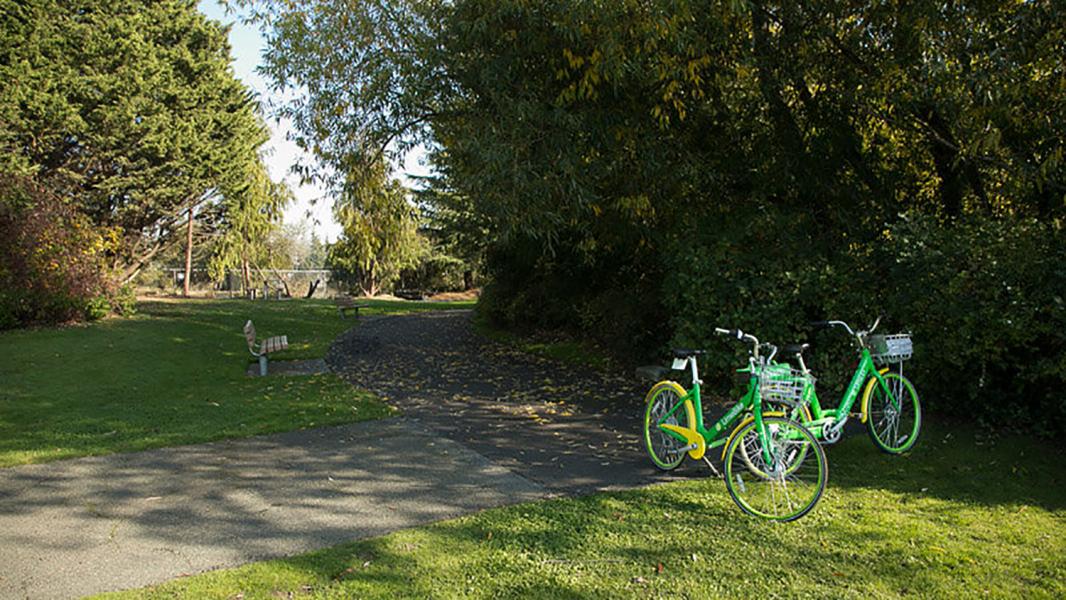 ---
Sources:  
Blomberg, G. (2020). Sr. Environmental Program Manager, Port of Seattle. (G. Lee, Interviewer) Seattle.  
Buerge, D. M. (2020). Historian and Author, "Chief Seattle and the Town That Took His Name: The Change of Worlds for the Native People and Settlers on Puget Sound". (G. Lee, Interviewer) Seattle.  
Burke Museum of Natural History and Culture, et al. (2014). The Waterlines Map. Retrieved from https://www.burkemuseum.org/static/waterlines/project_map.html  
ECOSS. (2015). Duwamish Revealed: A creative celebration of Seattle's only river. Retrieved from Duwamish Revealed: http://www.duwamishrevealed.com/  
Hilbert, V., et al. (2001). Puget Sound Geography: Original Manuscript from T.T. Waterman. Federal Way: Lutshootseed Press.  
Lewarch, D. (2020). Tribal Historic Preservation Officer, Suquamish Tribe. (C. Billingsley, Interviewer)  
Medina, R. M. (2020). Friends of Georgetown History, Board President. (G. Lee, Interviewer)  
Port of Seattle Terminal 108 Cleanup. (2011). Terminal Overview. Retrieved from http://cleanupsites.org/t108/mainlink03.html  
Waterman, T. (1922). The Geographical Names Used by the Indians of the Pacific Coast. The Geographical Review, pp. 12:175-194.