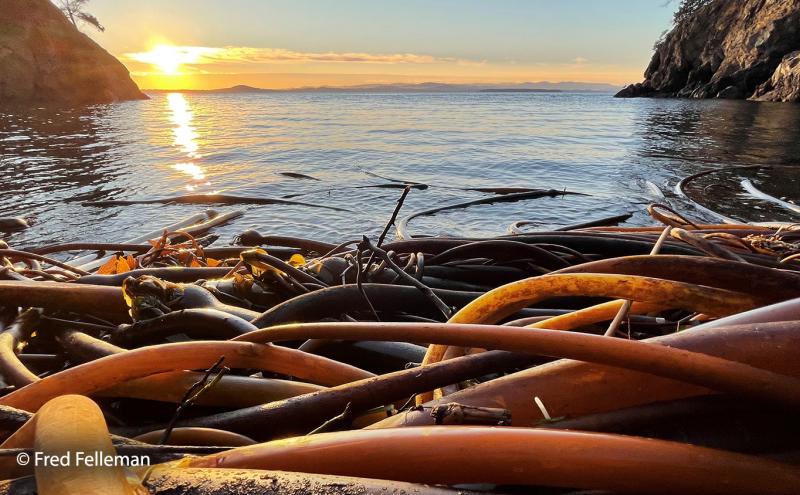 Feb 04, 2022
The more the effects of climate change descend upon us, the more we realize that every aspect of nature is threatened by it. The good news though, is that our understanding of the tools nature has to offer to combat climate change is growing as we continue to appreciate how all of nature is interconnected.
That's a big reason why kelp is stepping into the limelight. When it comes to climate change, kelp is to the ocean as trees are to the landscape. Just as tree forests suck carbon out of our air, kelp forests sequester carbon in the ocean. According to the Puget Sound Kelp Conservation and Recovery Plan, 27 to 136 metric tons of carbon are absorbed by kelp forests in Washington state every day!
And the comparison goes on. Like their cousins on the hillside, kelp forests provide habitat for wildlife to live in, provide shelter from predators, and food for nourishment. Of course, humans eat kelp too, and new research suggests that kelp could be a big climate change solution when it comes to providing food for cattle — specifically, kelp helps cows belch much less methane — the second most threatening greenhouse gas.
So, on behalf of the Port of Seattle I want to thank Washington State Senator Liz Lovelett (Anacortes) and Representative Sharon Shewmake (Whatcom County) for offering legislation (SB 5619/HB 1661) that would have our state "…conserve and restore 10,000 acres of kelp forests and eelgrass meadows by 2040."
The bill sponsors have also incorporated an amendment — see section 2 (1) (c)) — I championed with the Port that will lead to greater opportunities for  public awareness, engagement, and action related to kelp, so we can all participate in protecting and restoring kelp forests, and thereby help restore nearby ocean ecosystems and reduce the impacts of climate change.
Thanks to Commissioner of Public Lands Hilary Franz for having the Department of Natural Resources request the legislation. It's grounded in two reports, the 2020 Puget Sound Kelp Conservation and Recovery Plan and the 2015 Puget Sound Eelgrass Recovery Strategy. Thanks also to the Puget Sound Restoration Fund, the NW Straits Commission, SeaGrant, NOAA, DNR, the Puget Sound Partnership, and everyone who contributed to producing the reports and supporting this legislation.
Both bills passed their committees recently with no opposition and they've been sent to the House Appropriations and Senate Ways and Means Committees. They'll need to move out of these fiscal committees before Feb. 7 to keep advancing this session.
The Port is proud to advance the use of kelp to protect and restore the Salish Sea. It's good for the climate and the marine ecosystem as well as the fisheries and the jobs that depend on a healthy marine environment.
Between now and February 7, the Port will be working with legislative champions to ensure that the legislation continues to advance. Watch my testimony on the legislation here.
Subscribe to receive email updates from Commissioner Felleman