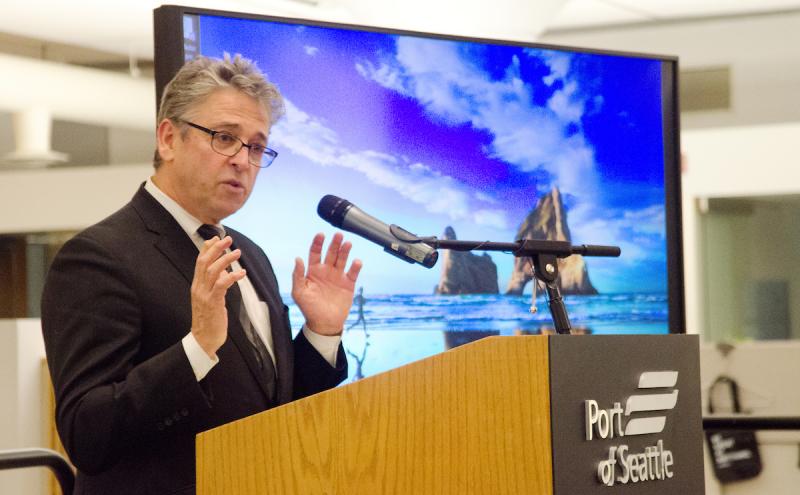 Mar 12, 2019
Editor's note: On March 7 and 8, the Port of Seattle co-sponsored the first Sustainable Aviation Fuels Summit to bring Washington's most innovative industries together to develop a local supply chain of clean and sustainable fuels for aviation.    
Welcome to the Washington Sustainable Aviation Fuels Summit. On behalf of the Seattle Port Commission it's my honor to provide these opening remarks to such a great assembly of national experts in the field of Sustainable Aviation Fuels (SAF).
I'm Port of Seattle Commissioner Fred Felleman. I was elected to the Port three years ago with a mandate to help the Port achieve its ambitious goals of being a nationally recognized Green Gateway.  I view this conference as taking another step towards achieving that goal.
I'd like to start by thanking our hosts Earth Day Northwest 2020 for their great work helping to pull this conference together and our sponsors, Boeing, Alaska, and Delta Airlines. They are key players if we are to be national leaders in the development and use of Sustainable Aviation Fuels. 
I also want to thank World Energy, Mabus Group, Van Ness Feldman, and Noyes Law Corporation for their sponsorship. 
We appreciate the efforts of all the attendees including leaders in academia, business, government, and the public who recognize that we are at an urgent time for our environment and it will take all of us working together to make a prosperous clean energy economy.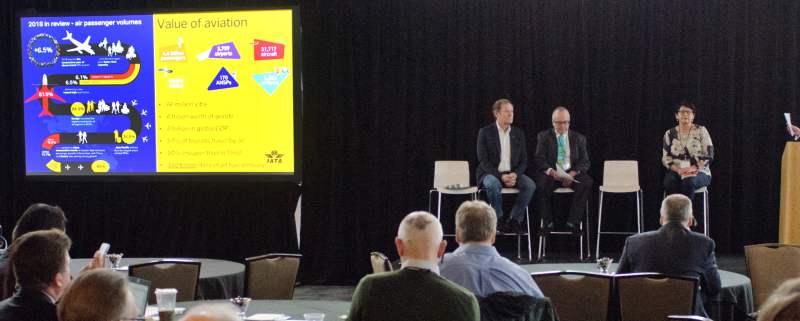 Climate Change Is Real
Documentation of the impacts of climate change are no longer relegated to scientific papers for they are ubiquitous — from dramatic shifts in weather resulting in uncharacteristic floods, freezes and wildfires, to increasing ocean acidification and declining populations of orcas and fish on which we all depend.
While the International Civil Aviation Organization and International Maritime Organization (IMO) have taken steps to reduce the carbon emissions of their sectors, the 2015 Paris Accord exempted ships and airplanes from needing specific GHG reduction goals.
Back in August 2016, the EPA made a jeopardy finding regarding the impacts of GHG emissions from airplanes on public health and welfare.  But given the current Administration's reliance on alternative facts and the glacial pace of international accords, juxtaposed with the urgent need to reduce our carbon footprint, it's critical that we exert our own leadership in this region. 
We greatly appreciate this opportunity to learn from all of you regarding efforts that have been made around the world so that we may be able to adopt best practices here.
The State of Washington is already a leader in the advancement of scientific innovations in aviation, agriculture, and the environment.  All of these sectors are now converging in the development of sustainable aviation fuels across Washington State and the region.  
Port Helps Lead SAF Development
The Port of Seattle has a unique role to play if we are going to bring this concept to reality.  As a public agency operating Sea-Tac Airport, we have responsibilities to the traveling public, our airline partners and cargo carriers, as well as to the health of our neighboring communities and the broader environment.   
The Port also serves as a bridge between the producers and users of aviation fuels. And we have the ability to exercise the policy leadership that can help to create the market demand for alternative fuel use. I'd like to briefly review some of the Port's history in helping to lead this effort. 
July 2010
In July of 2010 the Port became a founding member of Sustainable Aviation Fuels Northwest. The SAFN initiative, as it's known, consisted of representatives from the entire biofuel supply chain. 
Its 2011 report, "Powering the Next Generation of Flight," has guided subsequent policy discussions at state and federal levels. 
2016
In 2016 the Port followed up that effort with a report in partnership with Alaska Airlines and Boeing, evaluating how best to integrate SAF into the airport's fueling infrastructure. 
2017
Another report released in 2017, in partnership with the Rocky Mountain Institute and Sky RNG, explored funding mechanisms that could be used to help lower the incremental cost between SAF and conventional jet fuel. 
 
In an effort to apply all the good work the Port had done previously, I championed a motion the Commission passed in December 2017, with a goal of using a 10 percent mix of SAF in the jet fuel used at Sea-Tac within 10 years. 
Subsequently, the Port negotiated an MOU with 13 airlines formalizing a commitment to work together to develop a strategic plan to reach this ambitious goal that would result in the utilization of approximately 80 million gallons of SAF annually.  
2019
We have also put our money where our mouth is.  Our 2019 budget includes a $5-million line item to help us identify regionally-sourced sustainable feedstocks and to identify ways they can be used cost-competitively at Sea-Tac.
Currently, Washington state is home to several innovative biofuel production companies.  But they're selling their products to California, Oregon, and British Columbia, jurisdictions with policies that make the use of sustainable fuels cost-competitive.
To address this disparity we have made the passage of State legislation (HB 1110) creating a Low Carbon Fuel Standard with an opt-in provision for aviation fuels a priority of this legislative session.  
I want to thank Climate Solutions for their leadership in this effort — now it's time for all of you to join in. Our airlines can clearly lobby for an opt-in standard, along with our maritime partners and fuel producers.  I'm delighted to learn that some of you had already made it to Olympia yesterday.  You will hear more about this essential undertaking later in our program.
SAF in Transportation
Today, the transportation sector is Washington's most significant contributor of greenhouse gases and among some of the state's leading sources for particulate matter.
 While cars and trucks have market-ready options that could dramatically reduce GHG emissions and particulates, there are currently no other options for aviation than switching to an alternative fuel source now. Furthermore, improvements in the efficiency of new on-road vehicles has resulted in a decline in fuel use, but increases in air travel have resulted in overall emissions going up. There are significant hurdles we will hear about today from finances to feedstocks, as well as the regulatory and political climate. 
So I want to welcome you all here today. I hope there is a robust conversation and that we can air (so to speak) questions, doubts, and fears about the future.
But in the end I hope we can coalesce around the latest science and our shared optimism that we can make sustainable aviation fuels production and use in Washington State a reality.   
Summit Speakers
Ray Mabus
Now I will introduce Former Secretary of the Navy Ray Mabus who has done more to bring biofuels to a reality than almost anyone on the planet. 
Secretary Mabus has been a change leader throughout his career, from attacking entrenched public corruption as Mississippi's State Auditor in the early 1980s to revolutionizing the Navy and Marine Corps as the longest serving Secretary of the Navy since World War I. He has also served as Governor of Mississippi and Ambassador to the Kingdom of Saudi Arabia. 
As Navy Secretary throughout President Obama's two terms, Mabus led America's sailors and Marines in a time of two wars, rebuilding the U.S. fleet, and revolutionizing the Navy's energy use by moving toward alternative fuels.
Mike Wolcott, Ph.D.
Dr. Mike Wolcott is a Regents Professor and LP Distinguished Professor in Washington State University's Department of Civil and Environmental Engineering. He currently serves as the Associate Director for Research and Director of the Office of Clean Technology. 
Since 2017, Wolcott has served as the Director for the Aviation Sustainability Center (ASCENT), which is the FAA Center of Excellence for Alternative Jet Fuels and the Environment. 
This morning he will be offering a look into the fuel feedstock options for Washington.