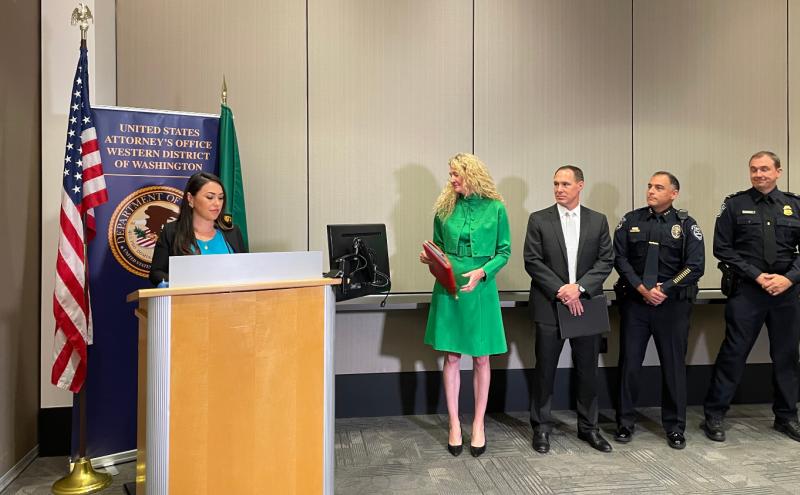 Sep 18, 2023
On August 9, 2023, I joined Acting U.S. Attorney Tessa Gorman, FBI Agent Richard Collodi, and King County Sexual Assault Resource Center CEO Mary Ellen Stone in raising awareness of the disturbing trend of sexual assaults occurring on aircrafts.
Predatory behavior is unacceptable, and we convened this conference to put perpetrators on notice that sexual assault is a crime everywhere, and when it occurs on an aircraft or in an airport, it is a federal crime. Acting U.S. Attorney Gorman also asserted that sexual assault on an aircraft is a federal crime, that ALL allegations of sexual assault will be investigated, and that her office, the Department of Justice of the Western District of Washington, will fully prosecute these crimes. We shared information about the current cases being tried in federal court and gave tips to travelers – particularly young people and their guardians – on strategies to promote safety for themselves and people around them. We felt this was particularly important given that travel generally is at an all-time high, and that seasonally (around summer and Labor Day) minors travel alone more frequently.
Thanks to our partnership, we are getting the message out about sexual misconduct on aircraft. In addition to hopefully preventing future incidents by deterring offenders and promoting awareness among travelers, we hope that more people will come forward to report incidents that may have taken place. Unfortunately, we do believe that sexual assault, generally speaking and on aircrafts, goes underreported.
Here are links to all our remarks and to the FBI's "Be Air Aware" campaign, with a QR Code that will take you to their reporting website, https://tips.fbi.gov/: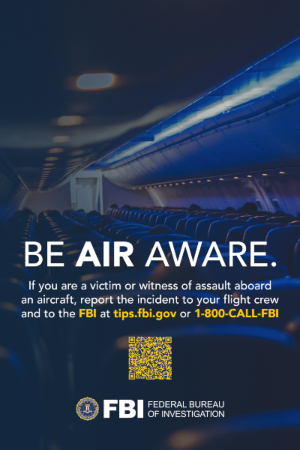 Here's some media coverage of the Be Air Aware campaign:
Top photo, from left to right: Port of Seattle Commissioner Toshiko Hasegawa, Acting U.S. Attorney for the Western District of Washington Tessa Gorman, FBI Special Agent Richard Collodi, Port of Seattle Police Chief Mike Villa, and Thomas Ragsdale, Acting Area Port Director US Customs and Border Protection, Seattle
Subscribe to receive email updates from Commissioner Hasegawa