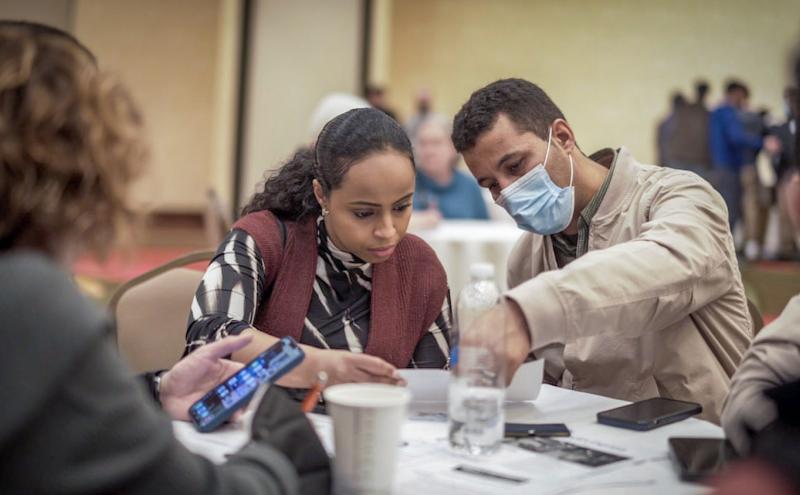 Aug 18, 2023
I firmly believe that equity is both a process and an outcome.
In terms of outcomes, we must be able to set measurable goals to track change in areas like representation, access, and success. In other words, our outcomes are how we measure the impact of our programs and policies to see if we are truly creating a community where everyone has fair opportunities to thrive.
When I talk about processes, I'm referring to how we transform the way we do things — from how decisions are made to the types of questions we ask to the values we prioritize to how we hold ourselves accountable to the communities we serve. Processes are much harder to quantify and measure than outcomes but are just as important, because when we create more equitable processes, we will often achieve more equitable outcomes.
Over the past few years, the Port of Seattle has been working to advance equity through our budget by improving our budgeting processes, and then, consequently, improving our outcomes. Thanks to the incredible leadership and creativity of members of the Port's Change Team, Finance and Budget department, and Office of Equity, Diversity, and Inclusion, we have engaged all departments and budget writers in iterative work to incorporate an equity lens into our annual budgeting process. As an organization, we are currently budgeting for 2024, and we are using the third iteration of the budgeting tool we developed, known as the 2024 Equity in Budgeting Playbook.
2024 Equity in Budgeting Playbook
Our budget is both a fiscal and moral document. It reflects our priorities and values — both to the communities we serve and to ourselves.
The mission of the Port of Seattle is to promote economic opportunities and quality of life in the region by advancing trade, travel, commerce, and job creation in an equitable, accountable, and environmentally responsible manner. The Port's values are respect, anti-racism and equity, integrity, stewardship, and excellence (aka R.A.I.S.E.). And the Port has a Century Agenda goal, among other goals, of becoming a "model of equity, diversity, and inclusion." Our budget should reflect all of this.
The Port of Seattle's Equity in Budgeting Playbook (EBP) is designed to integrate explicit considerations of racial equity into decisions, including policies, practices, programs, and ultimately, department budgets. Using this tool helps us to develop strategies and actions that reduce inequities, with a particular focus on racial inequities, and improve success for everyone.
The 2024 EBP is both a process and an outcome. At the department level, this playbook includes a set of questions to guide Port Departments in assessing how budget requests align with and advance department equity goals, meet employee training and development needs, and incorporate the input of employees and communities into the budgeting process. At the division level (Aviation, Maritime, Economic Development, and Corporate/Central Services), the EBP creates a process for the organization to measure how much we are spending to advance equity, and all Divisions must submit information about budget items that qualify as equity spending, according to a specific definition. This gives the organization a better understanding of how our budget is contributing to our equity goals, and it tells the story of the specific areas that we are investing in to advance equity.
Equity Spending
In the spring of this year, my fellow Commissioners and I passed a historic piece of legislation known as the Equity Policy Directive. This policy directive is the first of its kind for our organization, and it will institutionalize equity into our organization for years to come, ensuring that we prioritize just, inclusive policies and programs internally and externally.
Part of the Equity Policy Directive instructed the Port to create a definition of "equity spending," calculate that spending over the last several years, and create a pilot project for tracking equity spending going forward. Equity spending is a term developed and defined by a cross-departmental team of Port employees, and it is used to measure how the organization invests in staff, communities, businesses, and projects and programs that advance equity, diversity, and inclusion. By using this definition to evaluate our budget, we gain a better understanding of how our investments are contributing to our equity goals, and we can be transparent and accountable about how we are using public resources to advance equity.
We call this the Equity Spending and Accountability Project (ESAP), and it serves as a baseline for tracking our equity investments year over year. You can view our analysis of the past four years on the ESAP Dashboard, which we will update annually. On that dashboard, you can see how we define the term equity spending and the way that we categorize our equity spending, sorting expenses into one of six categories — Advancing Diversity, Supplier Diversity, Removing System Barriers, Engagement, Community Investments, and Environmental Justice.
Most notably, the ESAP Dashboard shows that over the past four years we have spent approximately 3 percent of our operating budget in ways that meet our definition of equity spending. Even more importantly, now that we have identified which programs best serve historically disadvantaged communities, we can make informed decisions about strategic investments moving forward and track our progress.
I am incredibly proud of our organization's work in developing ESAP. No other jurisdiction locally or nationally seems to have done this kind of work, so it was a truly innovative project. Lastly, please note that ESAP does not represent our commitment to advancing equity in its entirety. Not everything we are doing can be easily measured by tracking expenses. But this is a good place to start from, and as we continue our efforts to become a truly anti-racist, equitable organization, we hope to see our financial investments in this area continue to grow.
Ultimately, our vision is to develop a Port that mirrors—throughout its breadth of operations and services and within its leadership structure — the diversity of our community, instills principles of equity in its culture, and ensures a fair and intentional distribution of opportunities with the goal of expanding economic development and quality of life for all. I see our equity in budgeting efforts as a key part of achieving this vision, and I hope that by sharing this information and data publicly that we are transforming the way we communicate, promote transparency, and hold ourselves accountable to our community, our workforce, and our values.
Subscribe to receive email updates from Commissioner Mohamed