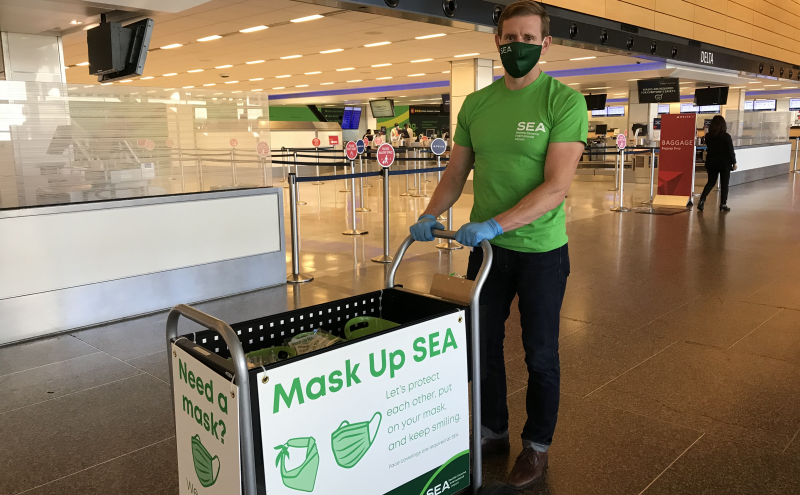 Sep 15, 2020
Last week I volunteered for a shift with the Mask Up SEA Street Team, an initiative our airport team created to encourage mask wearing. It was a great opportunity to go incognito (behind my own mask) and interact with travelers and airport employees who have adapted to the new normal of masks, physical distancing, and only traveling when well.  
At Seattle-Tacoma International Airport (SEA), we started requiring face coverings in May. It is a health protocol proven to reduce the spread of COVID-19. Since then, there is a notable uptick in the percentage of people at the airport using masks. The Mask Up Street Team helps make local travelers and passengers from out of the area aware of the policy, and distributes free Care Kits to passengers without masks.  
Each Care Kit contains a cloth mask, hand sanitizer packs, a SEA sticker, some SEA candy, and a tip sheet on how to stay healthy while traveling. We aim for educational and friendly interactions with travelers, and the response is overwhelmingly positive.  
That was certainly my experience during my shift with the Mask Up SEA cart.  
With a few exceptions for those eating and drinking, the vast majority of travelers were wearing masks. And the same for airport workers.  
I handed out 13 kits, and got to chat with passengers from around the country. About 10 of the kits went to travelers who appreciated having an extra mask. One gentleman I met was deplaning off a flight from Minneapolis. He was eager to put on a fresh mask, and grateful for the Mask Up SEA program and its safety benefits.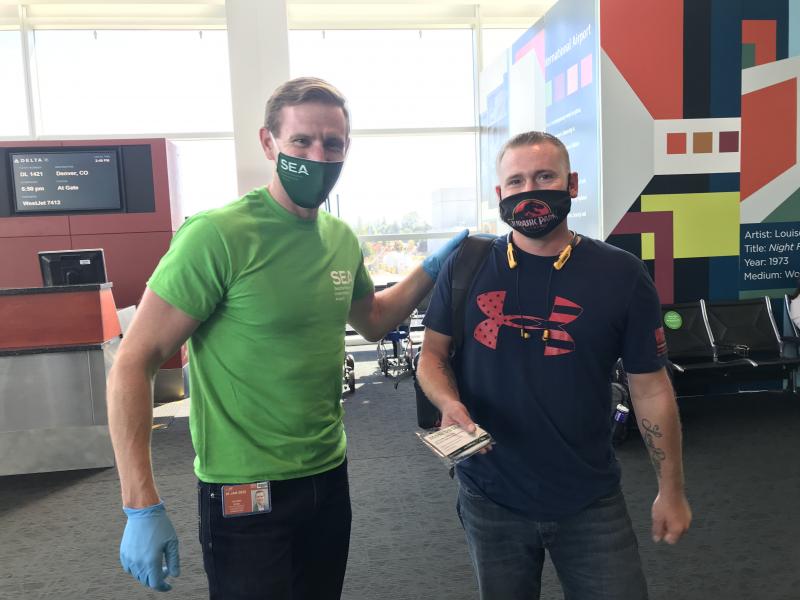 FlyHealthy @ SEA 
Requiring face coverings is one of the many things we did in response to the pandemic as part of FlyHealthy@SEA, the airport's action plan to protect your health and well-being. From masks to enhanced sanitization, physical distancing and touchless technologies, we employ a layered approach.   
As our understanding of COVID-19 improves, we will continue to roll out new measures, such as those we discussed at the September 8th meeting of the Commission.   
We embraced a strategy that prioritizes scientific, evidence-based measures and values innovation and partnership. When it comes to safety we cannot afford weak links in our nation's air transportation network. Without a doubt, none of these measures would be effective with the participation of our SEA passengers and airport employees, who helped us to reach over 90 percent compliance for face coverings.  
We all look forward to the day when this pandemic is in the rearview mirror, and we can return to a sense of normality in air travel and in life. In the meantime, be well, stay safe, and take care of one another.