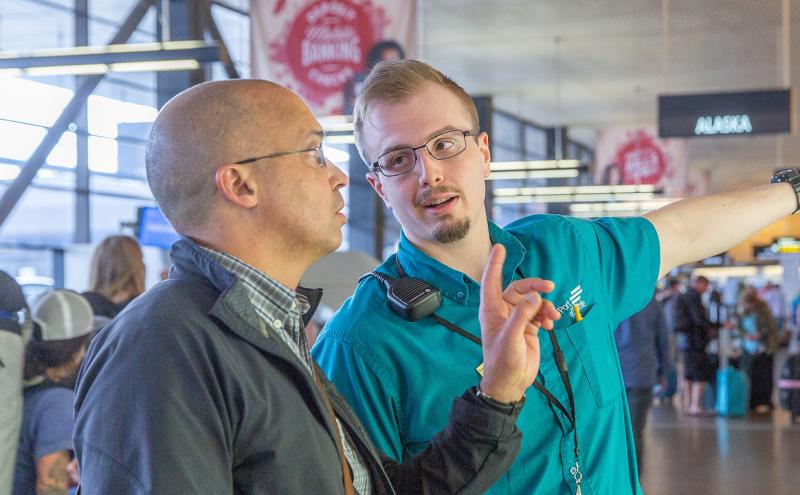 A Long Spring Break Season Calls for Travelers to be Prepared Going Through Sea-Tac Airport
March 13, 2019
With local school district and university spring breaks on the horizon, busy travel is starting this coming weekend and will last through most of April at Seattle-Tacoma International Airport. Travelers can take advantage of new technology tools and old-fashioned preparedness to stay focused on the travel moment – a bit of zen, perhaps?
Many travelers will see something new when they visit Sea-Tac as the new expansion of the North Satellite Modernization Project opened earlier this year, and new restaurants and retail locations have opened, and others will be opening soon at the North Satellite and in multiple locations throughout the terminal.
To improve the travel experience for seasoned pros and newbies alike, the Port of Seattle offers more planning tools and new services, including:
Use the App! Check out the new Sea-Tac Airport App to watch security checkpoint wait times, search for your flight, find yourself on the terminal map, and search for restaurants, lounges, the meditation room or your favorite retail store. The app is currently available on iPhones and Android. Also, use multiple other apps to help you navigate and enjoy the airport.
Sign up for text alerts. Get text updates about what's happening at the airport by texting "Update" to (206) 347-8045.
Explore what's new! Recent additions include Terminal GetAwaySpa (on Concourse A and C), Starbucks Evenings (near Central Terminal), Starbucks Urban Market (baggage claim and Concourse D), Rel'Lish Burger Lounge (on Concourse B), and Café Floret (on Concourse A). By the end of March, the south side of the Central Terminal Renovation will open with Lucky Louie Fish Shack™, Pei Wei Asian Diner, Evergreens, Koi Shi Sushi & Bento and Pallino Italian-American eatery. Use this map to find all of the latest openings.
Passenger Volume Forecast
It may seem early, but this weekend will already bring a large contingent of spring breakers. With Seattle and Bellevue school breaks in mid-April, travelers should expect busy weekends from now until then with Thursdays and Fridays the busiest travel days.
Sea-Tac continues to reflect the growth of the region as passenger volumes grew more than six percent through the first month of the year. This isn't the busiest time of the year (that's the summer time), but numbers are expected to be higher for spring break than last year as we are already up six percent in passenger volume this year.
A typical travel day during the slower shoulder season can see as few as 100,000 travelers per day.
We anticipate Thursday to swell to 137,500 passengers and grow to 140,000 on Friday. You can expect those numbers and higher during this spring break.
Sea-Tac Airport averages 136,000 passengers per day throughout the year with nearly 170,000 during peak summer days.
Travel Tips and Tricks
A few shortcuts to think about before traveling, picking up, or dropping off passengers will make your day safer and more efficient. To help you during this busy travel season, here are more details broken down for getting to the airport, how to prepare for the security checkpoint, and what's new in the Terminal.
Getting to the Airport
Arrive early! Travelers are encouraged to leave plenty of time to get to the airport, check in for their flight, and clear security. Screening lanes experience unpredictable spikes in congestion. Plan on arriving at the airport at least two hours in advance for a domestic flight, and three hours for international travel. To save time, it's suggested that travelers check in for their flights and print boarding passes prior to arriving at the airport. Some airlines allow passengers to print luggage tags in advance. This saves time at the ticket counter.
Use alternatives to driving to the airport. Take light rail, public transit, taxis, airport shuttles or ride-share vehicles.

Public transportation is by far the best option if you want to stay out of a traffic jam. Use Link Light Rail to travel all the way to the airport or meet your party at one of the nearby stations. Tukwila and Angle Lake stations offer free parking one stop away to avoid airport traffic headaches. There are also electric carts available for those who may need the extra help from the station to the airport terminal.
 

Avoid the Arrivals and Departure drives. Here's why and what to expect from the Port of Seattle Police. Port of Seattle Police officers will patrol the Airport Expressway to prevent motorists from parking on the shoulder, and Traffic Support Specialists will be deployed on the Arrivals and Departure drives to assist with traffic flow. If you do drive, park at the Sea-Tac Airport garage and walk into the terminal.

If you must drive, peak traffic congestion occurs on the Departure level from approximately 4:30 a.m. to 7:30 a.m. During the middle of the day, from 11:00 a.m. to 2:00 p.m., both Arrivals and Departure drives experience backups. In the evenings, the Arrivals drive experiences heavy traffic from about 8:30 p.m. to 12:30 a.m.
 

Think opposite. In the morning, drop off passengers on the Arrivals level. In the evenings, arrange to meet your passengers on the Departures level. Going opposite gets you out of the traffic crunch.
Another example, many arriving passengers do not check bags and are already on the Departures level when they exit, easy to pick up.
 
Blind and low vision travelers can try new assistive technology with Aira, with the Port providing free connection service while at the airport
 
Are you there yet? If you're picking up passengers, make sure they are there before going to the drive. It will take some time for them to walk from the plane or pickup bags.
 
Be sure to check with the City of SeaTac to see if there are any road construction projects that might hinder your access to the airport.
Ready for Security Checkpoint
Be ready for Security checkpoints. Once travelers get to the airport, Sea-Tac and its partners in the Transportation Security Administration want to help you move through security checkpoints as quickly as possible. Enhanced security measures now in effect at Sea-Tac and airports nationwide require travelers to remove electronics larger than a cell phone from their carryon luggage.
Be thoughtful with food. Sea-Tac recommends that unless you plan on eating food at the airport or on your flight, consider packing your holiday treats in your checked luggage. Keeping food or liquids in your carry-on luggage might have to be screened twice.
Sign up for Trusted Traveler Programs such as TSA PreCheck, Global Entry, and CLEAR to get you through the lines faster. These expedited security programs help for both domestic and international travel, including a faster way through customs with Automated Passport Control and Mobile Passport Control.
What's New at Sea-Tac Airport
Contact
Perry Cooper | Sea-Tac Airport Media Officer
(206) 787-4923 | cooper.p@portseattle.org