Page Content
Program Background
2023 Diversity in Contracting Goals
Diversity in Contracting Team
Important Links
Program Background
In 2018, the Port found that minority and women businesses were underutilized through past disparity studies and WMBE community concerns. That precipitated the creation of policy directive 3737, the purpose of which was to promote equity and address historical disparities in women and minority business enterprise (WMBE) participation in Port contracting.
The Resolution 3737 required the Executive Director to develop a Diversity in Contracting (DC) Program that identifies affirmative efforts to offer women and minority businesses the maximum practicable opportunity to meaningfully participate on Port contracts and to achieve the Port-wide goals. This policy established:
Executive-level accountability that drives performance across the Port
Port-wide goal setting and reporting processes, requiring Divisions/Departments to establish annual
WMBE Plans that include aspirational WMBE goals and performance targets
Clear lines of responsibility and accountability for implementation with designated WMBE liaisons for each division
Enhanced compliance and tracking of key performance objectives and incorporation of WMBE goals into the Port's Long- Range Plan
Categories of contracts where inclusion plans and other tools will be used
Procedures to ensure prompt payment and change order processes
Expanded technical assistance for WMBE firms, coordination with external partners, and support for internal training to Port staff
The directive also established utilization goals for both the amount of contracting dollars paid to WMBE firms as well as the number of WMBE firms under contract to the Port.
Five Year Goals for 2016-2023
Triple the number of WMBE firms that contract with the Port from 118 to 354
Increase the percentage of total dollars spent on WMBE contracts from 5.3% in 2016 to 15% by 2023
2023 Diversity in Contracting Goals
Working with division directors to set their annual goals by reviewing their 2023 budget items and the WMBE utilization possible in each, the Diversity in Contracting department identified a Port-wide 2023 WMBE aspirational goal for Non-Public-Works as 16% of dollars spent.
The first Port-wide construction project was established in 2021. The Port-wide construction WMBE goal for 2023 is 13% 
Diversity in Contracting Team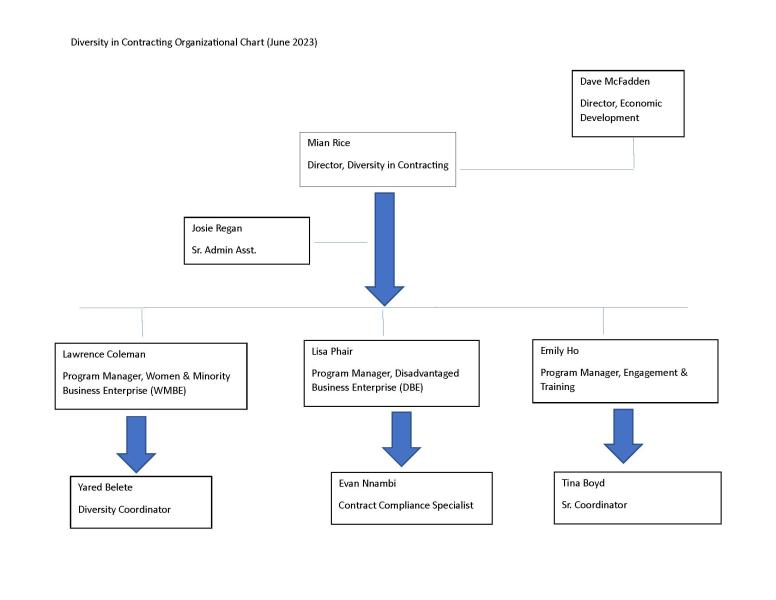 Important Links