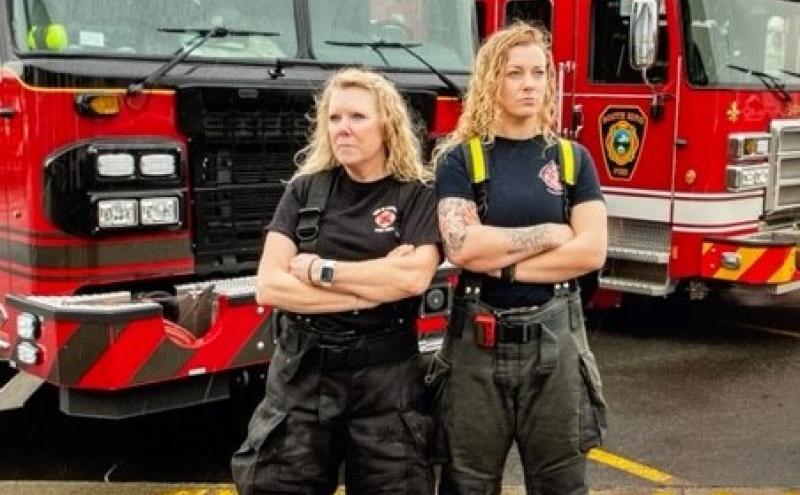 March is Women's History Month and the women at the Port of Seattle Fire Department have been breaking barriers and forging a new paths for years. The first paid female firefighter in Washington state was hired in 1977. Just a few years later, in 1980, Port of Seattle Fire Department hired Bev Abbe. She was also the department's first female officer. For more than twenty-five years, the department personnel has consisted of 9-10% women which is double the national average.    
Stephanie McGinnis will be retiring from Port of Seattle Fire Department this year. She was the first woman in our department to be promoted to Battalion Chief. Stephanie has experienced many changes over her career, yet she continues to lead by example, mentor those around her, and encourage other women in the fire service to succeed  – especially her own daughter!
Question: You were the first woman promoted to Battalion Chief at the Port of Seattle Fire Department. Was moving up in the ranks always a goal, or was it just an organic progression of your career? What drew you to being an officer? 
When I first started out in the fire service I wanted to be the best firefighter that I could be.  Part of this was building my confidence to do a job with very few women role models to look up to and the other is I felt I had to leave no question as to my ability to do the job in a male dominated workforce.  I found that in a career that was quickly changing I had the ability to be part of that change.  You have no voice if you just talk in the back of the room - you have to step up.  My favorite part of being a company officer was spending time with my crews and getting to know them better-whether on calls, in the kitchen or grabbing a cup of coffee.  As a Battalion Chief at the Port of Seattle, being part of the change for the future of the fire service has been an amazing opportunity.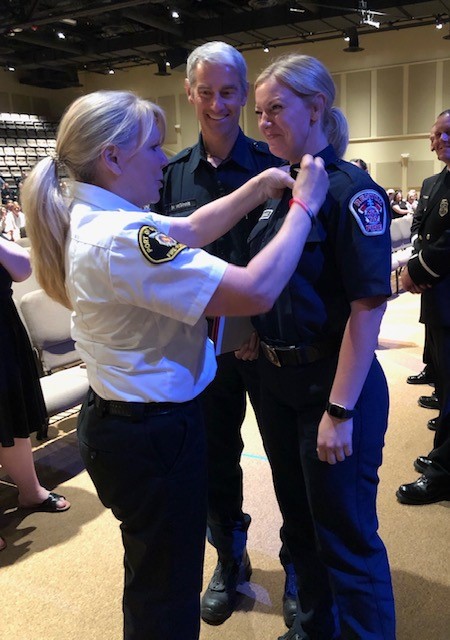 Question: Not only are you a career firefighter, you're a mom to a young woman who has also become a firefighter. How does it feel to flip the narrative of generational service from "fathers and sons" to "mothers and daughters"? 
With both Merrick and I being firefighters our children were raised in the fire service.  I was so proud when Lexi got hired with Renton Fire and of course became the nervous mom as she moved through the steps of academy and probationary firefighter life.  At times it's hard to know which hat I am wearing when talking with her about the job-the mom hat, BC hat or female firefighter friend hat.  We recently went through some old photographs from early in my career and she told me she guessed she never realized all that I had done early on in my career - to be quite honest she said "I guess I never realized how much of a bad a$$ you were".  She recently became part of the Renton Dive Team and watching her go through dive school this past week has me saying the same thing about her - except I know how bad she is!  It amazes me still, 30 years later, that some are still surprised when you tell them you are a firefighter.  Even better is when they hear that my husband followed me into the fire service! 
Question: As you are nearing retirement from the fire service, when you look back what differences do you see for the women entering the industry versus when you became a firefighter?
There are so many more opportunities for women entering the fire service these days.  The first is a huge network of strong, empowered women, that are reaching out to other young women to mentor and guide them along the way.  We are training smarter not harder to keep our bodies healthy throughout our careers.  We now have 13 women in one station at the Port of Seattle and that is amazing in itself!  We also just saw the promotion of the first female Fire Chief-Dawn Judkins-in King County. It's now the norm for firefighters starting their careers to work alongside us and the public we serve doesn't think twice when coming to their aid.  I look at the women firefighters here at the Port and can't wait to see how many of them are going to step up and carry the torch and help in changing the future of the fire service in their career. And who knows, we may still have a Fire Chief McGinnis in the future!