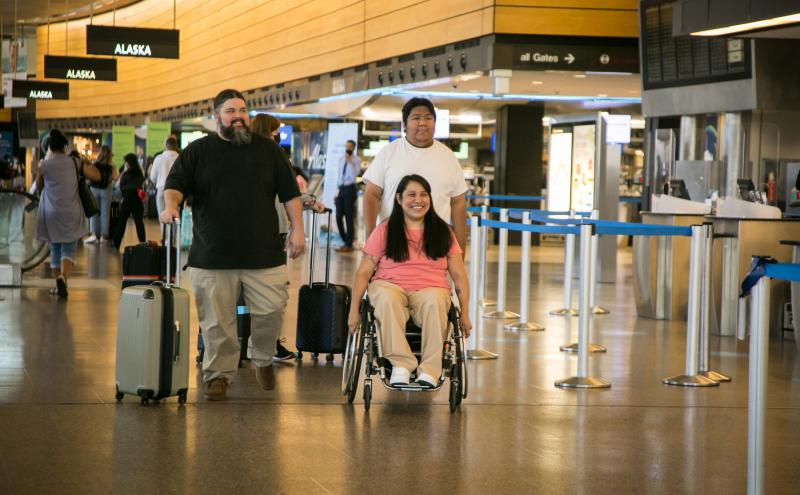 Before you're at the airport 
Check with your airline 
Airlines offer many services for accessible travel primarily on the aircraft and post-security. Check with your airline for what policies and options are available for support before you go. You can also find all airline accessibility contact information to coordinate more specifically for you!
Security Screening and Checkpoints 
The Transportation Security Administration (TSA) operates all of the security screening checkpoints. They've created dedicated resources to help support travelers with invisible and visible disabilities.
Connect with TSA Cares
TSA Cares is a helpline that provides travelers with disabilities, medical conditions, and other special circumstances additional assistance during the security screening process. Connect with TSA Cares at least 72 hours prior to traveling with questions about screening policies, procedures, and what to expect at the security checkpoint from your departing airport!
Request a TSA Passenger Support Specialist 
TSA has specially trained Passenger Support Specialists (PSS) to help coordinate and walk you through the checkpoints upon request. You can request this in advance on their website, or when you're at the checkpoint ask someone from TSA for a PSS to assist you. You may also want to provide the TSA officer with the TSA notification card or other medical documentation to describe your condition to help support the screening process. If you have other questions or concerns about traveling with a disability please contact passenger support. 
Contact TSA Cares through Email TSA Cares or by phone at (855) 787-2227. They're available Weekdays: 8 a.m. to 11 p.m. ET Weekends/Holidays: 9 a.m. to 8 p.m. ET 
While you're at the airport 
Wheelchair Assistance
Your airline customer service agent will be able to arrange for staff to meet you with a wheelchair and escort you and your party through security to your gate. They can also arrange for this service when you arrive at your next destination.  For assistance from the parking garage, Link Light Rail station, or the Rental Car shuttle drop-off location to your airline ticket counter, please call Prospect at (206) 246-1550 when you arrive at SEA. 
Get a Sunflower Lanyard 
SEA was the first airport in the U.S. to begin a pilot program offering the Invisible Disabilities Sunflower lanyard to passengers with non-visible disabilities such as autism, PTSD, or hearing loss. First pioneered at Gatwick International Airport in London, the Sunflower lanyard communicates that passengers wearing it may need extra help while traveling. It is recognized in a growing number of international airports. 
Where to Get a Sunflower Lanyard
Program participation is voluntary. Passengers may request free Sunflower lanyards at the pre-security information desk between Checkpoint 3 and Checkpoint 4 (near Starbucks) and the post-security information desk in Concourse A (near gate A5). Both locations can be found on our interactive map. This desk is staffed from 7 AM - 9 PM, seven days a week. If you're traveling outside of the information desk hours, please seek a lanyard from staff at Premium checkpoint lanes 2, 3, or 5. 
Passengers should continue to coordinate with their airlines and/or TSA Cares for pre-travel questions and accommodation arrangements. 
Visit our Sensory room
this room is provided as a calming environment for those who may feel overwhelmed, overstimulated, or find the need to re-center from the multitude of sights and sounds of the airport travel experience.