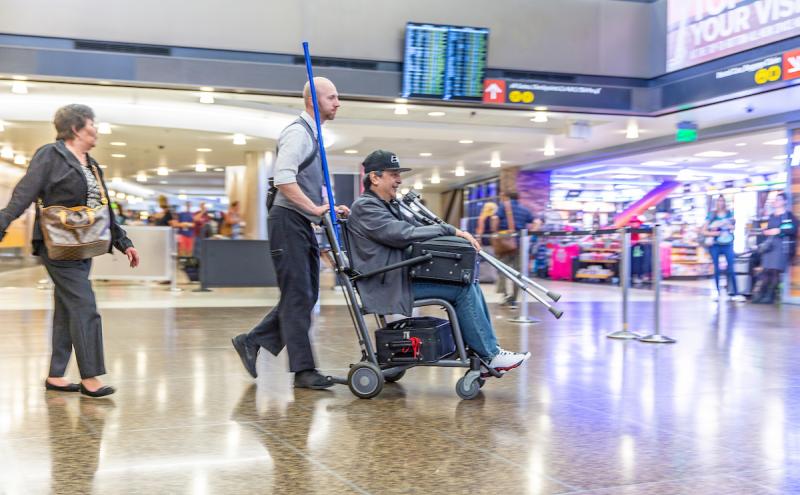 Wheelchair Services at SEA
Please contact your airline directly to make a reservation prior to your arrival at the airport. Visit the Airline Accessibility page for airline contact information.
Airlines coordinate wheelchair services from ticket counters through security to departure gates, and from arrival gates to the baggage claim. This service is provided at no charge, but gratuities are greatly appreciated.
From Link Light Rail Station / Parking Garage to Check-In Counter
SEA Airport provides complimentary wheelchair service from Link Light Rail Station or the airport parking garage to check-in through Prospect Airport Services.
Arranging service from the parking garage:
Contact Prospect at (206) 246-1550 on your arrival at the airport to request assistance.
Arranging service from the Link Light Rail:
Exit the train at SeaTac/Airport station and take the elevator or escalator down from the platform level to the mezzanine.
Call Prospect at (206) 246-1550 to confirm your arrival. Prospect staff will meet you in the station lobby. (Note: Follow directional signs pointing to the main terminal skybridge.)
From Baggage Claim
For wheelchair service support from the baggage claim to the parking garage or Link Light Rail Station, please contact Prospect Airport Services at (206) 246-1550.
Visit the Accessible Transportation page for further details on vehicle drop-off locations, accessible taxi services, public transportation, rental cars, airporter/hotel shuttles, and curbside services.