Sunflower Lanyards
SEA was the first airport in the U.S. to begin a pilot program offering the Hidden Disabilities Sunflower lanyard to passengers with hidden disabilities such as autism, PTSD, or hearing loss. First pioneered at Gatwick International Airport in London, the Sunflower lanyard communicates that passengers wearing it may need extra help while traveling. It is recognized in a growing number of international airports.
Program participation is voluntary. Passengers may request free Sunflower lanyards at the pre-security information desk between Checkpoint 3 and Checkpoint 4 (near the Starbucks and US Bank). This desk is staffed from 7 AM - 9 PM, seven days a week.
Passengers should continue to coordinate with their airlines and/or TSA Cares for pre-travel questions and accommodation arrangements.
Social Story
The Airport Social Story and Resource Guide is designed for traveling through SEA during a world of mask-wearing and physical distancing. It is designed for travelers with autism to repeatedly review with their family/caregivers prior to travel. Though, it can certainly be used by anyone who might find it helpful. We hope this social story & resource guide proves helpful and we welcome your feedback.
 
Meditation/Quiet Room
Passengers and airport employees looking for a quiet place away from the busy airport atmosphere now have a dedicated space. The Meditation/Quiet Room at SEA Airport is located pre-security on the mezzanine level of the airport above Checkpoint 3, next to the Badging Office and Lost and Found. This room is nondenominational and is open everyday at all hours.
View a map of the mezzanine showing the location of the Meditation/Quiet Room.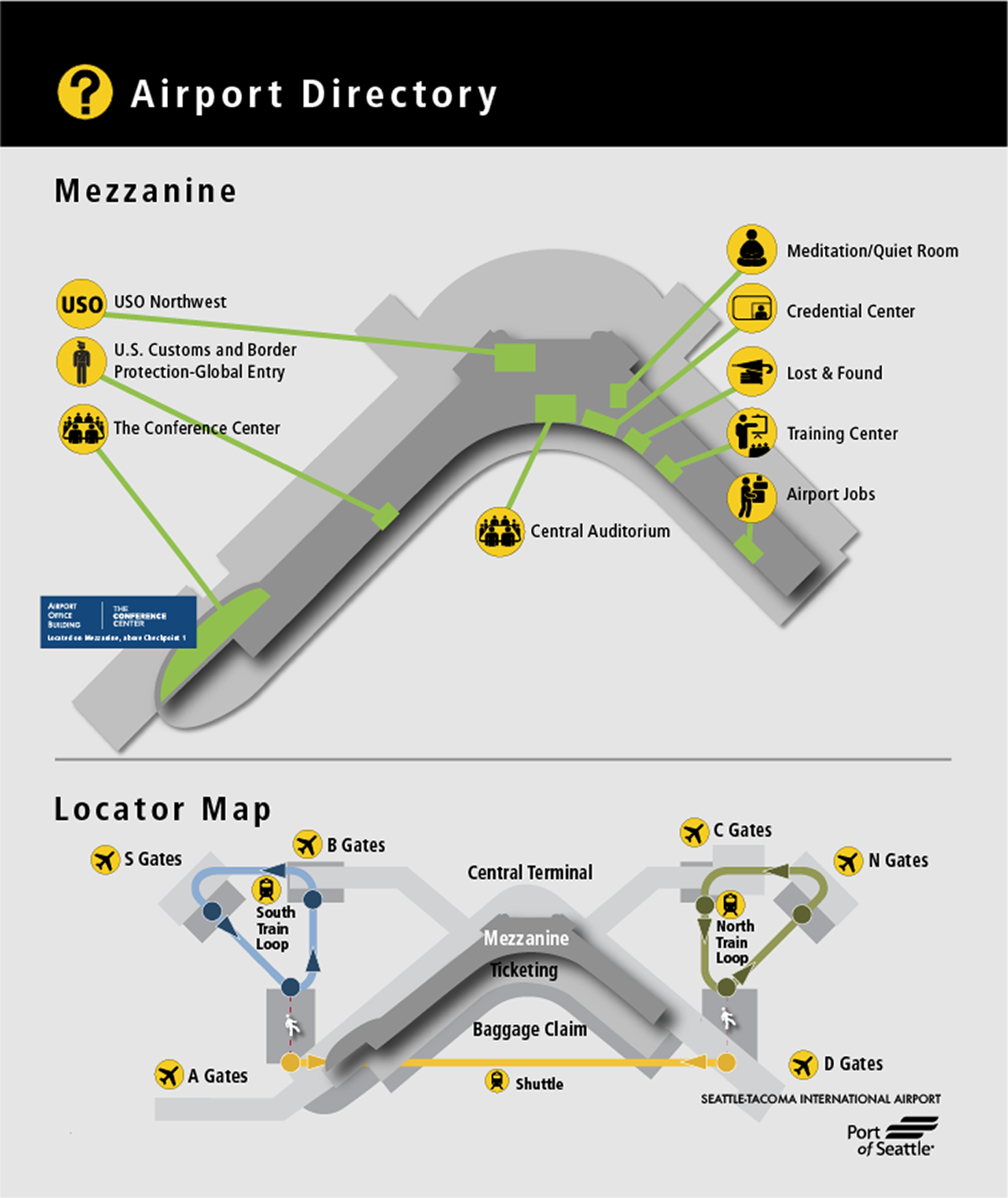 Therapy Dogs at SEA
Please note: The therapy dog program at SEA has been temporarily suspended as part of our COVID-19 response. We look forward to resuming the program in the future.
SEA is proud to work with several therapy dog teams certified through the Pet Partners program. Pet Partners volunteers and their animals train to offer a friendly face and a moment to relax in a busy airport environment.  
Gracie, a certified therapy dog, and her owner Joanne.

 

 
 
 

Therapy dogs like Gracie offer travelers a friendly face.

 
For more information about volunteer programs at SEA, please see our Airport Volunteers homepage.