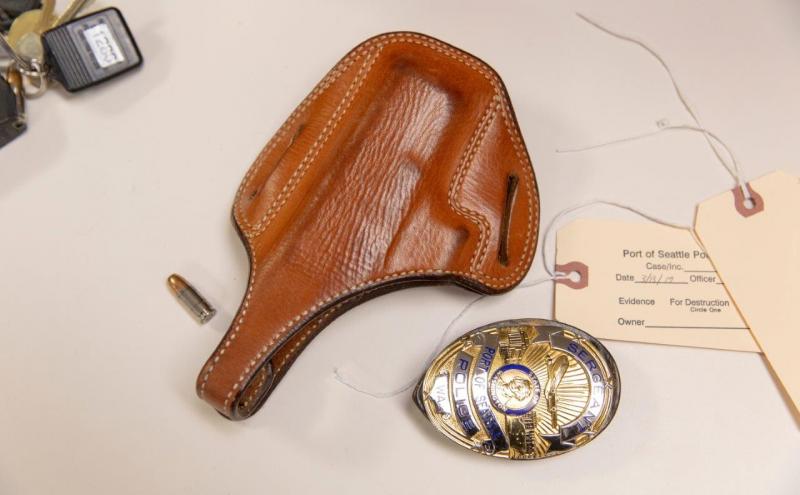 The Criminal Investigations Division (CID) is responsible for providing specialized investigations for crimes committed within the jurisdiction of the Port of Seattle. Under the supervision of Commander Sean Gillebo and working closely with the Patrol Division, CID is comprised of a detective sergeant, Sergeant Benko, nine detectives, a police specialist and a commissioned evidence technician. The unique mission of the Port of Seattle Police Department is reflected in the variety of duties and disciplines found in CID; from baggage theft to underwater death investigations, CID provides the support services and special investigations necessary for crime detection and prevention within the POSPD jurisdiction.
Duties
The detectives assigned to CID are responsible for investigating the crimes that occur here at the Port of Seattle. Although this mission may seem straightforward, because of the complexity of the crimes investigated and the demands of the judicial system, our detectives must be able to provide top tier investigations for hundreds of different crimes, all with their own complex set of rules, investigative tools and techniques. Examples of some of these duties include:
Writing and serving search warrants
Interviewing victims and witnesses
Locating, identifying and preserving physical evidence
Recovering stolen property
Identifying, locating, interviewing and arresting suspects
Preparing and filing cases with the prosecutors
Cooperating in prosecution of the defendants
Disseminating crime prevention information and providing investigative training to patrol officers.
In addition to investigating crimes, the detectives of CID also provide detailed background checks for entry-level and lateral police officers as well as emergency communication (911) specialists and other non-sworn personnel.
Skills
These skills are used to investigate the spectrum of diverse cases handled within CID. Samples of the types of cases our detectives investigate include:
Major traffic accident investigation and reconstruction
Missing persons
Crimes against people (homicide, rape, assault, burglary etc.)
Property crimes (fraud, theft, vehicle prowls, vandalism etc.)
Narcotics arrests and interdiction
Training
Each detective in CID is provided with a foundation of basic training to give them the necessary investigative tools to successfully accomplish their mission. Once assigned to CID, each detective is provided additional training in the following areas:
Crime scene investigation
Criminal investigations
Interview and interrogation techniques
Homicide investigation
Background investigations
Special Assignments
Evidence / Identification Technician / Crime Scene Specialist
This officer is responsible for the care and custody of all evidence and seized items as well as maintaining the evidence storage facility where this evidence is processed and stored.
The E/I Technician/Crime Scene Specialist provides technical assistance to detectives and patrol officers at crime scenes and throughout the investigation process. He/she also trains officers assigned as crime scene investigators.