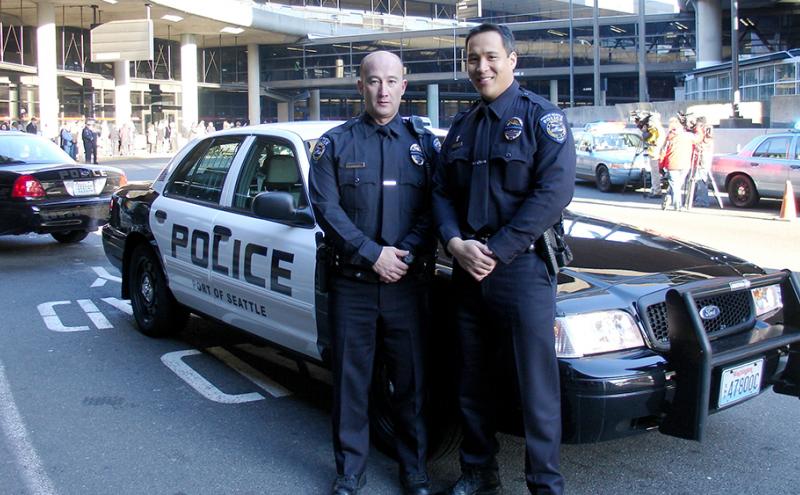 When a new officer (entry level or lateral) is hired by the Port of Seattle Police Department, the officer must complete a Police Training Officer (PTO) Program. Entry-level officers will spend a minimum of 17 weeks in the program and a lateral officer will spend a minimum of 8 weeks in the program.
The PTO program establishes a training team for each recruit that consists of at least two PTO trainers, the PTO sergeant, the PTO commander and a PTO evaluator.
Three primary components to the PTO program are:
Self-evaluation and learning by the student officer.
"Failing forward," meaning the student officer evaluates and learns from their mistakes.
Reflective journaling, meaning writing about what was learned, what needs to be learned, reactions to situations, etc. Studies have shown that reflective journaling solidifies the learning taking place.
The PTO Approach
The ideology of PTO recognizes that we cannot expose a student officer to all of the situations a police officer could encounter in only 17 weeks of training. The student needs to develop and utilize resources to solve problems. Establishing a method of consistent and objective self-evaluation is crucial to the development of a successful officer. While in the PTO program, the student officer will prepare written evaluations on his or her progress in 15 core competency areas. The PTO evaluator will then add comments.
During a mid-term evaluation, the PTO evaluator completes the evaluation form based on the core competencies listed knowledge, application and evaluation components. The goal is for the student officer to be in the application area of the core competencies. Based on the performance during the mid-term evaluation, a decision will be made to provide extra training to the student officer or move forward in the training process.
At the final evaluation, the PTO evaluator follows the same process as in the mid-term evaluation. The evaluator is seeing if the student officer has the knowledge, skills and abilities to perform as a solo patrol officer. After the final evaluation week has been completed, a Board is held where the student officer is asked questions and advised of the decision of the PTO cadre that will be forwarded to the Chief of Police for final approval.
Since the Port of Seattle Police Department has transitioned to the PTO program, we have trained nine new officers, both lateral and entry level officers. We continue to evaluate and modify the PTO program to meet the ever-changing needs of our department, community and the new officers hired. The PTO Program is very flexible and can be adapted to meet agency needs without having a negative impact on the training to the student officer.
The Port of Seattle Police PTO Team is currently made up of one PTO commander, one PTO sergeant, and seven police training officers.