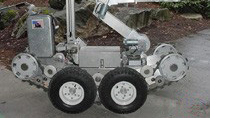 Established in the early 1970s, the Bomb Disposal Unit (BDU) protects port customers, employees and property at Sea-Tac Airport and Port of Seattle seaport, and also serves as a regional asset by assisting surrounding Puget Sound communities.
The Bomb Disposal Unit comprises six Technicians, one Sergeant, one officer Team Leader and four approximately 450 accredited bomb squads in the country. The bomb technicians have other primary duties within the department and serve on BDU as a collateral duty. When deployed to a potential bomb threat, their first task is to safely evacuate the area and then inspect and, if necessary, render safe the suspicious device.
Team members are certified hazardous devices technicians. The road to becoming a bomb technician starts with being selected and first becoming a certified Hazmat technician; only then can a candidate attend the six week basic hazard devices training class in Huntsville Alabama. All technicians in the country go through the same course and the current wait list for a new candidate is over a year and a half. Each member is required to maintain their certification by attending a recertification course every three years. The unit maintains their proficiency and expertise by participating in a minimum of 16 hours of training per month in addition to real world deployments.
The highly-trained technicians of the Bomb Disposal Unit have an arsenal of specialized equipment to assist them and keep them at a safe distance from the potential threat. The hazardous duty robots are part of the team; equipped with cameras, sensors and extending arms, this robot can render a device safe while keeping police officers out of harm's way.