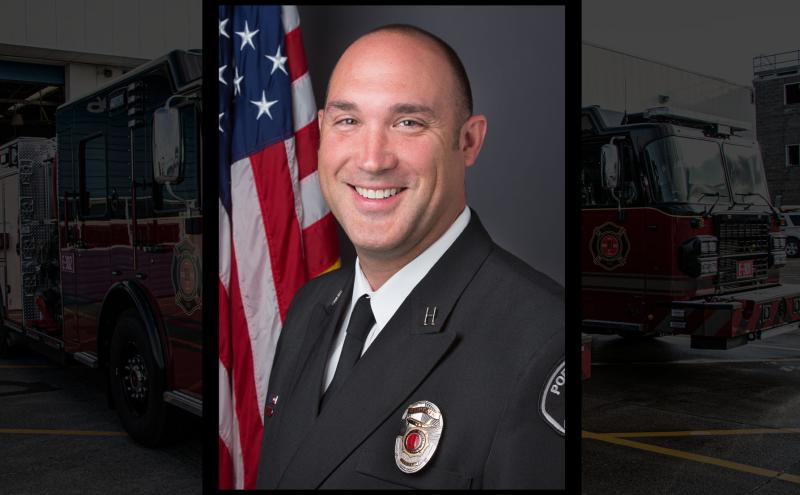 Congratulations to Chris Nuttall, our new Assistant Chief of Administration.
Chris was hired as a Firefighter at the Port of Seattle Fire Department in 2008. He was promoted to Captain in 2019. He spent a term working with Administration on policy development and is currently transitioning out of Fire Prevention. Over the years, he has gained valuable administrative and managerial experience. Now, he will move to his new position on Monday November 13, 2024.
His promotion rounds out the chief level leadership. Chief Krause and Assistant Chief Starkey are excited to have him on board. As Chief Krause said, "Chris's experience as the Administrative Captain, Fire Prevention Captain, and Union President has prepared him well to take on the administrative tasks that will be assigned to him as an Assistant Chief. He has a good strategic view of the department, the Port, and has a solid business acumen that will benefit him as well as the entire department."
Chief Krause is looking forward to watching him grow and excel in his new position. There will be a lot to learn regarding budget, purchasing, and risk reduction, however, Assistant Chief Nuttall enters the position with a lot of experience that will allow him to jump in and immediately get to work.
When asked what he was looking forward to most, Assistant Chief Nuttall replied, "I'm looking forward to working with the administrative team to create new and enhance existing processes, procedures, and programs that improve communication and consistency throughout the department. I'm excited to develop programs that recognize the achievements and successes of our members. This type of work is something that I truly enjoy, and I have many projects that I'm eager to get working on. My first task will be to develop a plan and timeline to tackle all these projects in a methodical and strategic way so they're successfully completed."
Chief Krause expressed how proud he was of all the internal candidates. It was a very competitive process, with internal and external applicants, and all of the internal candidates moved forward to the final round. Everyone delivered high quality results in the assigned project and performed admirably.