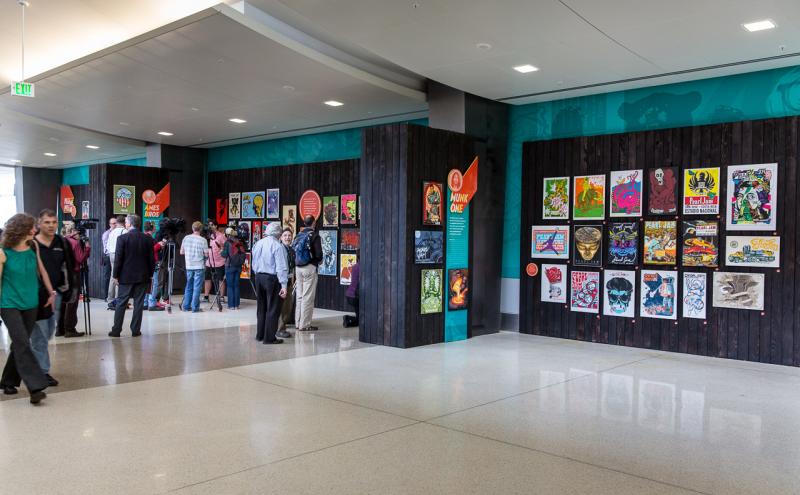 Pearl Jam Exhibit at Sea-Tac
One of Seattle-Tacoma International Airport's most popular displays. In cooperation with Seattle's MoPOP (Museum of Pop Culture - formerly EMP Museum), "PUSH ME, PULL ME: Pearl Jam and the Art of the Screen Printed Poster" is back!
The display, which was inside security checkpoints, had to go into storage late last year to make room for a new airline dining location. Now, the display is back in a pre-security checkpoint location, just behind ticket counters in the middle of the airport.
Synopsis
When Pearl Jam formed in Seattle in 1990, posters were one of the few ways that a band could communicate with their audience. They were vital to advertising a future show, but also important for conveying, through the poster artwork and layout, subtle information about the identity of the band. Soon after the Grunge explosion in the early 1990's, as screen printing technology was being re-embraced for artistic purposes, Pearl Jam began commissioning posters for each show on their tours. In the ensuing two decades, over 500 posters by 100+ artists have been created. These posters are reflections of the artists that created them, but they are also formed through the lens of the band. References to the members of Pearl Jam, song lyrics, music, history, popular culture – all of these elements are evident in these posters and become an extension of the band. In addition, the posters illustrate one of the band's core values – the ability to foster a climate of creation, act as a patron for other artists, and to comment on our society.
About Pearl Jam
Established in Seattle in 1990, the band will be formally inducted into the Rock and Roll Hall of Fame on April 7 , 2017 in a ceremony in New York City. Pearl Jam has 10 studio albums, hundreds of unique live performances and hundreds of official live concert bootleg releases later, the band continue to be critically acclaimed and commercially successful -- with more than 60 million albums sold worldwide.
Pearl Jam released their Grammy Award-winning 10th studio album, Lightning Bolt, in October, 2013. Lightning Bolt debuted at #1 on the Billboard Top 200 chart as well as #1 on iTunes in over 50 countries.