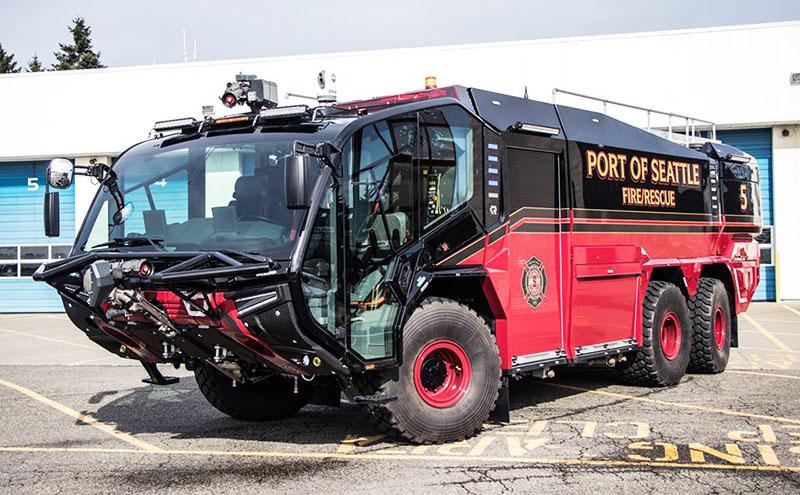 The Port of Seattle Fire Department is introducing two new Aircraft Rescue Fire Fighting (ARFF) vehicles into their fleet. These new ARFF vehicles are Rosenbauer Panthers, which hold 3000 gallons of water, 420 gallons of foam, and 500 pounds of Dry Chemical Extinguishing Agent. They are powerful life safety tools, with two turrets capable of flowing 1200 gallons per minute.
They are designed to be more maneuverable, safer, and more ecologically responsible. The firefighters are able to utilize a heads-up screen for a forward looking Infrared Thermal Image camera to see through the smoke and steam that interrupts visibility during a fire. There is an on board 360 degree viewing camera for driver safety.
With the cooperation of Port CPO, one of the two ARFF vehicles were temporarily delivered to the Live Fire Training location this March, so our firefighters could train on the new vehicles. This mandatory live fire training utilizing these new vehicles could not be performed at Sea-Tac International Airport. This endeavor has been very successful and we are very grateful for the work done by CPO to make this happen.
These new Rosenbauer vehicles will be replacing two older ARFF vehicles that will be rotated into a reserve status that may be used during times of maintenance or for mutual aid needs. One of the new ARFF Vehicles will be filled with fluorine-free foam to support off airfield responses into the community allowing us to minimize impact to the environment and enhance our mutual aid support.
The Port of Seattle Fire Department continues to make choices of life safety apparatus that provides the best protection with the latest technological advancement for the airport and the people who work at and travel through Seattle-Tacoma International Airport.