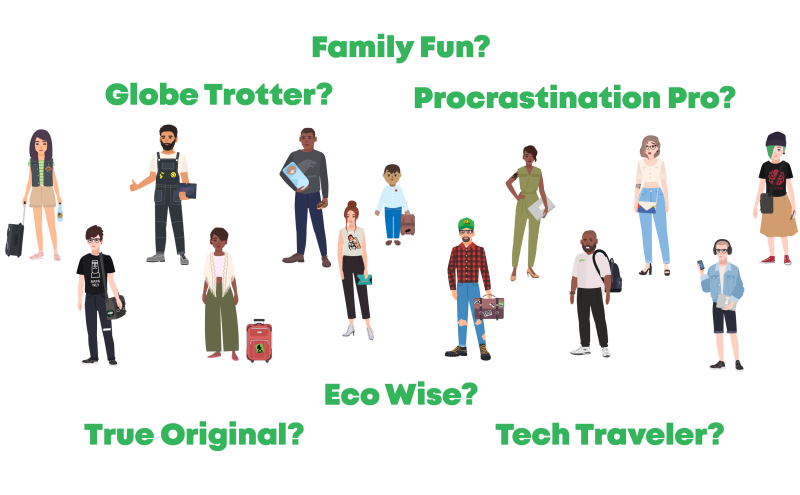 Author and seasoned traveler Paulo Coehlo says, "In a forest of a hundred thousand trees, no two leaves are alike. And no two journeys along the same path are alike." We'd also add that no travelers are the same and everyone's looking for something a little different in their travel experience.
Whatever's important to you, we developed this quiz to provide customized tools, must-have resources, SEA dining and shopping recommendations, and unique experiences that suit your interests and needs.
What now?
| | |
| --- | --- |
| Step 1: | Take the quiz below and get personalized travel tips and tricks that will make your travel experience more efficient and rewarding.  |
| Step 2: | Record your answers to get your traveler score. |
| Step 3: | Check your score below and find out where you fit in. |
What's Your Travel Personality?
It's Friday night. What are you doing?
A.    Hiking up to a lookout point with a picnic from the PCC hot bar
B.    Hitting up Happy Hour at your favorite Vietnamese food restaurant and then watching an independent film at a nearby theater
C.    Doing a self-guided pub crawl of the local breweries in Seattle's Georgetown neighborhood
D.    Watching Netflix while Facetiming your best friend
E.    Grabbing pizza with the kids and then heading home for a family game night
F.    Texting friends to see if they are available for an impromptu drink
You're meeting a friend for dinner and she tells you to pick the restaurant. What sounds good to you?
A.    You're dying to check out that new restaurant down the street that serves grain bowls with organic, locally-sourced ingredients.
B.    You've noticed all the Instagram buzz on this new Cuban restaurant that is supposed to have amazing mojitos and want to find out if it's legit.  
C.    You've heard good things about this farm-to-table restaurant that sources produce used on menu items from their rooftop garden. 
D.    You're feeling a night in but are craving Thai food. Uber eats to the rescue!
E.    Parents' night out! You called ahead for a reservation at that tapas place. 
F.    Spontaneity is your middle name, so you meet your friend in a nearby neighborhood and pop into to see which restaurant can seat you immediately.
You've been looking forward to your summer vacation all year and it's finally here. Where are you going?
A.    You booked a yoga retreat at an ecolodge in Costa Rica. 
B.    You're headed to Osaka for a street food tour.
C.    You booked an Airbnb in a small, picturesque town in New Zealand. 
D.    You're geeking out at an all-inclusive "gamecation" with your best friend from college. 
E.    You're taking the family to Disneyland and looking forward to some serious pool downtime.
F.    You're keeping your options open to score some last last-minute deals.
What's your perfect coffee order?
A.    A matcha latte with oat milk
B.    Café con leche
C.    A honey latte made with local honey
D.    Starbucks Caramel macchiato ordered on the app so it's ready when you arrive
E.    Quad shot Americano — you need the energy
F.    A bottled cold brew from the grab-and-go case 
What is your ideal birthday gift?
A.    Hiking boots
B.    Tickets to a jazz show
C.    A cooking class or something experiential
D.    The latest tech gadget everyone is talking about
E.    A birthday card homemade by my kids with a gift card for a massage 
F.    Amazon Prime subscription 
You're stuck on a desert island. What's the one item you can't live without?
A.    Refillable water bottle
B.    A good book
C.    Your camera
D.    Solar powered device charger   
E.    Family photo 
F.    Nothing — You'll wing it 
What travel accessory do you never forget to bring on vacations?
A.    Refillable water bottle
B.    Travel-sized versions of your favorite organic beauty products 
C.    A GoPro and waterproof shoes
D.    Your Apple watch
E.    iPad to keep your kids occupied
F.    Neck pillow to catch some zzzs after you were up all night packing
What do you make sure you do to prepare for a big trip?
A.    Research great hiking spots 
B.    Check out what travel influencers recommend for dining and activities
C.    Try to find some off-the-beaten path locations or local hangouts
D.    Check to make sure the accommodations have WiFi
E.    Research kid-friendly activities at your destination
F.    Search online for last minute deals on lodgings and activities
What stresses you out the most about travel?
A.    Not being able to eat as intentionally as you would like
B.    FOMO and not being able to do everything 
C.    Tourist traps 
D.    Not being able to stay connected throughout your travels
E.    Making sure the whole family has a good time
F.    Not being prepared
You're heading to work. What's your preferred mode of transportation?
A.    Public transportation all the way
B.    Take an Uber or Lyft
C.    I live close enough to my coworking space to walk  
D.    I work from home most days 
E.    Drive, I need to pick up the kids 
F.    I'm running late so Lime Electric Scooter 
What do you do to relax?
A.    Take a walk in your favorite park and become one with nature
B.    Grab your best friend and go salsa dancing
C.    Catch a yoga class at your neighborhood studio followed by a glass of wine with friends
D.    Use your favorite meditation app to wind down and feel centered.
E.    Put the kids to bed early and relax with a bubble bath and glass of wine
F.    Cancel all your plans and enjoy some me-time
What is your main goal in traveling?
A.    Experience the natural beauty in a new place 
B.    Cultural enrichment
C.    Discover something new and support local businesses 
D.    Extend a business trip for the weekend, it's about work-life balance 
E.    Family memories and hopefully some relaxation
F.    Flexibility to have a spontaneous adventure 
What was the last thing you posted to Instagram/social media?
A.    The view from that killer hike you did last weekend
B.    A photo from the historic center of Mexico City #wanderlust 
C.    My favorite dish from the seasonal menu 
D.    My laptop next to a cup of coffee #digitalnomad 
E.    A photo from your kid's t-ball game 
F.    I forgot my password 
Quiz results!
Mostly A's:  Eco Wise
You crave time in nature and are committed to a sustainable lifestyle. Health and wellness is important to you and you support small and local businesses whenever possible.
Mostly B's: Globe Trotter
You are a world traveler and crave the finer things in life. You'll try anything once, even if it's outside of your comfort zone. You lead a rich and interesting life and you want to share it with the world. 
Mostly C's: True Original
You prefer the road not taken and seek out authentic experiences off the beaten path. You're a PNW locavore on the hunt for "insider" or "secret" experiences both at home and in your travels. And yes, you might believe Sasquatch is real. 
Mostly D's: Tech Traveler
You love technology for the seamless experience and convenience it brings. You also appreciate how it keeps you connected to family and friends. You geek out on new technology and make sure you have the latest apps and devices on hand to make life and travel a little easier and more fun.
Mostly E's: Family Fun
You're a parent who seeks out child-friendly dining, entertainment, and places. You look for conveniences to simplify your often-hectic travel experience. At the same time, you are on the lookout for a good time and moments for yourself.
Mostly F's:  Procrastination Pro
You're a finely-honed travel machine who doesn't waste time on over planning, trusts that everything will come together in the end. You don't want to miss out on last minute deals and thrive on serendipity. You're always on the lookout for travel shortcuts and quick options to get you on your way when you're up against the clock. It's exhilarating!