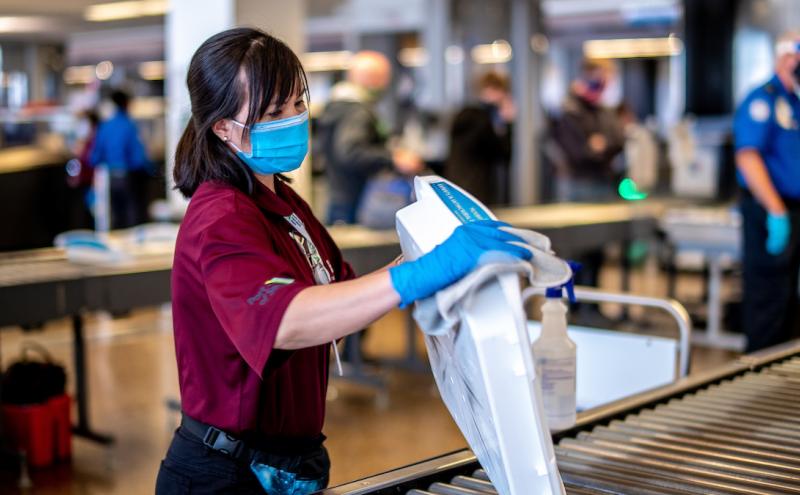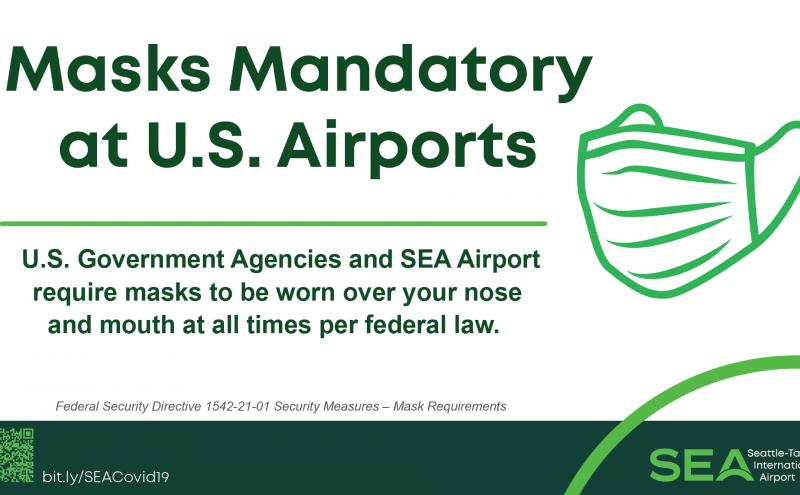 Last Updated: April 2, 2021
See what Seattle-Tacoma International Airport (SEA) is doing to keep the airport safe with FlyHealthy@SEA as well as the latest information on traveler impacts at the airport read COVID-19 FAQs at SEA Airport. For any information on flight information please contact your airline directly within 72 hours of your scheduled flight.
Current COVID-19 Requirements
Face Masks, Testing, Vaccines, Quarantine and Physical Distancing
U.S. Federal Agencies and SEA Airport requires face masks at U.S. Airports. Masks must be worn over the nose and mouth at all times except for when eating or drinking in accordance to Federal Security Directive 1542-21-01 (Security Measures – Mask). Please wear a face mask that is approved by the Centers for Disease Control and Prevention (CDC) standards and keep a physical distance of 6 feet or 2 meters or more from others.

TSA requires individuals to wear a mask at airport screening checkpoints. Federal law requires wearing a mask at all times at the airport and passengers without a mask may be denied entry, boarding, or continued transport. Failure to comply may result in removal and denial of re-entry, individuals may be subject to penalties. This requirement will remain effective until May 11, 2021 with CDC's mask order.

Follow CDC's Travel Advisory Guidance - If you are traveling, get tested with a viral test 1-3 days before your trip. Make sure you have the results of your negative test before you travel. Keep a copy of your results with you during travel; you might be asked for them. Do not travel if you test positive. Immediately isolate yourself, and follow public health recommendations. Get tested again with a viral test 3-5 days after your trip and stay home and self-quarantine for a full 7 days after travel, even if your test is negative. If you don't get tested, stay home and self-quarantine for 10 days after travel.

According to the CDC, fully vaccinated travelers do not need to get tested before or after travel unless their destination requires it and do not need to self-quarantine for travel within the United States and U.S. territories. The CDC recommends delaying travel until you are fully vaccinated, because travel increases your chance of getting and spreading COVID-19. Fully vaccinated travelers should still follow CDC's recommendations for traveling safely including: Wear a mask over your nose and mouth, stay 6 feet from others and avoid crowds, and wash your hands often or use hand sanitizer. If you are not fully vaccinated and must travel, follow CDC's recommendations for unvaccinated people. CDC will update these recommendations as more people are vaccinated, as rates of COVID-19 change, and as additional scientific evidence becomes available.
COVID-19 Testing Requirements
Check if your destination requires quarantine or testing. Testing options are available for those who need it for other destinations or other requirements; information is subject to change due to the ever-changing nature of policies and restrictions. Make sure you check the guidance from your destination, whether international or domestic, to understand the type of test needed and time frames associated with avoiding quarantines or contact your airline with questions. Please do not travel if you have symptoms or feel ill.
Domestic Travel
Please refer to the city, county, and state's information and guidelines for more specific quarantine and testing requirements. Quarantine requirements for travelers with some exemptions for negative COVID-19 tests prior to arrival:
International Travel Requirements
Please coordinate with the embassy for more information specific to your citizenship and other personal information and view the International COVID-19 Travel Regulations Map for specific information by country. The Department of State advises all U.S. citizens to read the country-specific Travel Advisories and U.S. Embassy COVID-19 pages for updates on the impact of COVID-19 worldwide. For emergency assistance, contact the nearest U.S. Embassy or Consulate or call the following numbers: 1 (888) 407-4747 (toll-free in the United States and Canada) or 1 (202) 501-4444 from other countries or jurisdictions.
For the United States:
CDC Expands Negative COVID-19 Test Requirement to All Air Passengers Entering the United States - Effective Jan. 26, passengers are required to test negative before departure to the United States combined with the CDC recommendations to get tested again 3-5 days after arrival and stay home for 7 days post-travel and provide written documentation of their laboratory test result (paper or electronic copy) to the airline or provide documentation of having recovered from COVID-19.
For countries outside of the United States:
View a COVID-19 Country-by-Country Guide on Travel Restrictions
Canada requires Pre-departure COVID-19 testing,negative results, and hotel stay - Effective Jan. 7, all air passengers five years of age or older will be required to test negative for COVID-19 before traveling from another country to Canada. This implementation date provides all airlines, both foreign and domestic, adequate time to comply with the new requirements. Air travelers arriving to Canada, as of February 22, 2021, are required to take a COVID-19 molecular test when they arrive in Canada before exiting the airport, and another toward the end of their 14-day quarantine period. With limited exceptions, air travelers are also required to reserve a 3-night stay in a government-authorized hotel. This must be done prior to departure to Canada. These new measures are in addition to existing mandatory requirements for air travelers such as required pre-departure COVID-19 testing and negative results for air travelers coming into Canada. Learn more 
United Kingdom Passengers Require COVID-19 Tests Prior to Departure - The CDC issued an order effective Dec. 28, due to the new variant of COVID-19 in the United Kingdom requiring all air passengers arriving to the US from the UK to get tested no more than 3 days before their flight departs and to provide proof of the negative result to the airline before boarding the flight. For more information on this testing requirement, see the Frequently Asked Questions.
Netherlands Require Multiple COVID-19 Tests Prior to Departure - All travelers who go to the Netherlands by plane or ship must show a negative rapid test just before departure within four hours of boarding. This is in addition to the already mandatory negative PCR test, which must be taken no more than 72 hours before arrival.
A presidential proclamation expands travel restrictions for South Africa, Brazil, Britain and 27 European countries - Due to go into effect on Jan. 30, the proclamation applies to non-citizens attempting to come to the U.S. from any of those countries for 14-days prior to travel.
Resources and Information
The CDC offer other helpful resources for COVID-19 testing, including an overview, what your test results mean, and who should get tested.