Personal Vehicle Drop-Off
Loading areas are marked with blue signs and located along the drives. The curbs along the upper and lower drives at SEA for departures and arrivals are being updated to meet current code requirements for accessibility, both by creating curb cuts or eliminating the curb altogether. More parking information is available on our accessible parking page.
If in need of wheelchair service to the ticketing counter, please contact Prospect Airport Services at (206) 246-1550 upon your arrival. For wheelchair service from the ticketing counter to your gate, please contact your airline directly to make a reservation prior to your arrival at the airport. Visit the Airline Accessibility Page for airline contact information. Airlines coordinate wheelchair services from ticket counters to departure gates, and from arrival gates to the baggage claim. 
Accessible Taxi Services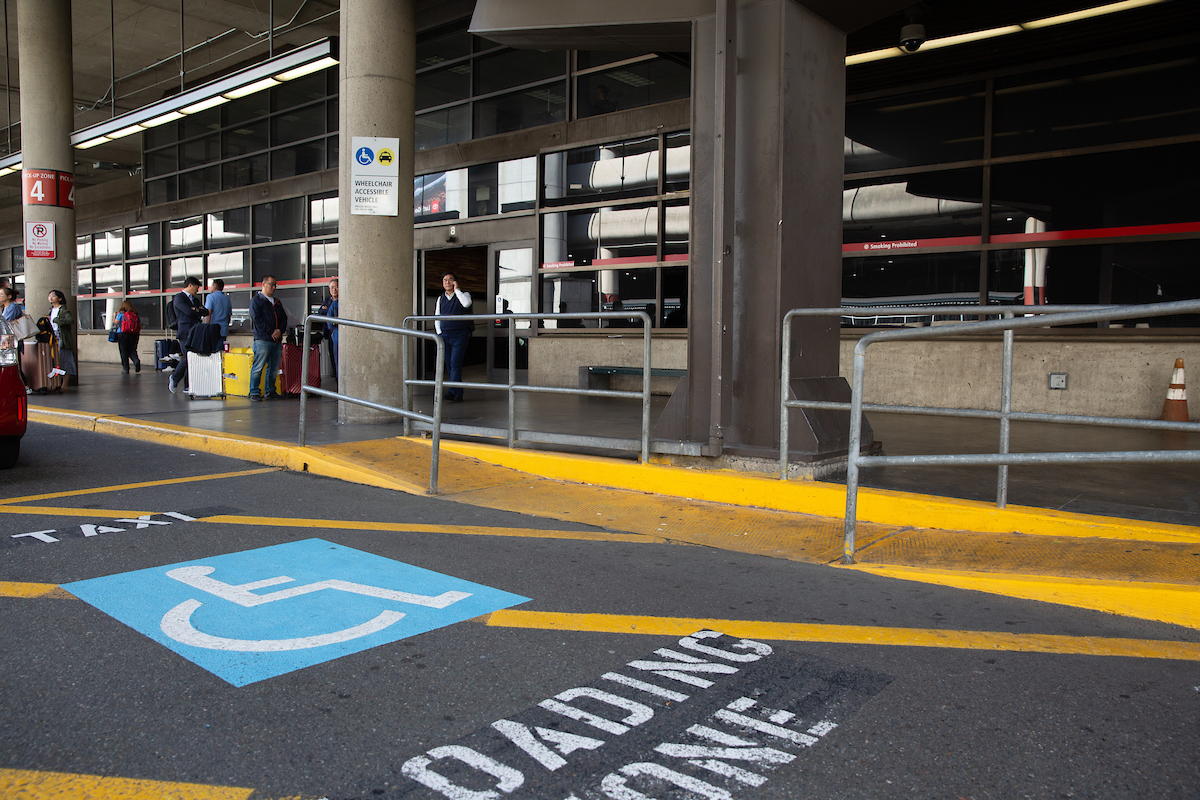 Taxi and flat rate vehicle services to and from the airport offer wheelchair accessible vans. SEA has expanded the fleet to include five additional licenses for wheelchair-accessible taxis.
Taxi and flat rate vehicle services to and from the airport offer wheelchair accessible vans. Taxis drop off on the departures level, or a location most convenient for the passenger. To request a wheelchair taxi, please contact ABM Taxi Service at (206) 432-9030.
Taxis depart from the third-floor parking garage. Passengers in a wheelchair or with limited mobility may request curbside pick-up on the Baggage Claim level by Skybridge 2 near Door 10 and Skybridge 5 near Door 22. Please state clearly to your taxi service provider that you require mobility assistance to ensure they meet you by one of these locations.
App Based Rideshare
Rideshare providers are allowed to do passenger pick up on the drives for customers who need additional assistance. When requesting pick up from Uber, Lyft, or Wingz the passenger can tell their driver that they need to be picked up on the drive and either one of them can contact our Ground Transportation team to inform the staff of this pick up by phone at (206) 787-5906 with the driver's name and license plate number.
Customers can also coordinate with SEA's wheelchair service provider for assistance and guidance to the rideshare area or the curb for pick up. Customers can coordinate with Prospect Airport Services by phone at (206) 246-1550.
Public Transportation
Many of the scheduled public transit buses on airport routes are lift-equipped. Please contact Metro, Sound Transit or the Ground Transportation Booth (at the 3rd floor of the Parking Garage, or (206) 787-5312) for further information. 
The airport is also served by Link Light Rail. Free shuttle service is provided between the SeaTac/Airport station and the airport terminal.
On arrival at the Light Rail station, take the elevator or escalator down from the platform to the mezzanine level. Shuttles load near the entrance to the skybridge to the main terminal, and operate continuously between 5:00AM and 12:00AM.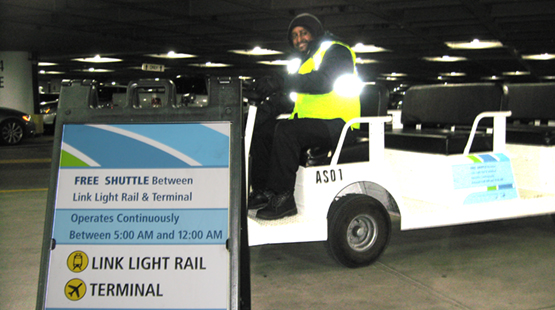 Rental Cars
Rental car companies rent vehicles equipped with hand controls at no additional charge. To ensure availability of these cars, be sure to make advance reservations.
Airporter/Hotel Shuttles
Contact your ground transportation provider directly for information on available lift-equipped van service. Many hotels also have courtesy van shuttles that can pick up on the baggage claim level (lower drive) for individuals with disabilities; for more information, contact your hotel.
Curbside Services
Some airlines do offer curbside check-in during peak periods. Travelers should check directly with their carrier about check-in services. There is no parking or waiting allowed on the airport drives. Vehicles left unattended, even if the driver is nearby, will be ticketed and towed. A good alternative to loading and unloading on the drives is to use the Airport Garage.