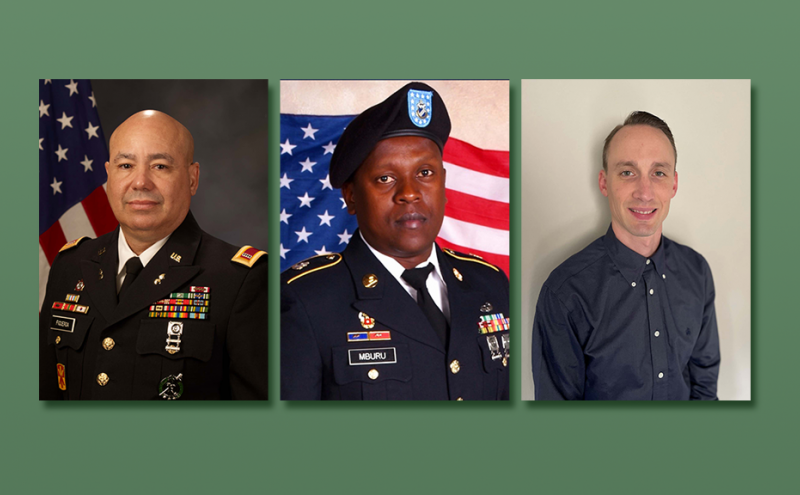 Jose A. Figueroa
Jose was born and raised on the Island of Puerto Rico. He began his military career in 1992 when he enlisted in the Puerto Rico Army National Guard (PRARNG) and served as a Combat Service Support Specialist. In 1994, he enlisted in the United States Army as an Electronic Missile Maintenance and Munition Specialist.
As an Electronic Missile Maintenance Specialist, Jose had the privilege to serve on various assignments within the United States and abroad. In 2005, while serving as an instructor writer and training developer at Redstone Arsenal, Alabama, he was commissioned as a U.S. Army Warrant Officer. As a Chief Warrant Officer, he was privileged to travel to a different part of the world, enhancing his cultural awareness. His last assignment is Joint Base Lewis-McChord, WA. Jose is set to retire this month after serving in the United States Army for over 28 years.
Jose has an AAS in Electronic Engineering, ASS In Missile Munitions Technology, and is pursuing an undergrad in Management and Logistics from Park University of Missouri.
Jose had dreamed about being a Soldier ever since he was a small child, but it was not until he was in his early twenties that he started thinking about making his dream a reality. When he was about to graduate from college, he realized that he didn't have the sense of purpose or direction that he needed in his life. Also, the lack of employment opportunities and the social-economic factors of living on a small Island forced him to look elsewhere for better opportunities for himself and his family. The United States Army gave him the purpose and direction he was looking for. He will forever honor and be grateful for the opportunity of serving in the United States Armed Forces. Go Army!
Jose is looking forward to starting this new chapter. He is very grateful to the Port of Seattle for this rare and unique opportunity. During his time serving as a veteran fellow, he hopes to put into good practice his years of experience and all the skills that he has acquired during his time in the military to positively impact any project that he is assigned to lead or participate in.
In his free time, Jose enjoys cycling when the weather allows it, including going on early morning bike rides. He also enjoys the outdoors and exploring different mountains and trails in the nearby area. Last but not least, he loves history! He says "If I couldn't be a Soldier, I think I would be a historian. I am passionate about any subjects that relate to War History, Specifically WWI and WWII periods."
Jackson Karanja Mburu
Born and raised in Nairobi, Kenya, Jackson Karanja Mburu immigrated to the United States in March 2012 and shortly after enlisted in the United States Army in October 2012 from Fort Benning, Georgia.
Coming to a new nation, Jackson joined the Army as his way to serve the country that gave him a second chance in life and to fulfill a childhood dream to enlist. With his nine years of service, Jackson has been stationed in Hawaii, California, Colorado, and Washington state.
After graduating with a diploma in Mechanical Engineering from the Railway Training Institute of Nairobi, Kenya, Jackson went on to apply his studies in his various roles of service in the Army. Beginning as a Stryker Systems Maintainer team leader at Schoefield Barracks 25th Infantry Division, HI, Jackson performed field and sustainment level maintenance on various systems to include the suspension, steering, hydraulic, fire extinguisher/suppression systems, and vehicular mounted armament. Jackson went on to serve as a Motor Pool Sergeant at Joint Base Lewis-McChord, WA in their 2nd Infantry Division, leading several maintenance operations at the National Training Centre at Fort Irwin, CA. Jackson completed his service in his roles as Electromagnetic Spectrum Manager and the Signal noncommissioned officer in charge for 1-38 Infantry 4th Infantry Division, Fort Carson, CO.
Jackson now joins the Port of Seattle working in the Aviation Project Management Group. He is looking forward to the opportunity to work with professionals and get exposure to the civilian way of doing things. Jackson hopes to extend his career by learning and developing skills in the corporate business world.
Jackson is married and enjoys reading books while also staying active during his free time with his love for playing soccer and swimming.
Matthew P. Piccolo
Matthew is originally from Upstate New York, and now lives in Puyallup, WA. He has an undergraduate degree in Chemistry from St. Bonaventure University, is currently in his last semester for a Bachelor's Degree in Aeronautical Science, and will pursue a Master's Degree in Aeronautical Science with a focus on safety from Embry-Riddle Aeronautical University.
After being commissioned as a Second Lieutenant, Matthew was stationed in New York, Georgia twice, Alabama, Texas, Washington twice, Kentucky, and Saudi Arabia. He was deployed to Iraq and Afghanistan. He separated from the Army in August 2020 while stationed at Joint Base Lewis-McChord, WA, after 12 years of service.
Matthew also served in the U.S. Army as an Aviation Officer. He has flown over 800 hours as an AH-64 Apache Helicopter pilot, including over 200 hours while deployed. He was a helicopter company commander in Fort Campbell, KY, from 2016-2017. Later, he served as an Army aviation advisor and liaison officer for three separate units from 2018-2020.
Matthew felt strongly about joining the military because both of his grandparents, his father, and most of his uncles had served. However, his parents wanted him to go to college. To do both, he joined ROTC all four years of school and was commissioned in the Army right after graduating.
While at the Port, Matthew will be a part of the Waterfront Project Management Team. He is looking forward to being part of a new team, participating in new and interesting projects, and working in a field that serves an important role in our community and economy.
He hopes the fellowship helps him gain real-world experience working on projects and that he can build on his professional skills. His future career goals are to finish his degree, get a Project Management Professional certificate, and continue working at the Port of Seattle or in the aviation/aerospace industry as a project manager.
When not in school or work, he likes to kayak, hike, and snowboard with his wife, Melissa. He also occasionally golfs and fishes when he has the time. He enjoys watching all sports and playing fantasy football.
Published Date
Nov 11, 2021