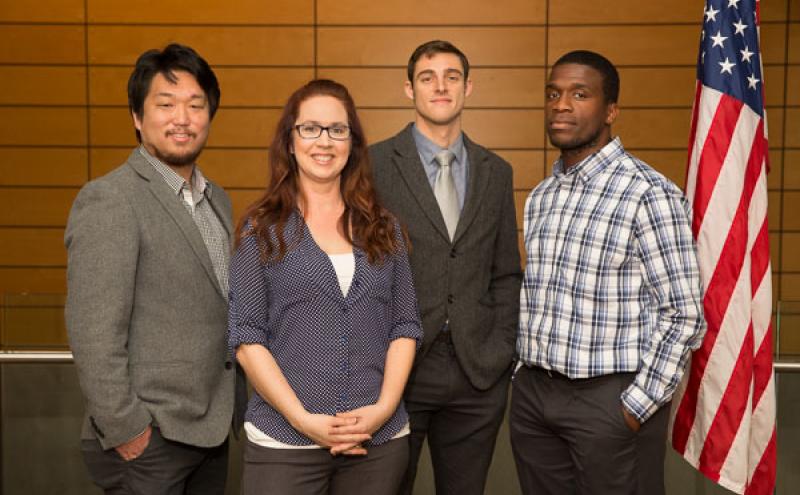 In April 2018, the Port of Seattle celebrated the 10th year of its Veteran Fellowship Program, which offers six-month temporary employment to six transitioning veterans each year and is designed to equip veterans with skills needed to be successful in jobs outside the military. 
"This program is for people that are right out of the military looking for help getting into the civilian sector." Amberine Wilson, Veteran Fellowship Program Manager said. "It can sometimes be a cultural shock for them, so we work to make that transition easier."  
Veteran Fellow Terrance Coley is working with Public Affairs as an Environmental Outreach Specialist. "Communication in the military and outside of the military are two different things," Coley said. "Learning how to speak on a more professional level is something that I took away from this program." 
The fellowship helped merge two of his interests: the environment and talking to people.  "Being able to go out and speak to the community is something that I enjoyed doing." Coley said, "It was just a great learning experience being able to see what the outside world is like outside of the military."
For Coley, the fellowship has been a little different than he initially expected. "I thought it would be something different but it also came out to be something good," reflected Coley. "I got to meet a lot of people in different departments that have helped me." 
After leaving the military, Veteran Fellow Bryan Lee attended graduate school for his MBA and focused on business analytics. Having this fellowship allowed Lee to combine his military training and graduate school education by giving him some much need real-world experience. "I loved seeing how an organization is run, especially how a Business Intelligence (BI) program is run, and seeing how everything fits together." Lee said. 
As each fellowship draws to a close, the Port offers assistance with cover letter writing, resumes, and mock interviews to further set up veterans' future success. "The Port allows you to really network and strengthen your network out in this area," Lee remarked.
The Veteran Fellowship program is mutually beneficial for Port supervisors as well. "They get someone who is adaptable, intelligent, and highly capable of doing the job. They also get that added expertise of different perspectives on their team." said Wilson.
 "From my experience, the Vet Fellows come in with a lot of good experience and background and provide a lot of good work here at the Port, I have seen very positive things come out of that," ICT Business Case Manager Tamara Flood commented, "It's a win-win for everyone."
Eighty-five percent of fellows have found permanent employment within six months of completing the program and the remaining 15 percent re-enlisted or went back to school. The Port of Seattle retained over half of the talent with 51 percent hired into fulltime positions or as emergency hires.