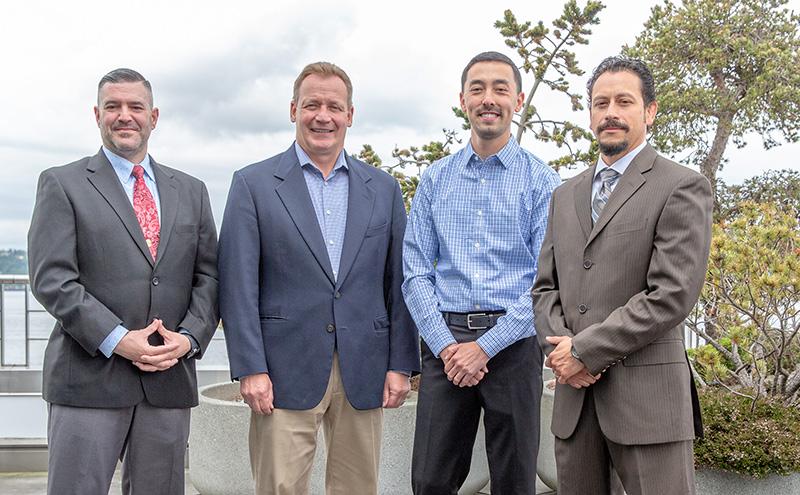 Above (L to R): Veteran Fellow Chad Aldridge, Executive Director Steve Metruck, Veteran Fellow Jeremy Beck, and Veteran Fellow Juan Alvergue
Chad Aldridge, Policy and Outreach Manager, Public Affairs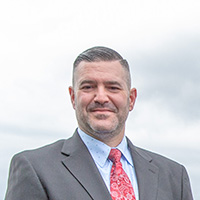 Primarily, I was brought on to assist with the implementation of an anti-human trafficking strategy. I've been making rounds and attending many meet and greets with key stakeholders that are going to have some of the decision-making pieces on the implementation of the strategy. This strategy is not something that once implemented can fall to the wayside, so hopefully I will be able to continue working on it with the Port in some capacity after my fellowship is complete.
I was in the Army for 27 years and retired out of Joint Base Lewis-McChord. I  have been stationed at 10 different military installation across the United States and abroad, from Georgia to Korea to Qatar and three tours in Iraq, so I have a vast and diverse experience of working with many different cultures from around the world. I was a Special Agent for the Army in the Criminal Investigations Division, (the Army's FBI). Our organization operates very similarly to other civilian federal agencies in terms of duties and jurisdictions.
I'm from North Carolina born and raised and joined the military when I was 17. Once I joined the Army I started seeing the world. I moved to Seattle (Joint Base Lewis-McChord) most recently in July of 2016. Outside of work, I enjoy spending time with my son and my wife. In addition, I'm a member of the Combat Veterans Motorcycle Association, 501(c),our whose motto is, "Veterans Helping Veterans." The national organization has donated over $250,000 to veterans organizations and veterans in need across the country.
Jeremy Beck, Business Analyst, ICT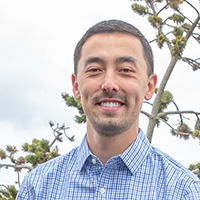 Right now, I am working on writing business cases by gathering requirements from different internal costumers for proposals to either purchase new software or design new software. During my fellowship, I hope to learn how to gather requirements, conduct interviews, and due process modeling. My career goal is to find a job somewhere in the Seattle area related to technology. During my fellowship, I plan on networking with different people to learn as much as I can about their roles and responsibilities. So far, I am learning a lot about how things work at The Port.
I served in the Navy for 5 years, stationed in North Carolina and Washington. I worked as a submariner in the engine rooms. I focused on electrical power generation and maintenance. I learned how to work in on a team even when your teammates are not the easiest to work with. In the military, you learn how to deal with what you are given. You may not know everything, but you are adaptable and able to excel.
I was born and raised in Atlanta but have lived in Seattle for four years. I love to explore different parts of Washington by spending time outdoors and backpacking when the weather is nice. Seattle is a beautiful place to be. You can't get that back home in Atlanta.
Juan Alvergue, Seaport Project Management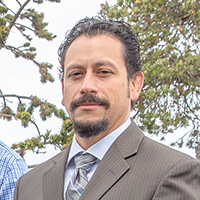 Seaport Project Management works on maintaining new and existing projects throughout the Seaport. For example, we make sure that all the elevators on the Seaport side are being maintained and that we have trackability for financial planning. As a Veteran Fellow, I plan on exploring different opportunities to see what is out there and to make as many contacts as I can.
I have served in the military for 20 years and was stationed all over the world. I did tours in Hawaii, Washington, Afghanistan, and other places. The first half of my career I was on submarines and did tours on the USS Toledo, Los Angeles, Alabama, and Miami. From there, I transitioned into shore commands, as well as a tour in Afghanistan. My duties were logistics and financing. Overseas, I oversaw the in-processing team for the Afghan local police. I helped train them on how to be a self-sustaining police force. The most important thing I learned in the military is people are first. I do not hold our own individual accomplishments as actual accomplishments. It is when those around me achieve success that I can look at myself and say that was a job well done.
I was born in El Salvador and came to the US when I was eight. I have lived in Florida, California, and Arizona but the opportunities kept bringing me back to Seattle. I now have family that lives here, so it has become my home now. I am an outdoorsman. I like to hunt and do obstacle races. Fitness is an important aspect of my life so I like to work out. I like to watch my kids and play different sports with them.
Published Date
Nov 02, 2018