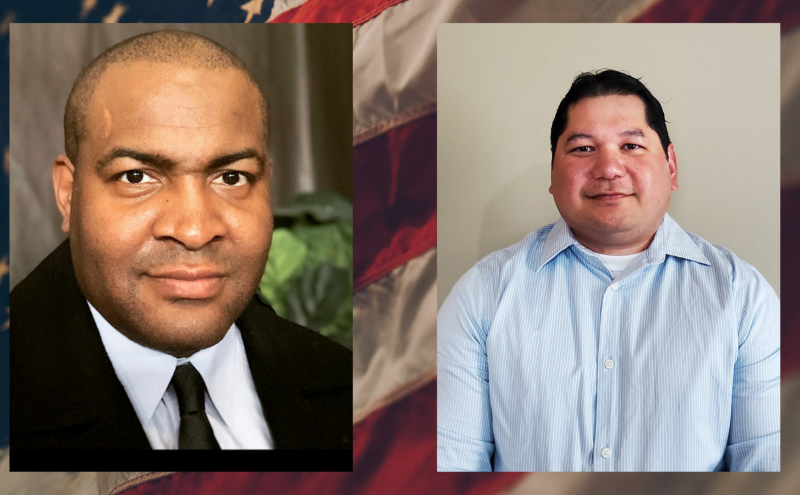 Carl Hugle
Originally from New Orleans, LA, Carl Hugle joined the United States Army as a high school senior in 2001. Carl was most recently stationed in Olympia, WA where he directed recruiting operations for the Army as an Area Recruiting Manager covering Thurston, Mason, and Grays Harbor counties. He is currently working on completing his bachelor's degree in Business Administration at Post University in Waterbury, CT. He served in the US Army for over 20 years. 
Carl committed to join the Army because everyone he knew in the military up until that point carried a sense of pride and had a great work ethic. He felt that he needed that type of structure to grow and eventually succeed in life. Carl has been stationed in Germany, Hawaii, Colorado, California, Massachusetts, and Washington state. 
Carl was trained in logistics and worked alongside the maintenance support teams to oversee parts procurement, maintenance records, and fleet management protocols. He spent three years in Iraq supporting maneuver units conducting combat operations.  He was later handpicked to become a member of the Army's recruiting team. He used that opportunity to share his experiences along with the Army's values and inclusive culture with the communities he served to find them a place in the Army. 
While at the Port, Carl will be a part of the Workforce Development Team in the Office of Equity, Diversity, and Inclusion, serving as a Data Analyst. He looks forward to aiding in the Port of Seattle's commitment to balancing the scales of equity, promoting diversity, and making sure that the experiences of every team member are not excluded. He finds joy in being a part of a team that is willing to solve problems and shape a culture that fits all. He also hopes to enrich his understanding of corporate business practices.
When not working, Carl loves weekend getaways with my wife and kids. He is a football fanatic and loves his hometown New Orleans Saints. He loves watching pop-culture documentaries and outings with his friends.
Jon Eustaquio
John is originally from Guam and recently retired from the United States Navy in April of this year after 22 years of service. He holds a Bachelor of Science in Health Care Management from Southern Illinois University. 
Growing up in Guam, he was able to witness firsthand the military's role in providing humanitarian support. After natural disasters such as typhoons and earthquakes, the military would be one of the first organizations to begin rebuilding infrastructure and restoring services to the island. By the time he was a sophomore in high school he knew that he wanted to join the military and help others.
During Jon's time in the military, he was honored to serve as a Hospital Corpsman in the Navy for those 22 years. He started his career at the US Naval Hospital in Yokosuka, Japan, and then transferred to 1st Marine Division, Camp Pendleton, CA. After completion of these duty stations, he qualified as a Navy Diver, specializing in dive medicine. As a Dive Medical Technician, he was involved in all aspects of diving such as hyperbaric operations, underwater repair, salvage, and other diving operations specific to the military. 
In the latter part of his career, he volunteered to serve on board submarines as an Independent Duty Corpsman.  He was the sole medical provider on board the submarine for a crew of over 150. As the only medical personnel, he managed the whole medical department ensuring that it was able to provide care and administrative needs of the crew both in port and underway.
While at the Port, Jon will be a part of the Marine Maintenance Department as an asset program assistant.  He is looking forward to being exposed to new teams and leadership dynamics. Jon is also looking forward to the opportunity to apply his project management skills to this new role. Ultimately his career goal is to continue working at Port of Seattle.
Some of Jon's favorite outdoor activities include mountain biking and outdoor rock climbing. He enjoys watching football and has found that Formula 1 Racing is a great way to fill the void after football season ends.
Published Date
Jun 25, 2021