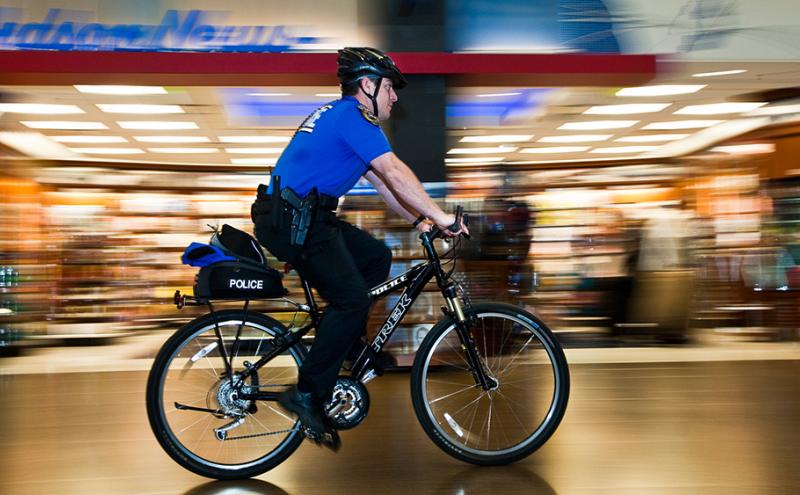 Police Bike Team
The Police Bike Team is a valuable tool used by the Police Department to patrol its jurisdiction, including Sea-Tac Airport and portions of the Seattle waterfront area.
The Bike Team operates year-round in varied terrain that ranges from the terminal building, parking garage, roadways, and heavily forested "clear zones" of the airport, to the streets, parks, marinas, cargo terminals, and cruise ship facilities of downtown Seattle. Because of the unique capabilities of police officers on bicycles, the Bike Team also assists regular patrol units at special events and during special operations.
The team consists of approximately 20 "core" members who are responsible for the ongoing operations. This core team is supplemented by other officers who have shown an interest in patrolling the port by bike. Our "stable" of bikes includes standard hard-tail patrol bikes for everyday assignments and dual-suspension, off-road bikes for the more remote areas in the jurisdiction.
Greater efficiency, enhanced customer service, higher visibility and increased fitness are some of the benefits of patrolling on a bicycle. The Bike Team provides quick response to emergency situations and routine calls in the large and often crowded airport terminal at Sea-Tac Airport. While patrolling the port's parks, marinas, and waterfront terminals the Bike Team can quickly and quietly patrol areas that are hard to access in a patrol car and can effectively police areas that are too large to patrol efficiently on foot.
The team receives training from the International Police Mountain Bike Association and the Law Enforcement Bicycle Association, two of the largest police bicycle training organizations in the United States. Team members consider every day on the bike a training day with the goal of sharpening skills and enhancing service to the community.