About the late night noise limitation program
The Late Night Noise Limitation Program is a new, voluntary Port of Seattle program designed to reduce late night noise at SEA Airport by encouraging air carriers to fly during less noise-sensitive hours or transition to quieter aircraft.  The program was developed to increase air carrier awareness of the impact of aircraft noise on local communities.  
Focuses on the hours of 12:00 a.m. to 5:00 a.m. to help alleviate late night aircraft noise within the community
Captures noise levels for any take-offs and landings between these hours using four close-in airport noise monitors; noise level data collection began July 1, 2019
Reports out any exceedances of noise thresholds to the public and air carriers on a quarterly basis
Beginning in 2020, a penalty score will be assigned as part of the Port's Fly Quiet Incentive Program if an operation exceeds an established noise threshold
Single Event Noise Exposure Level (SEL) is the metric the program uses to measure aircraft noise at the four monitors. SEL is measured in decibels and represents the total sound energy from an aircraft operation at a given location.
Noise monitors
The Late Night Noise Limitation Program is an outcome of the Sea-Tac Stakeholder Advisory Round Table (StART).  StART, formed in 2018, brings together the Port, FAA, air carriers, and local airport communities to support collaborative dialogue on airport-related issues and to identify practical solutions to reduce the airport's impacts on local communities.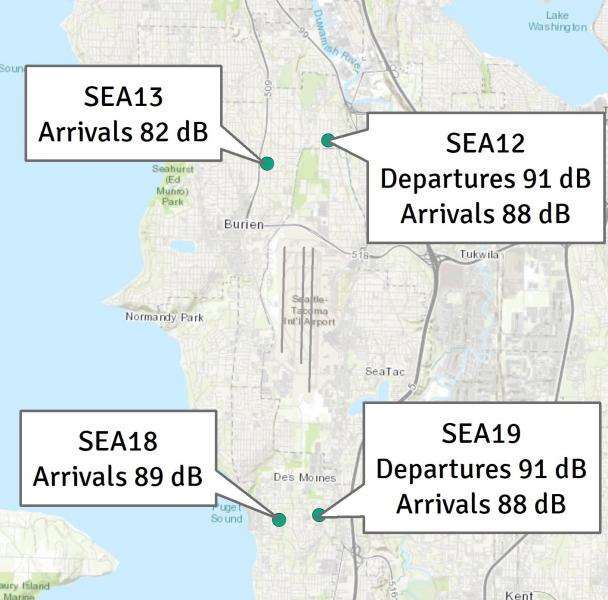 The four close-in monitors used to capture noise are monitors SEA12 and SEA13 north of the runways and SEA18 and SEA19 south of the runways.
To expand the Noise Monitor Map and view the established noise threshold at each monitor, please click the map. Learn more about the Port's Aircraft Noise Monitor System, including approximate address locations for the above-mentioned sites.
For any questions, comments or concerns regarding Airport Noise, please contact the Airport Noise Programs Office by phone at 1 (800) 826-1447, (206) 787-5393 or by contacting us using our comment form.
2nd quarter, 2023 late night noise limitation program report
All airlines with late night operations that exceeded noise thresholds during the quarter are displayed below along with their late night total operations and the exceedance percentage of their late night total operations. They are ranked from the most exceedances to the fewest.  For a more detailed look at the specific operations that exceeded thresholds along with a list of all airlines that operated during these hours, please view Full Report.

Airlines with exceedances during late night hours in the 2nd quarter, 2023
| Airline Name | Type* | Total Late Night Operations | Total Number of Exceedances | Percent of Exceeding Operations |
| --- | --- | --- | --- | --- |
| China Airlines Cargo | CRG | 66 | 41 | 62% |
| FedEx Express | CRG | 67 | 26 | 39% |
| ATI (Amazon Prime Air) | CRG | 264 | 19 | 7% |
| Korean Air Cargo | CRG | 34 | 16 | 47% |
| Cargolux | CRG | 17 | 14 | 82% |
| Asiana Airlines Cargo | CRG | 7 | 7 | 100% |
| Sky Lease Cargo | CRG | 11 | 7 | 64% |
| American Airlines | PAX | 174 | 4 | 2% |
| Antonov Airlines | CRG | 2 | 2 | 100% |
| United Airlines | PAX | 281 | 1 | Less than 1% |
*Operation type is indicated with "PAX" for passenger airline carrier or "CRG" for cargo airline carrier
Airlines with no operations during late night hours in 2nd quarter, 2023:
Lufthansa, Japan Airlines, Emirates Airlines, Virgin Atlantic, Aeromexico, Aer Lingus, Finnair, British Airways, Jazz Aviation, Iceland Air, Qatar Airways, Air France, Singapore Airlines, Condor, Turkish Airlines, Air Tahiti Nui