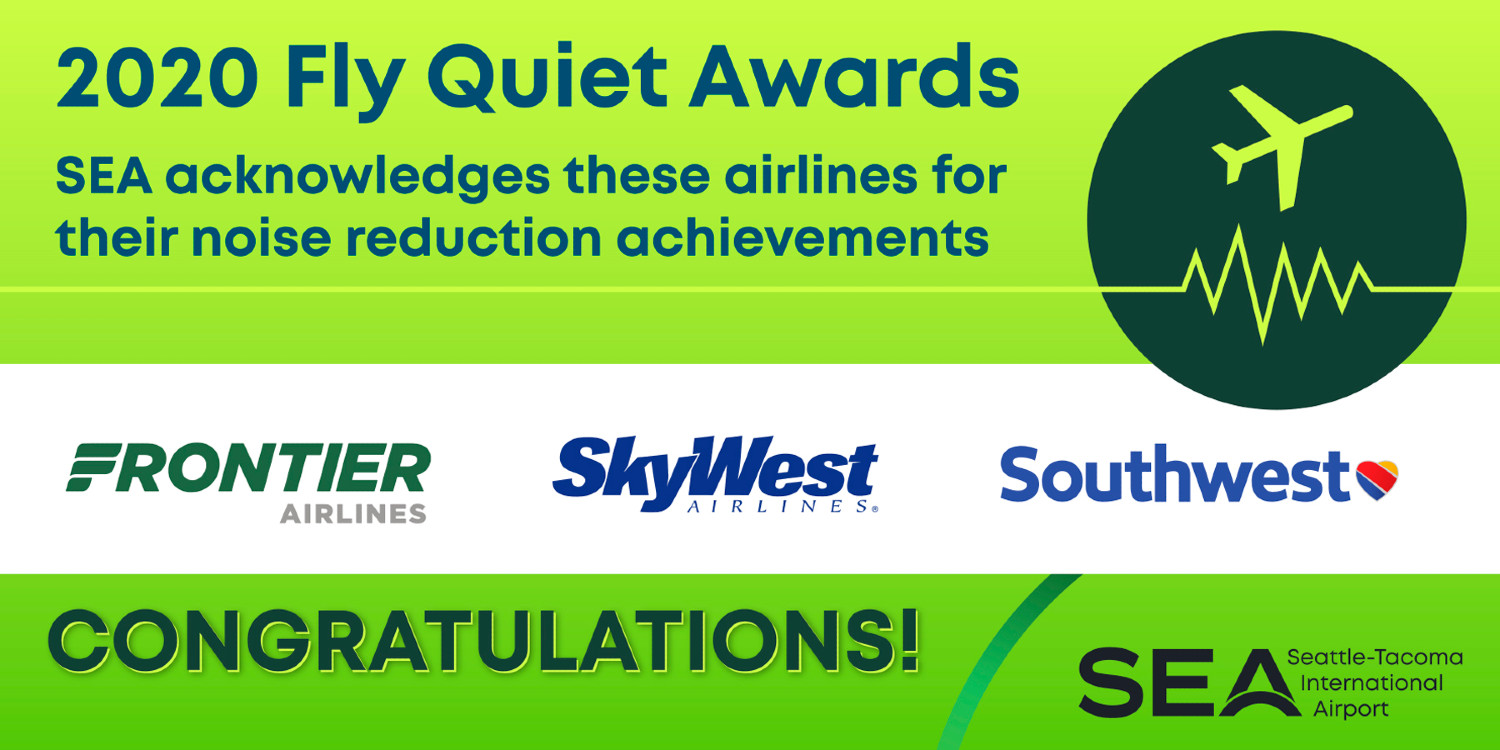 As a component of the Part 150 Study update adopted in 2002, the "Fly Quiet Incentive Program" was implemented at Seattle-Tacoma International Airport (SEA). The award was developed by Port of Seattle staff and a citizen advisory committee as a way to increase airline and pilot awareness of the impact of aircraft noise on local communities.
Fly Quiet encourages airline compliance with noise abatement efforts by evaluating flight procedures, as well as aircraft noise levels, and recognizing airlines with the best record of achievement in their award category. The first Fly Quiet Award was presented in 2005. Fly Quiet was included in the 2014 Part 150 update as a continuing noise program measure.
The following airline criteria are used for Fly Quiet evaluation:
The fleet mix must include jets
With the exception of regional airlines, must conduct at least 1,000 annual jet operations at SEA
Regional airlines must conduct at least 500 annual jet operations at SEA
Airlines are given scores based on four categories:
Compliance percentage with existing noise abatement flight procedures  
Compliance with SEA's aircraft engine testing run-up rules and regulations
Overall noise of their operations as measured by four of our permanent noise monitors (two to the north of the runways and two to the south) in our system of 24 total monitors
Noise levels that exceed specific thresholds established at the four monitor locations during the late-night hours of 12:00 midnight to 5:00 a.m. These occurrences reduce the overall score.
 
Currently, three Fly Quiet Awards of equal measure are presented annually to airlines operating at SEA:
Quietest of the top five busiest airlines, based on the total number of operations
Quietest airline among the other jet airlines, with at least 1,000 operations
Quietest of all regional jet airlines
Recognition of the Fly Quiet Award recipients includes public acknowledgment through a congratulatory notice placed a national airline magazine and banners placed in the main terminal at SEA. Smaller banners can be made for individual airlines as requested. Winning airlines also are acknowledged at a Port Commission meeting as part of the Port's annual Environmental Excellence Awards.
Here is the 2020 Fly Quiet Scoring List