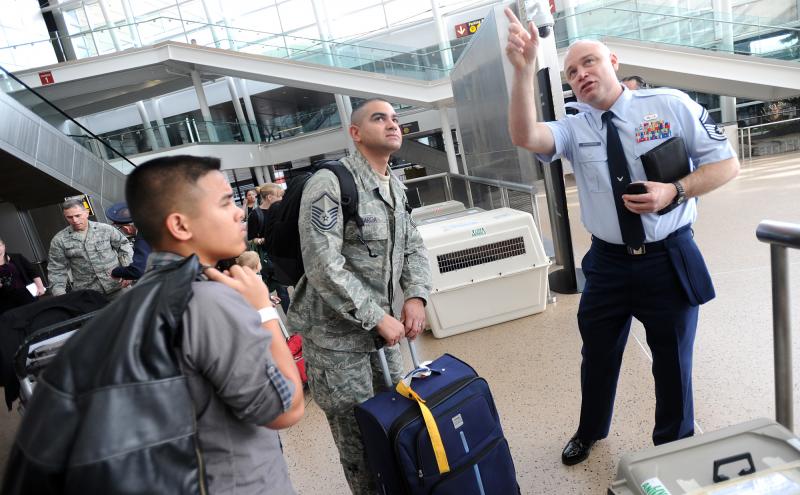 Air Mobility Command (AMC)
SEATTLE-TACOMA (SEA) INTL GATEWAY AMC flights in/out of SEA serve bases in Japan and Korea exclusively. Check-in counters for duty passengers are located adjacent to HAWAIIAN AIRLINES. Check-in time begins 6 hrs prior to departure. Duty passengers must be in line No Later Than (NLT) 3 hrs 20 mins prior to scheduled departure. Space-A roll calls are conducted 3 hrs prior to departure at counters on the ticketing level. Currently, all departures are scheduled between 08:30L and 08:50L PDT on Tuesday, Thursday and Sunday.
For more information, please visit the AMC Passenger Travel Information.
USO
The USO is located on the Mezzanine Level of the Main Terminal. and is open Monday, Wednesday, and Saturday from 8 p.m to 6 a.m.. For more information and to stay up to date on location statuses, please download the USO Mobile app available for iOS and Android or visit www.uso.org/locations.
The SEA Center serves our military members and their families with a full nursery, children's games, books, and toys; sleeping facilities, showers, free snack bar, comprehensive travel information and assistance, and a lounge area that includes a big-screen TV, X-box games, Internet access, and library. For more information call (206) 246-1908 or visit their website. 
Security Screening
TSA provides airport security screening assistance and benefits for all members of the U.S. Armed Forces. The following information for screening your person, carry-on bags and checked baggage can help you have a smooth travel experience at the airport.
All members of the U.S. Armed Forces, including those serving in the Reserves and National Guard can benefit from TSA Pre✓®expedited screening at select airports when flying on participating airlines. Cadets and midshipmen of the U.S. Military Academy, Naval Academy, Coast Guard Academy and Air Force Academy are also eligible to receive TSA Pre✓® screening benefits. Use your Department of Defense identification number when making flight reservations. Accompanying family members ages 12 and under can be processed through expedited screening as well. Learn about TSA Pre✓®.
U.S. Armed Forces members do not need to be in uniform and may use TSA Pre✓® while on personal or official travel.
Enter the 10-digit DoD ID number located on the back of the common access card as your known traveler number when making flight reservations or when updating your Defense Travel System profile for official travel. If the number is not on your CAC, you may obtain it by logging on to milConnect. You will find your ID number under the "My Profile" tab. To ensure future airline reservations automatically include your DoD ID number, save it in your DTS profile. You may also save your DoD ID number in any frequent flyer program profiles of the participating airlines.
Read the TSA Pre✓® military FAQ.
Injured, wounded service members, veterans and wounded warriors may contact TSA Cares to request assistance with the security screening process. TSA Cares is a helpline to assist travelers with disabilities and medical conditions. Call TSA Cares 72 hours prior to traveling with questions about screening policies, procedures and what to expect at the security checkpoint at (855) 787-2227.
TSA verifies the status of individuals identifying themselves as a wounded warriors, through the appropriate military branch. Following verification, the travel information is provided to the departing/arriving U.S. airports where wounded warriors may use TSA Pre✓® expedited screening at available locations or experience other expedited screening procedures.
Injured service members/veterans requesting assistance will have their travel information and type of assistance required provided to the departing/arriving U.S. airports to ensure they receive proper assistance at the security checkpoint.
Learn about the security screening procedures for travelers with disabilities and medical conditions.