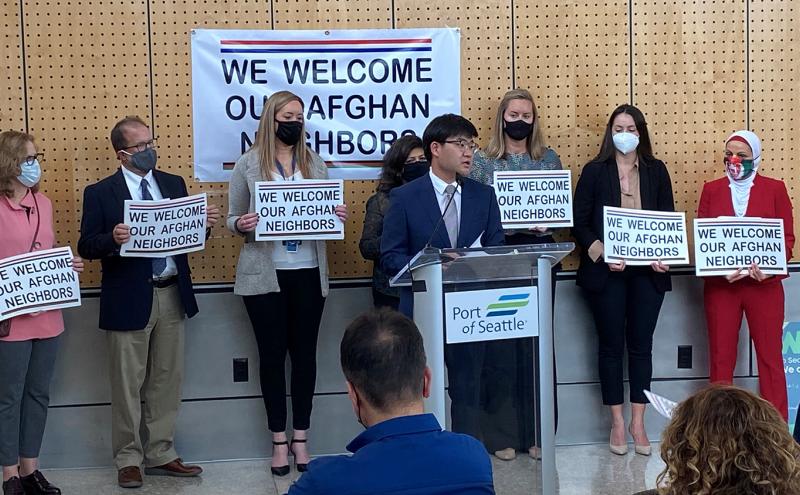 Nov 16, 2021
I was recently honored to join Governor Jay Inslee for an event at Seattle-Tacoma International Airport (SEA) to discuss the efforts of our state in welcoming and supporting refugees from Afghanistan.
As the proud son of immigrants, I know through the experience of my own parents what it is like to arrive in a new country where you may not speak the language or know the local customs.
Seattle-Tacoma International Airport will inevitably be the first impression for these arriving refugees, just as it was for my parents when they immigrated through SEA over 30 years ago.
This is why back in August, when I first heard about the ensuing crisis in Afghanistan, I directed our Port staff to do everything we could to assist in facilitating Afghan refugee arrivals and supporting resettlement efforts.
Since early August, we have been working with resettlement agencies and community organizations to make sure arriving refugees are welcomed and supported as soon as they land.
We have stood up the SEA Welcome Center, a space at the airport that we have made available 24/7 to arriving refugees and the resettlement staff who are working with them.
Our airport dining and retail partners have stepped up and graciously donated culturally-appropriate meals, and throughout the airport, we have placed signage that greets refugees in English, Dari, and Pashto.
Lastly, we moved to ensure that resettlement staff can access the secure side of the airport so they can greet refugees as soon as they step off the plane.
All of this work is being done collaboratively, and we owe a huge debt to the hardworking staff and volunteers who are helping families begin a new chapter of their lives.
Over the past couple of months, the response of the community has been nothing short of amazing. We are grateful for the often-unheralded work of these community leaders.
If you are interested in joining these relief efforts, I encourage you to check out the All In WA website for links to several ways that you can pitch in and help.
On a final note, I think in times like these it is necessary to remember and reflect on our country's long history of welcoming refugees.
Whether your ancestors were Irish fleeing a potato famine or Vietnamese escaping the grasp of communism, our country has always had a deep tradition of welcoming those who sought to escape difficult circumstances in search of a better life.
The diversity and greatness of our country stems from this tradition, but there is always more work to be done to reject hate and make Washington a welcoming place for the immigrants that arrive here.
As long as I am a Port Commissioner, I will continue to honor our commitments to immigrants and people who are fleeing persecution.