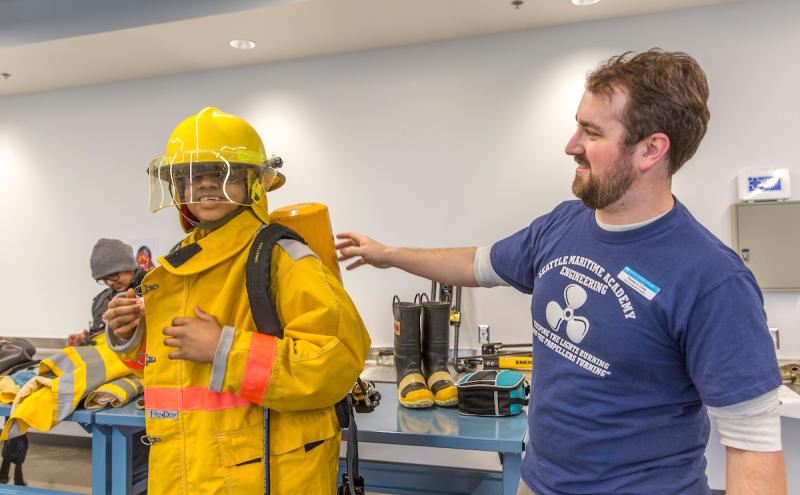 Aug 05, 2020
Our Port provides essential trade, travel, logistics, and industrial services to the region, but our mission does not start or stop there. Underpinning all of our work is the understanding that our services expand economic opportunities for individuals and industries.  
This economic development mission drives the Port's workforce development strategy. We began workforce development in earnest following the Great Recession, knowing that growth in Port-related industries would spur the region's recovery and boost the middle class with good-paying Port-related jobs.  
The Port's workforce development programs make our industries more competitive and change people's lives.  At our last Port of Seattle Commission meeting we heard from Dani Remlinger, a graduate of Apprenticeship and Nontraditional Employment for Women (ANEW) who shared: 
"All the women that I went through with, I think there were 15 to begin with but two had to start working … The rest of us, we have a Facebook group, and all of us are currently working in the trades.  It's changed all of our lives.  Mine especially … I was homeless … I ended up at the Kent ANEW program. Everything turned around for me and I've been doing really, really well.  I've recommended it to so many people." 
Now in the wake of the COVID-19 global pandemic, that mission matters more than ever. This month the Port introduced an expanded strategy to meet today's starkly inequitable economic crisis and support the region's recovery by connecting Port-related employers to a pipeline of talented workers.  
Workforce development works
A 2020 analysis of the Port's prior workforce development efforts shows where we should continue to focus and where we could expand for greater impact. 
The analysis of our early sector strategies in aviation, construction trades, and maritime shows strong results. 
Impact: Working with partners, our investments in workforce development programs led to 9,824 job placements, 1,442 training comptions, and 1,303 youth participating in experiential learning events.
 
Influence: We worked with partners on strategic partners and policy changes. The Port helped create the Regional Trades Partnership made up of regional public owners to develop a pipeline of skilled construction workers to help meet current and future needs driven by Port and other public infrastructure projects; the Youth Maritime Collaborative, which brings together 20 youth serving organizations with a focus on low-income youth and youth of color to increase maritime career awareness and career-connected learning activities, including middle and high school teacher professional development and curriculum development tied to port-related sectors, in partnership with the Washington Alliance for Better Schools. Finally, the Washington State Legislature approved our request for authorization to work directly with nonprofit corporations and private and public entities on job training programs.  
 
Leverage: We inspired regional funding and cooperation that led to more investments in workforce development and information sharing and strategic partnership between local public agencies, an important change that stopped local governments from duplicating each others' efforts and streamlined job training.  We also helped solidify better strategic understanding between public owners and industry leaders about where jobs would be available in the future and how we should target our training programs.  
These results helped the Port achieve its Century Agenda goal to increase workforce training, job, and business opportunities for local communities in trade, travel, and logistics.
Focus on equity
Port-related industries provide stability and growth opportunities. Our airport and seaport are some of the region's largest job sites, and Port-related opportunities and occupations remain a good source of quality, family wage jobs. As of 2018, more than half of the Seattle-King County aviation and maritime jobs pay over $30 per hour, and almost two-thirds of construction jobs paid over $30 per hour.  
We want our industries to represent the communities we serve and for the most impacted communities to benefit from good-paying jobs near their neighborhoods.  
On June 23, 2020, the Port Commission adopted a Workforce Policy Directive to meet our Century Agenda strategic objectives of increasing equitable access for workers in port-related economic activities. 
The Policy Directive provides guidance in two key provisions: 
Goal 1: Increase Equitable Access to Economic Prosperity
Increase equitable workforce access for the trades in port-related economic activities, with an emphasis on expanding opportunities to near-port communities, which are most disproportionately impacted. Port staff will develop program priorities, actions, benchmarks, and metrics for success. 
Goal 2: Leverage Port Impact and Innovation
Identify and prioritize opportunities for leadership to influence and promote a sector-based approach to workforce development centered on equity, diversity, and inclusion.
Opening more doors to Port-related careers
We asked over 200 internal and external workforce development stakeholders from community-based organizations, and individuals who received services from those organizations, labor and industry partners, and our own staff to provide feedback on our current strategy. 
The community encouraged the Port to expand outreach to historically underrepresented populations and underserved, disproportionately impacted communities, continue focus on regional collaboration, expand the number of equitable career pathways, and support a wrap-around services approach which recognizes the multiple barriers to entering and staying in the workforce
The Port's updated workforce development strategy adopts these priorities. 
In addition to our existing aviation, construction trades, and maritime strategy, the new strategy adds Green Careers and Career-connected Learning pathways, two priorities that we recognize as critical to the future competitiveness of our region and to improve quality of life. 
Our strategy focuses on developing career pathways because it helps workers in entry jobs such as ramp agent move into higher wage, higher skill jobs.  The Port launched its first aviation career pathways project in 2019 with a focus on aviation maintenance technicians. Working with partners at Port Jobs and South Seattle College, the project identified in-demand jobs, gauged worker interest, mapped career pathways and documented what is required to move up to higher paying, higher skill jobs. 
Developing career pathways is intensive, time consuming work and the cost per placement is higher, but it is a critical tool for helping workers in entry jobs advance their careers and for connecting employers to higher skill workers.  
 Leading the recovery
COVID-19 has had a major, disruptive impact on the regional economy and labor market. While travel and hospitality have been particularly hard hit, our essential services work in aviation and maritime continues to provide a platform for economic activity.  
The Port is well-positioned to help lead the recovery by operating our airport and seaport gateways and continuing to build assets of statewide significance.
In April, Commissioners began the Port's response by approving a motion to support and guide the Executive Director's evaluation and prioritization of recovery actions to restore, sustain, and maximize our aviation and maritime operations in response to the COVID-19 pandemic and ensure swift regional economic recovery.
We also committed the Port to continue with approximately 20 projects currently under construction, worth approximately $1.5 billion to the local economy.  
Since then the Port Commission has authorized the Port to spend an additional $3 million on community benefit investment programs focusing on workforce development and tourism. The Port's Opportunity Initiative will provide summer jobs for 220 youth who have been adversely affected by the COVID-19 pandemic.  
Our COVID-19 regional recovery strategy connects the most vulnerable and impacted communities to job opportunities available in Port-related industries.  Underserved youth need jobs more than ever now, not just to begin developing their own careers but to support their families. At the same time, employers face unprecedented economic and operational challenges.
The Port's new strategy and workforce development initiatives will ease the challenge of this era by connecting employers to innovative and engaged employees while creating opportunities in communities where they are needed the most.