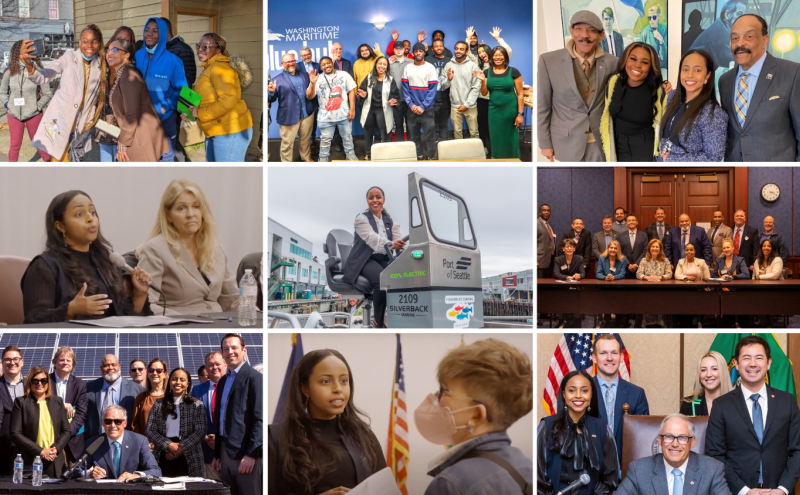 Oct 10, 2023
Operating an airport and a seaport, and supporting the maritime and industrial businesses and workforce means that we're always busy. This year, in addition to overseeing all our lines of business, I have several areas of focus: aviation noise, small business support, language access, and budget oversight and development.
We have been busy and are making great process in all these areas.
Reflecting on January: Gazing back to move ahead
It's truly amazing how quickly we've reached the tenth month of the year, and now we're entering the final stages of discussions regarding the 2024 budget. As we delve into the mid-year update, let's look back to the State of the Port address in January, where you heard about our work from the previous year. The State of the Port is one of my favorite events, because it gives us the opportunity to reflect on what we've accomplished together and where we need to focus for the future. Folks had an opportunity to hear about the following areas.
Status of the Port's recovery from the pandemic and what we're projecting for the future
The progress on our most critical infrastructure projects, including the opening of Terminal 5 and the reopening of the West Seattle Bridge
Changes to our community programs and environmental investments
In my State of the Port remarks, I emphasized several items within this budget that I advocated for, including:
South King County Public Market study — Partnering with King County to explore a "Pike Place Market" of the South County
Pre-conditioned Air (PCA) systems optimization — Evaluating strategies to improve the PC Air system and cabin air temperatures in aircraft, reduce carbon pollutants, and keep aircraft from idling auxiliary power units at the gates
North SeaTac Park invasive and ecological assessment implementation — Addressing long-term ecological needs of the park
During our January Commission meetings, our focus shifted from approving the 2023 Final Budget and discussing updates to the Public Art Program to addressing matters like increasing the project budget for airfield snow equipment replacement, approving funds for the Tourism Marketing Support Program, which supports nonprofit destination marketing organizations, and adopting resolutions such as the extension of the Passenger Facility Charge (PFC) program at Seattle-Tacoma International Airport (SEA).
Fun facts: Airports like SEA are almost completely self-supporting. Nearly every airport charges a Passenger Facility Charge. PFCs are collected from passengers by airlines and submitted to airports for use as approved by application to the Federal Aviation Administration. This is a critical funding source for SEA Airport. The Port currently has FAA PFC authority for the following projects: Satellite Transit System (completed in 2003), South Terminal Expansion Project (completed in 2004), Inline Baggage Screening System (completed in 2009), North Satellite Reconstruction (completed in 2021), and the International Arrivals Facility (completed in 2022).
February: Spotlight on Black history and ground transportation investments
During Black History Month, I had the privilege of leading the Commission Proclamation and shining a spotlight on the Port's chapter of Blacks in Government (BIG) and its invaluable contributions to the community through the BIG Scholarship program. We understand that access to quality education not only creates opportunities and opens doors but can also act as the catalyst that shifts the balance and lifts individuals or families out of poverty, typically resulting in greater economic security and an improved quality of life.  
At the Commission meeting, it was deeply moving to hear from Shaunice Wilson, a former recipient of the scholarship, and witness her passionate advocacy for supporting the BIG Scholarship. In our current climate, where even the highest judicial authority in the United States, the Supreme Court, has begun to strike down affirmative action programs in college admissions, it becomes even more apparent that we must take action and support young people eager to pursue higher education and explore the vast spectrum of opportunities within the aviation and maritime industries.
Approved $6,083,000 for the South 160th Street Transportation Network Companies (TNC) Lot Improvement Project!
Achievement unlocked: South 160th Street Ground Transportation Holding Lot Transformation! I have constant commitment to improving conditions for gig workers and drivers at the Port.
Permanent lighting systems brighten the way
10 new EV chargers for TNCs (partially funded by a grant)
4 permanent restroom facilities for driver comfort — a crucial step to enhance services for essential SEA drivers
Eco-friendly move with plug-in vehicle chargers
Championing the Taxi On-Demand Program: Providing economic relief and reassurance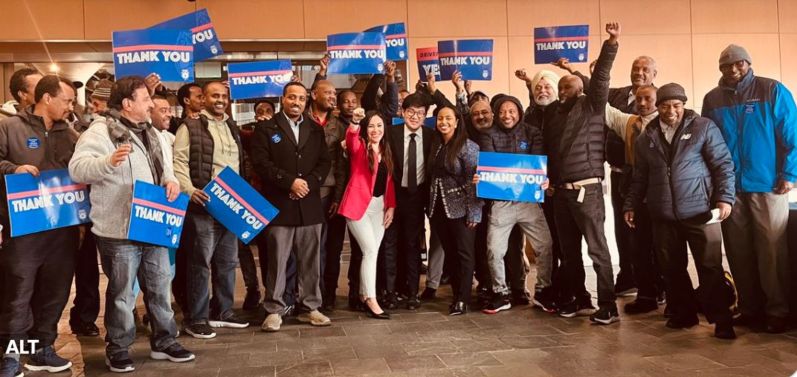 Through the Aviation Committee, I put forth a proposal to simplify the medallion and contract transfer procedures.
Recommending streamlining medallion/contract transfer procedures
Proposal: Port approval if driver follows Seattle's process
Required vetting and City approval as prerequisites
Valid approach, leveraging the city's reliable process
Aligns with fiscal wisdom, saving staff hours and resources
A win for our committed transportation workforce!
March: Fighting for the environment and more
We scored Washington state legislative victories for sustainable aviation fuel (SAF) and more.
Inspired at COP27: Last year, while serving on two panels at the UN's Climate Change Conference, COP27, I was inspired to fight even harder for the decarbonization of aviation and develop a path towards net-zero aviation.
Local collaboration: Back at home, Port staff worked with Senate Majority Leader Andy Billig to draft legislation that incentivizes in-state production and use of SAFs.
Community advocacy: I joined a host of environmentalists in the community to advocate for Senator Billig's bill that provides price incentives for the local production and use of SAF. We advocated for the new law as part of its multi-year push to accelerate the deployment of locally produced SAF at Seattle-Tacoma International Airport.
Airport sustainability: Our collective efforts were in support of a new law that forms a crucial part of the multi-year initiative to expedite the adoption of locally produced SAF at Seattle-Tacoma International Airport.
Climate progress:  As a community, if we care about the climate, it's initiatives like this that will push us in the right direction.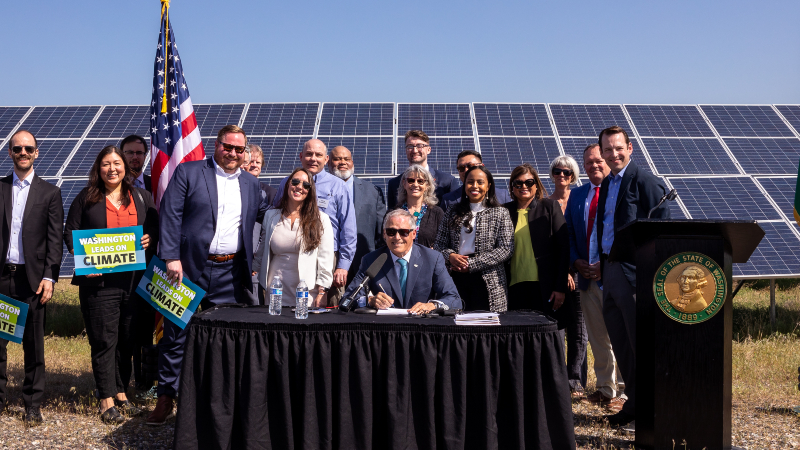 In addition to supporting SAF, I amended our State Legislative Agenda.
Supporting childcare facilities: Expanding our focus beyond sustainable aviation fuel (SAF), I made amendments to our State Legislative Agenda to extend support to childcare facilities, recognizing their vital role.
Advocating for change: I took the initiative to submit testimony in both chambers of the state legislature, throwing my support behind HB 1199. This bill aimed to eliminate barriers faced by certain childcare operators, ultimately reducing the challenges they face in providing crucial services to Port workers and people across the state. (Download my letter to the House Committee on Housing.)
Celebrating success: Exciting news! HB 1199, the bill we championed, has successfully passed, marking yet another significant victory for our community.
HB 1086 victory is a win for nonprofit organizations partnering with the Port!
Advocating for change: Since joining the Port, I've made reducing the 3:1 match requirement a top legislative priority for the Commission.
Legislative success: In the 2023 Washington State legislative cycle, with the support of Representative Clyde Shavers and Representative Tina Orwall, I successfully advocated on behalf of the Port for reducing the local match required for nonprofit applicants through the SKCCIF from 3:1 to 2:1.
Reducing burden: This change eases the burden on awarded partners and strengthens the Port's ability to collaborate with community-based organizations, nonprofits, associations, and volunteer groups involved in public improvements in near-airport communities. 
Empowering tomorrow's climate leaders: Insights from the ODYLP
Global youth leadership: I witnessed the inspiring work of young leaders from around the world in the U.S. State Department's On-Demand Youth Leadership Program (ODYLP), discussing clean energy.
Ambitious environmental goals: The Port of Seattle aims for a 50 percent reduction in greenhouse gas emissions by 2030 and carbon neutrality for all Port-owned facilities by 2040.
Hopeful future: These young leaders' passion and ideas fill me with hope for a brighter, sustainable future.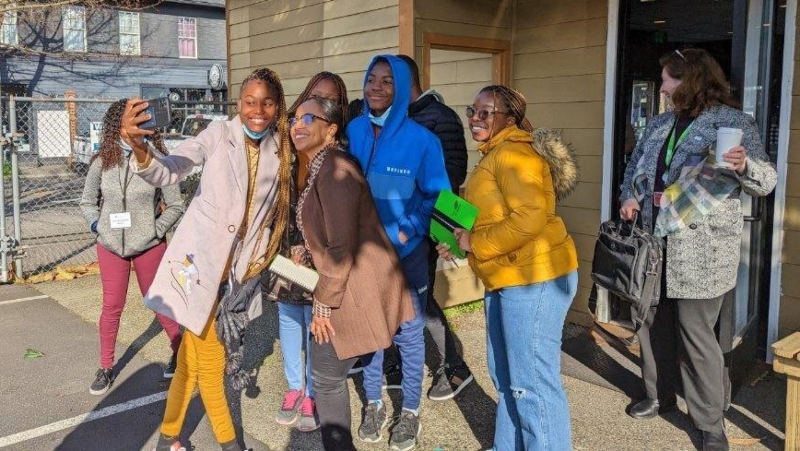 April highlights: FAA reauthorization advocacy for airport priorities
Washington, D.C., advocacy success: Led the inaugural D.C. Fly-in with South King County officials to champion our federal policy priorities on aircraft noise and emissions.
Collaborative progress: Four of our seven priorities have been included in both House and Senate legislation, reflecting our commitment to addressing community concerns.
Collective effort: Thanks to the Washington State delegation, local leaders, and Port staff for their dedication and partnership in advancing our mission.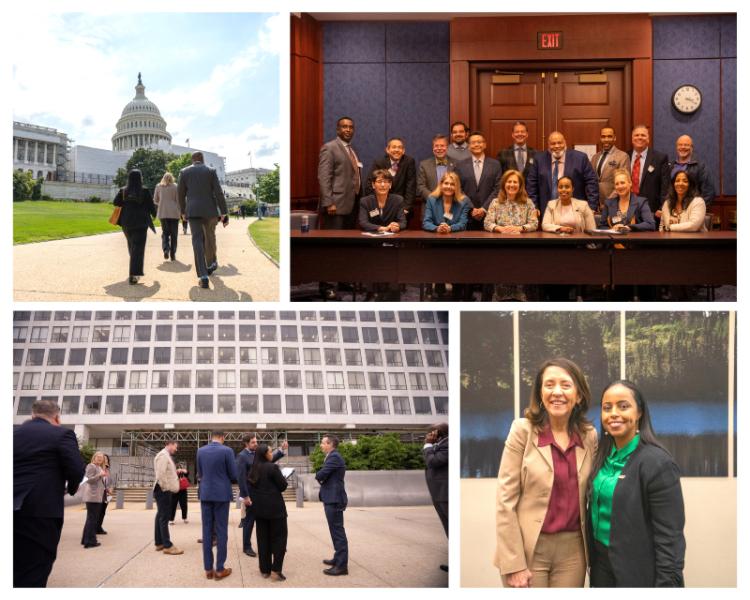 May highlights: Advocating for small businesses and quality jobs
Small Business Committee inaugurated: Commissioner Cho and I established the Commission's first-ever Small Business Committee. This is significant because small businesses drive our economy and face unique challenges when navigating Port operations. They also create a substantial number of jobs, making their success crucial, especially in the post-pandemic recovery phase.
Supporting quality jobs: We've taken steps to ensure that every dedicated employee is treated fairly and receives proper compensation. I introduced a proclamation advocating for SEA workers' access to quality jobs, emphasizing our commitment to this cause.
Productive collaboration: To address worker retention and recruitment issues, Commissioner Hasegawa, Commissioner Calkins, and I convened a special meeting. We engaged in constructive discussions with business leaders, workers, and organized labor to explore improvements in these areas. Special thanks to the Service Employees International Union (SEIU) for its dedication and collaboration on the proclamation.
Maritime education partnership: Notably, we forged an interlocal agreement with Highline Public Schools and Maritime High School to support the development of instructional design plans showcasing a maritime-focused curriculum. This partnership is a crucial step in providing youth with pathways to well-paying maritime jobs.
June: Federal regulations and TNC drivers
This month I hosted an Aviation Town Hall with U.S. Representative Adam Smith at Mount Rainier High School in Des Moines. You can't separate SEA Airport from the federal agencies that facilitate much of that activity. From TSA and CBP to the FAA, it takes everyone to make the airport work. I invited Congressman Smith to an Aviation Town Hall so he could hear directly from the constituents we represent and identify paths forward to ease impacts. 
Following the event, the congressman introduced language in the FAA reauthorization bill that will begin to address many of these concerns. This downloadable presentation provides an overview of some of what's happening on the federal level.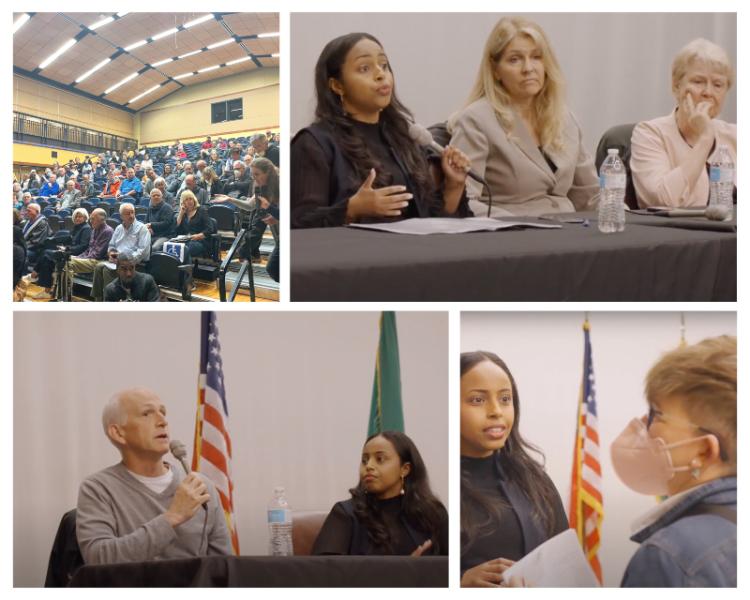 Following the town hall and Washington, D.C., visit, Congressman Smith and I co-authored an op-ed for the Seattle Times, "FAA needs to bring airport-affected communities to the table." We urged support for communities living adjacent to the airport. As citizens in our region demand increased air travel, these are the neighbors who bear the brunt of the impacts.
Support for Transportation Network Company (TNC) drivers
TNC Queue program: In June, the Commission approved my order, creating a program for TNCs to pick up customers near SEA Airport and construct a sheltered area at the S. 160th Lot in SeaTac. This aims to improve conditions for TNC drivers.
Recognition of gig workers: We passed an order to emphasize the Port's appreciation for all contributors, not just those beyond TSA checkpoints, addressing challenges faced by gig workers.
Queue improvements: The S. 160th Lot's overcrowding and limited amenities prompted action. We're seeking partnerships with TNC companies to enhance options and efficiency.
Workforce development update: We also received updates on workforce development, apprenticeships, and priority hiring.
July: Environmental land stewardship efforts around trees, forest, and other habitat
We adopted principles for guiding the Port of Seattle's environmental land stewardship efforts, emphasizing our commitment to combatting climate change and responsible resource utilization.
Preserving old-growth forests remains a top priority for me, given that trees naturally absorb carbon, and we should fully harness this ecological benefit. Our work entails a delicate balancing act, and my unwavering commitment is always geared toward combatting climate change.
This month we also started our focus on next year's annual budget and held our initial public briefing.
August: The Green Economy 
The Commission approved a shore power system consisting of two mobile cable positioning devices for Pier 91. This system will allow more ships to plug in to our cleaner shore power and enable less reliance on carbon-polluting auxiliary power systems.  
We approved the completion of the long-awaited redevelopment of Berths 6 and 8 at Terminal 91. The project will make available much-needed berth space and will remove hundreds of polluting pilings in the process. 
We approved a package of improvements to Fishermen's Terminal including the renovation of the Ship Supply Building into the Maritime Innovation Center. This renovation and a set of public space improvements to Fishermen's Terminal will help position the industry to attract maritime businesses and jobs of the future.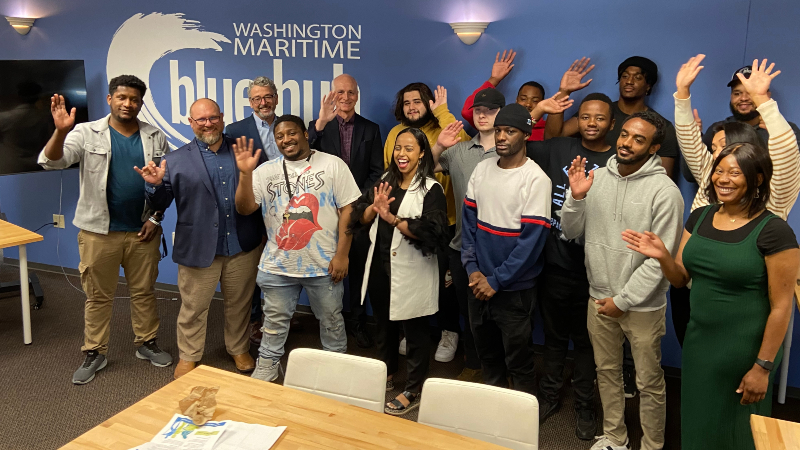 September
In last year's budget, I approved many funds for electrification, and today we can see that these investments are working well. The exciting news is that we used this money to bring our very first electric boat to the Port this month, and our investment in electric vehicles extends beyond boats, encompassing trucks, vans, and cars for our operations, accelerating our progress toward achieving a zero-emission fleet!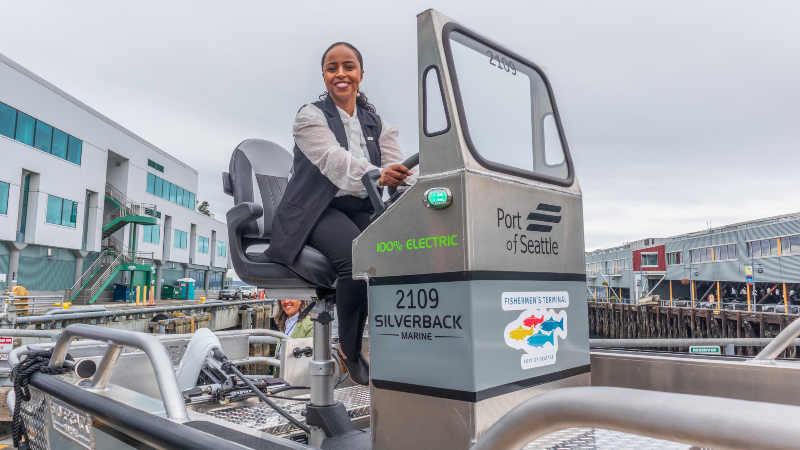 As momentum continues to grow, I remain committed to ending the year on a high note, ensuring the successful passage of a robust 2024 budget, and embracing an even greater leadership role in the year ahead. Thank you for joining me on this exciting journey!
Stay tuned for more updates!
Subscribe to receive email updates from Commissioner Mohamed