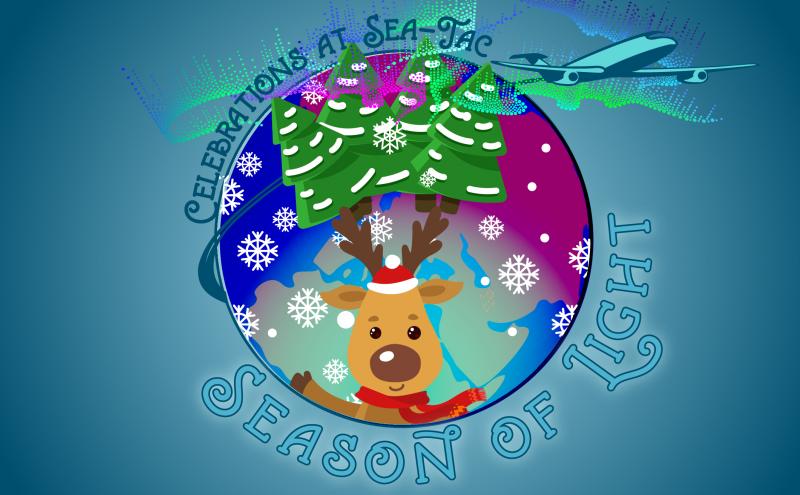 Recently launched Sea-Tac Airport App for Android and iOS, re-opened runway, increased security checkpoint efficiency help serve an expected three million guests over the next three weeks
December 13, 2018
Parades of costumed characters, live music, and reindeer will be part of the holiday spirit over the next three weeks as three million travelers are expected to pass through Seattle-Tacoma International Airport between December 13 and January 4. Passengers are asked to bring their patience and do a little advance planning to make your experience as easy as possible.
This coming weekend kicks off the busier days for the holidays through the New Year. From December 13 to January 4, a projected 3.1 million passengers will go through Sea-Tac. The busiest travel days will be the four-day period from December 19 to 22 when more than 640,000 travelers go through the airport.
More than half of the travelers (54 percent) on a typical day at Sea-Tac Airport only fly one or two times during the year, which means many of our visitors haven't experienced some of our most significant changes.
Just in time for the holidays, the airport completed construction on its longest runway, nine days ahead of schedule. Sea-Tac Airport closed its longest runway nearest the terminal, to prepare for the opening of the North Satellite expansion in January. The project relocated a taxiway connected to the runway and upgrades the taxiways near the North Satellite.
At Sea-Tac Airport, our goal is moving passengers through Transportation Security Administration (TSA) screening checkpoints in 20 minutes or less. The TSA typically operates between 17-23 lanes for general screening during peak periods, and 8-9 lanes to screen TSA PreCheck passengers. With record-setting daily passenger volumes happening regularly at Sea-Tac, our team is working hard to ensure that long security lines aren't your first or most lasting impression of the airport.
To improve the travel experience for seasoned pros and newbies alike, the Port of Seattle is encouraging fliers with tools, including:
Use the Apps! Check out the new Sea-Tac Airport App to watch security checkpoint wait times, search for your flight, find yourself on the terminal map, and search for restaurants, lounges, the meditation room or your favorite retail store. The app is available for iPhones and Android devices. Also, use multiple other apps to help you navigate and enjoy the airport.
Sign up for text alerts. Get text updates about what's happening at the airport by texting "Update" to (206) 347-8045.
Light the darkness and celebrate the season at Sea-Tac Airport
Join us at Sea-Tac Airport in celebrating cultures around the world with traditions of bringing light to the wintertime darkness. Check out some of the activities below and share your photos on social media at #SEAtheCheer.
Daily Activities, December 16-24
Santa, elves, and other costumed characters will surprise and delight passengers in the terminal with entertainment and music, souvenir giveaways, and more.
Holiday parade departing from Concourse C at 9:30 a.m. every day
Season of Light decorations throughout ticketing, Gina Marie Lindsey Arrivals Hall and Concourses A and C, as well as near the Children's Play Area.
Gift wrapping station benefiting USO Northwest.
Special food and beverage items by the Concessionaires at Sea-Tac.
A collection of festive art in partnership with The Nordic Museum showcases the wintertime celebrations and traditions of the Nordic peoples. Passengers and visitors can view the collection pre-security on the south end of the ticketing level of Sea-Tac Airport throughout the month of December.
Featured Activities, December 19-20
Don't miss live reindeer from 9 a.m. to 1 p.m. on the Light Rail platform at Sea-Tac Airport in partnership with Sound Transit.
There are opportunities to pet reindeer, take selfies and enjoy carolers.
Travel Tips and tricks
The holidays aren't the busiest time of the year for Sea-Tac; it's during the summer months between June and August, but there are plenty of people traveling and picking up family and friends for the holidays. A few shortcuts to think about before traveling, picking up, or dropping off passengers will make your day safer and more efficient. To help you during this busy travel season, here are more details broken down for getting to the airport, how to prepare for the security checkpoint, and what's new in the Terminal.
Getting to the airport
Arrive early! Travelers are encouraged to leave plenty of time to get to the airport, check in for their flight, and clear security. Screening lanes experience unpredictable spikes in congestion. Plan on arriving at the airport at least two hours in advance for a domestic flight, and three hours for international travel. To save time, we suggest that travelers check in for their flights and print boarding passes before arriving at the airport. Some airlines allow passengers to print luggage tags in advance. These actions save time at the ticket counter.
Use alternatives for driving to the airport. Take light rail, public transit, taxis, airport shuttles or ride-share vehicles or use a different route to avoid the clogged expressway. The airport parking garage is anticipated to have exceptionally high occupancy throughout the holiday and alternatives to driving are strongly encouraged.
Public transportation is by far the best option if you want to stay out of a traffic jam. Use Link Light Rail to travel all the way to the airport or meet your party at one of the nearby stations. For those picking up or dropping off, Tukwila and Angle Lake stations offer free parking one stop away.
Avoid the Arrival and Departure drives. Here's why and what to expect from the Port of Seattle Police. Port of Seattle Police officers will patrol the Airport Expressway to prevent motorists from parking on the shoulder, and Traffic Support Specialists will be deployed on the Arrivals and Departure drives to assist with traffic flow. If you do drive, park at the Sea-Tac Airport garage and walk into the terminal.
If you must drive, peak traffic congestion occurs on the Departure level from approximately 4:30 a.m. to 7:30 a.m. During the middle of the day, from 11:00 a.m. to 2:00 p.m., both Arrivals and Departure drives experience backups. In the evenings, the Arrivals drive experiences heavy traffic from about 8:30 p.m. to 12:30 a.m.
Think opposite. In the morning, drop off passengers on the Arrivals level. In the evenings, arrange to meet your passengers on the Departures level. Going opposite gets you out of the traffic crunch. Another example, many arriving passengers do not check bags and are already on the Departures level when they exit, easy to pick up.
Come from the south end. Motorists coming from north of the airport can avoid the heaviest traffic by accessing the airport from alternate routes.
Blind and low vision travelers can try new assistive technology with Aira, with the Port providing free connection service while at the airport.
Are you there yet? If you're picking up passengers, make sure they are there before going to the drive. It will take some time for them to walk from the plane or pick up bags.
Be sure and check with the City of SeaTac to see if there are road construction projects that might hinder your access to the airport.
Ready for the security checkpoint
Be ready for security checkpoints. Once travelers get to the airport, Sea-Tac and its partners in the Transportation Security Administration want to help you move through security checkpoints as quickly as possible. Enhanced security measures now in effect at Sea-Tac and airports nationwide require travelers to remove electronics larger than a cell phone from their carry-on luggage.
Be thoughtful with food. Sea-Tac recommends that unless you plan on eating food at the airport or on your flight, consider packing your holiday treats in your checked luggage.
Sign up for Trusted Traveler Programs such as TSA PreCheck, Global Entry, and CLEAR to get you through the lines faster. These expedited security programs help for both domestic and international travel, including a faster way through customs with Automated Passport Control and Mobile Passport Control.
What's new at Sea-Tac Airport?
Don't miss our dining and retail options! This December, it's about the journey and the destination. Sea-Tac Airport is home to retailers and restaurants from the Northwest, as well as brands from around the world, that provide passengers with incredible experiences worth lingering over during the holiday season. This map shows you where to grab a bite, satisfy your coffee fix or do last minute shopping.
More elbow room on Concourse D! The newly opened Concourse D Annex will help mitigate current congestion for travelers waiting at crowded gates and aircraft waiting on the airfield for an open gate to deplane passengers during peak periods. The 32,400 square foot building will allow for what is called 'hardstand operations,' where passengers take a shuttle to and from an aircraft parked away from the terminal building. Stop by the brand-new Starbucks and Hudson for grab-and-go travel treats!
New options for traveling with pets! We have installed three new pet relief areas inside the terminal for easier customer access and compliance with Americans with Disabilities Act (ADA). You can find them in the North and South Satellite and Central Terminal near Concourse B. Check our website for an up-to-date map and info.
More amenities for traveling mothers! Sea-Tac now has seven nursing suites throughout the airport.
What's all that construction? Yes, there are some major projects underway, including the North Satellite Modernization, International Arrivals Facility and Central Terminal Renovation Project, and one you don't see, the Baggage System Upgrade.
More Traveler Numbers
The projected busiest days of the winter season based on passenger traffic are as follows:
Friday, December 14 – 152,500 passengers projected
Wednesday, December 19 – 155,000 passengers projected
Thursday, December 20 – 163,750 passengers projected
Friday, December 21 – 168,750 passengers projected
Saturday, December 22 – 152,500 passengers projected
Wednesday and Thursday, December 26-27 – 147,500 passengers projected
Projected least busy days:
Monday, December 31 (New Year's Eve) – 100,000 passengers projected
Tuesday, January 1 (New Year's Day) – 112,500 passengers projected
Friday, January 4 – 111,250 passengers projected
Contact
Kate Hudson | Sea-Tac Airport
(206) 787-4362 | Hudson.K@portseattle.org