The pandemic paused leisure travel for the last year. And rightly so. Now, travelers are more comfortable booking trips with the right planning and precautions to stay healthy.
Seattle-Tacoma International Airport (SEA) is increasing our public information campaign for spring break travel and asking you to come prepared to comply with healthy travel measures.
While you were away, we evolved our operations and facilities at Seattle-Tacoma International Airport (SEA) to keep you safe. Things like intensified cleaning and disinfecting, guidance for physical distancing, and installation of hand sanitizer stations and touchless technologies.
Be informed and ready with these travel tips and resources. Please contact your airline if you have questions about that part of your journey. 
Travel guidance 
Check travel guidance. Some destinations require negative COVID-19 tests or mandatory quarantines for arriving passengers. Check with your airline regarding any rules you need to know for the state or country where you plan to travel. 
The CDC guidance for travelers is different depending on if you are fully vaccinated with an FDA-authorized COVID-19 vaccine or not. 

People who are fully vaccinated can travel safely within the United States without needing to self-quarantine or get a COVID-19 test (unless your destination requires it). You must continue to wear a mask over your nose and mouth and practice physical distance and good hand hygiene.
Travelers who are not yet vaccinated should test with a viral test 1-3 days before your trip. Have the results of your negative test before you travel and keep a copy with you. Do not travel if you test positive. Immediately isolate yourself, and follow public health recommendations. Get tested again with a viral test 3-5 days after your trip and stay home and self-quarantine for a full 7 days after travel, even if your test is negative. If you don't get tested, stay home and self-quarantine for 10 days after travel.
Before you travel 
At the Airport 
Arrive two hours before domestic flights and three hours for international travel. Due to physical distancing, security checkpoint lines fill up faster as six-foot separations reduce queuing by up to 75%. Lines move faster than they look! Wait times are available on flight displays and our flySEA App. 
Expect to wear a mask for the duration of your journey, wash or sanitize your hands frequently, and honor physical distancing. We continue to prioritize traveler safety, health and well-being with protocols, including mandatory masks, medical grade cleaning, plastic protective barriers and signage.
Download (or update!) the flySEA App. See checkpoint waits in real time and use the interactive map to navigate the airport. Look for the SEA Pathfinders in bright green if you have questions in the terminal or slide into our DMs and our social care team is happy to help.
If you're parking in the SEA garage, be proactive to stay safe and prevent thefts. Maintain awareness of your surroundings, park near your destination in well lit areas, keep items out of sight and report suspicious activity by calling 206-787-5401, or 911 in case of emergency.
Airport Dining and Retail 
Eat and shop with confidence because airport restaurants and retailers are also going above and beyond to protect your health and well-being. Watch this video to feel the feels. 
Most business are open. As of March 22, 2021, we entered Phase 3 of Governor Inslee's Healthy Washington — Roadmap to Recovery plan. Sit-down dining is available at 50% capacity, in addition to existing to-go options for food and beverage. Alcohol service is available daily until 11 p.m. 
Well-spaced and regularly cleaned tables and chairs are available for "grab and go" dining throughout the airport, including in the Central Terminal. 
SHOT BAR, a new pop-up quick serve counter for adult libations, offers shots of tequila, vodka and whiskey on the go at Rel'Lish Burger Lounge™ on Concourse B. With limited seats available for passengers to have a cocktail at the airport due to physical distancing protocols, this offers a fun, fast and safe solution to serve travelers during the pandemic.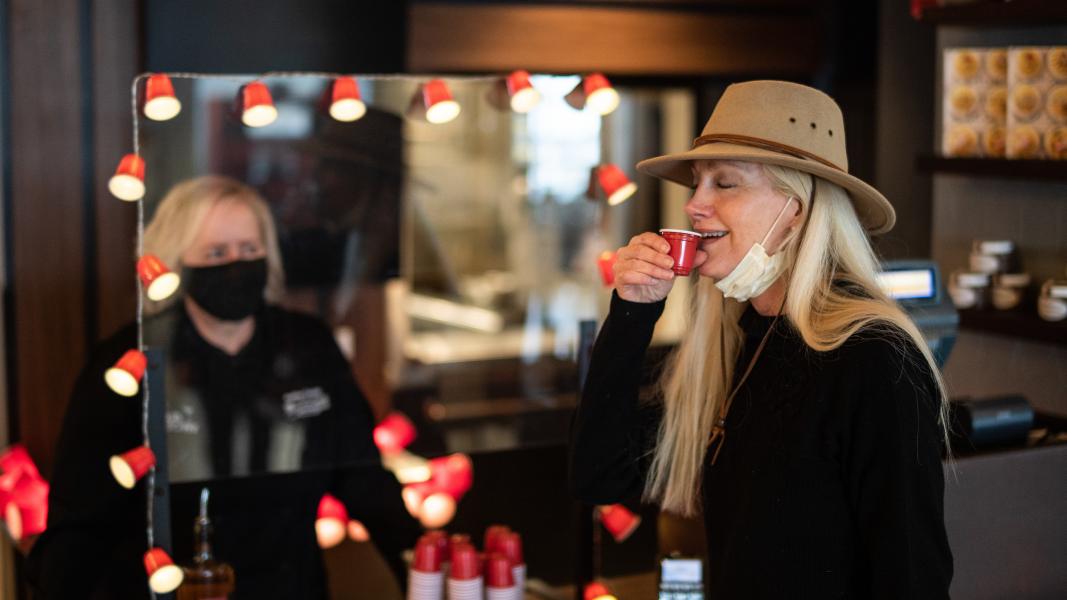 More resources
More on FlyHealthy@SEA
COVID-19 Status Updates at SEA Airport
COVID-19 FAQs at SEA Airport
Information changes rapidly. Keep up with us on social media @flySEA and #FlyHealthySEA. Our customer care team is here to answer your questions. Tweet or DM us with a question.