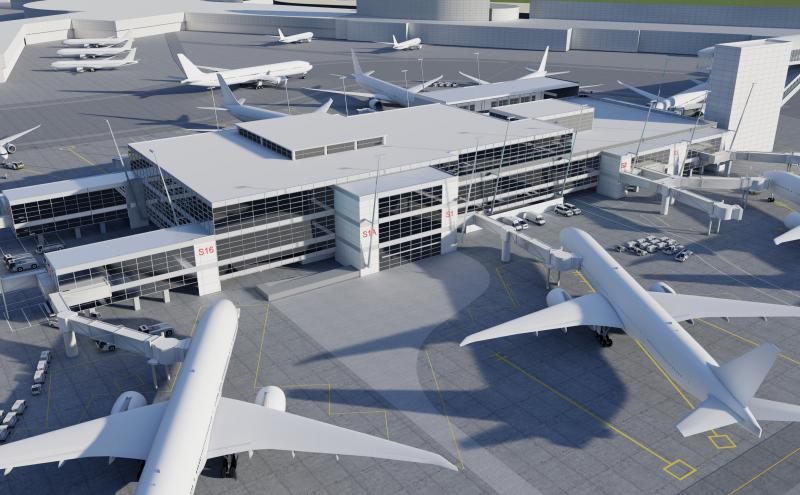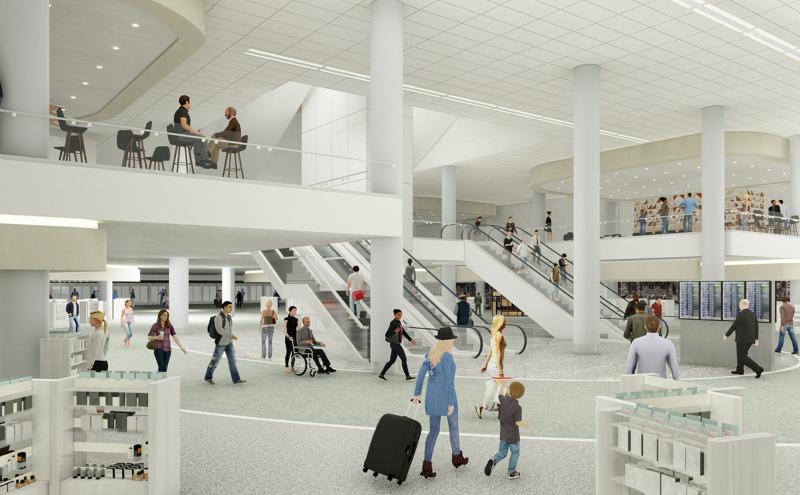 Status: In Design
The S Concourse (formerly named the South Satellite) was constructed in the early 1970s with minimal updates since the 1980s. SEA is modernizing the spaces and renovating the facility with enhanced structural and seismic systems so that it can continue to operate and serve passengers for another 50 years.
Project Overview
At Seattle-Tacoma International Airport (SEA), the S Concourse is the main hub for international passengers. To meet the growing demand for international travel, it's time to renew the S Concourse as a better doorway for the Pacific Northwest and continue to advance the region as a leading tourism and business gateway. 
Since the debut of the S Concourse over a half century ago, the existing building has had trouble sustaining optimal service. Due to the dramatic increases in passenger volumes and aircraft operations, expanded security regulations, and an evolving airport experience for passengers, dining and retail, and airlines, it needs an update. 
International travel is all about broadening our horizons, and the S Concourse Evolution project is inspired by SEA as the cultural crossroads of our Pacific Northwest home and your global gateway to the world. The evolution of this building over the next several years opens more possibilities for travelers, creates more comfort and convenience, and optimizes the behind-the-scenes systems and infrastructure for today's standards.  
Get ready for upgrades that deliver more of what you need, want, and love (yes please, for added spaciousness and tasty eats!), including:
Modernizing building systems for greater operational and environmental efficiencies 
Earthquake resiliency that prioritizes seismic updates
Design, amenities, and art focused on your wellbeing and comfort 
Pacific Northwest placemaking with more spaces for restaurants, shops, and lounges that feel like home
SEA is building now so future-you can enjoy airport facilities that are just right for what you need to fly well. S Concourse will remain open and operational during its renovation but be prepared for construction in the coming years during the multi-phase work. Pinky promise it will be oh-so worth it. 
More information to come on this project as the plan progresses. Stay tuned by subscribing to our Nuts & Bolts email newsletter on airport capital projects and construction updates.  
Community Benefits
The Port and SEA are committed to advancing equity and addressing contracting disparities by increasing the utilization of women- and minority-owned business enterprise (WMBE) and other disadvantaged firms. During project development and planning, the consulting firm exceeded its WMBE goal by six percent to achieve 21 percent participation. Additional goals for WMBE utilization will be developed for the design and construction work of this project. 
Timeline
Design and construction authorizations are scheduled for late 2022 and into 2023. This project is a multi-year, multi-phase project with an estimated completion of construction in 2031. 
Estimated Project Costs
The project is in the preliminary stages, but the current cost estimate is $1.5 billion. This could be updated as planning progresses. 
Funding for the project will come from a combination of Airport Development Fund, and future revenue bonds. As with virtually all airport projects, no tax-payer dollars are used to fund the project.