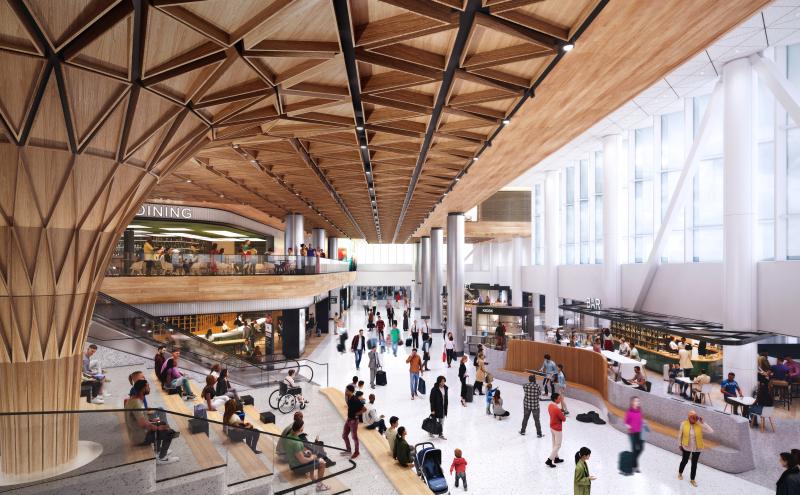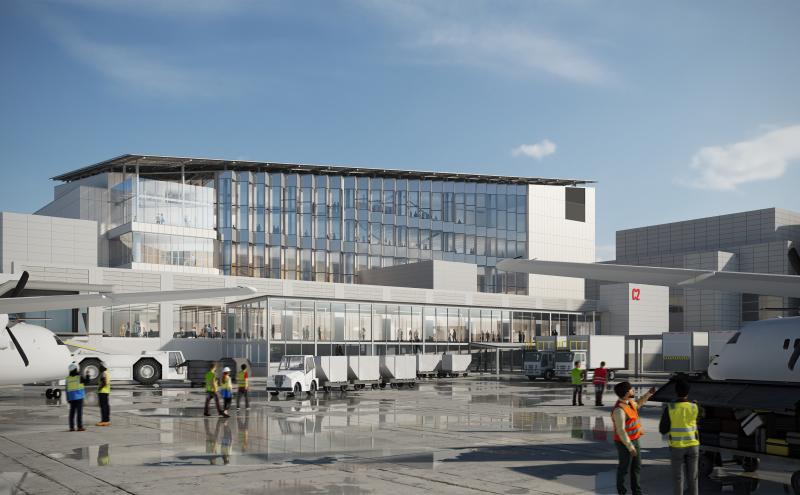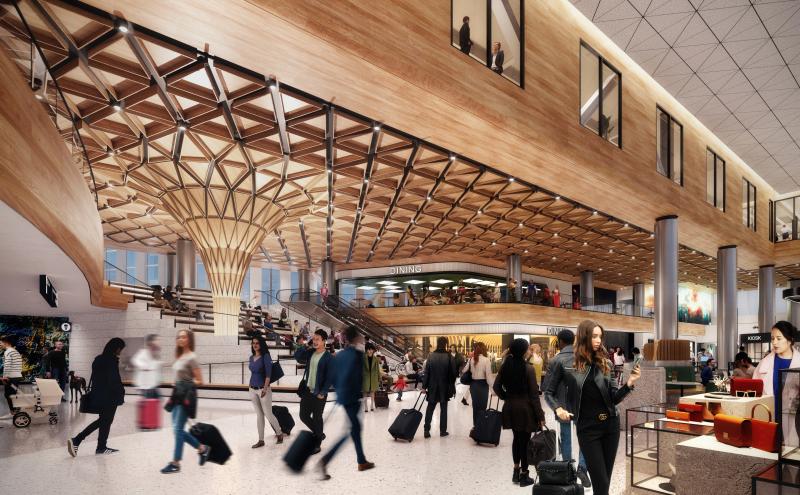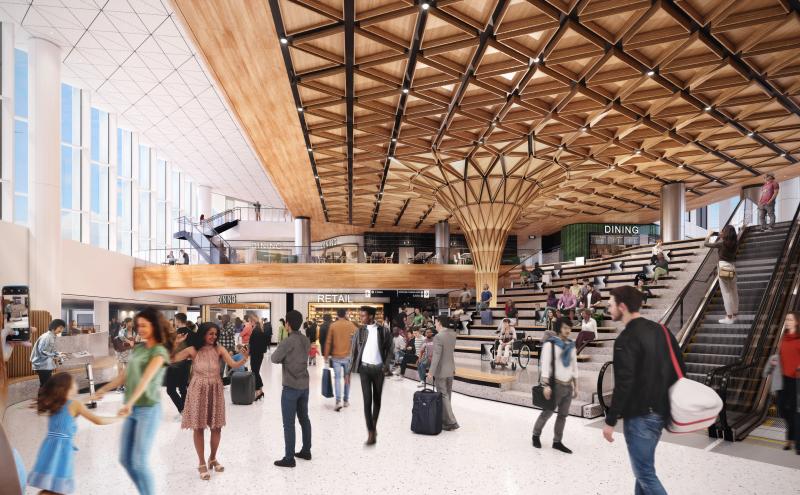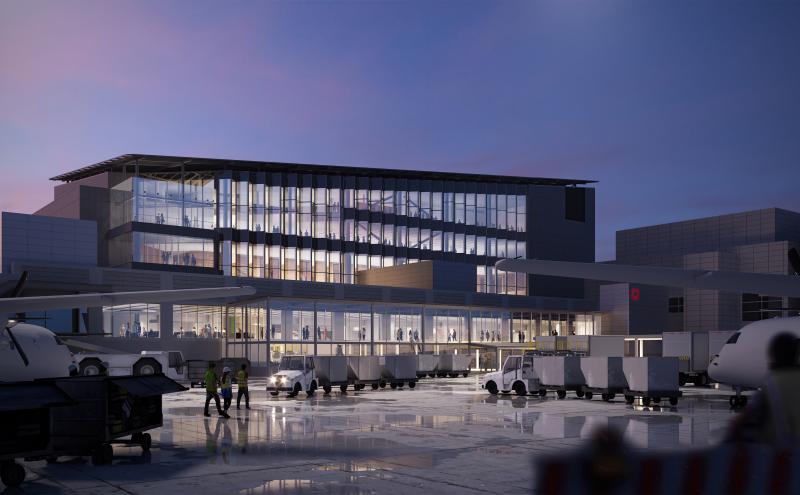 Status: In Progress
The C Concourse Expansion aims to elevate SEA, literally, by adding four additional floors above the existing building and raise the bar on the airport experience and sustainability. 
Project Overview
The project spans the C and D Concourses with additional dining and retail, sought-after amenities such as an Interfaith Prayer and Meditation Room and Nursing Suite, and an all-new, more than 20,000-square-foot Alaska Airlines Lounge. The heart of the space – The Grand Stairs at C – will be an iconic destination that invites travelers to linger with seating, airfield views, music and art, or head upstairs for more elbowroom and dining and retail options. The expansion also encompasses office space for airport businesses, airlines, and the TSA.
The C Concourse Expansion rethinks the airport experience where design creates an intuitive journey, a sense of calm, and climate consciousness. This project will increase the existing 81,000-square-foot building into a beautiful 226,530-square-foot facility with a wish-list of amenities.
The building's design is inspired by the natural landscapes of the Pacific Northwest and the energy and vibrancy of Seattle. The Grand Stairs at C create a central gathering space designed to reflect regional public and farmers markets. Dining and retail will frame this tiered, open amphitheater with a stage for live music. Next, travelers are drawn to the upper level with restaurants above as well as views and the ability to look out over the entire facade. One of the most unique aspects of the C Concourse Expansion is its height and unobstructed views of the airfield and Olympic Mountains via a lookout deck encased in glass that will be available to all passengers.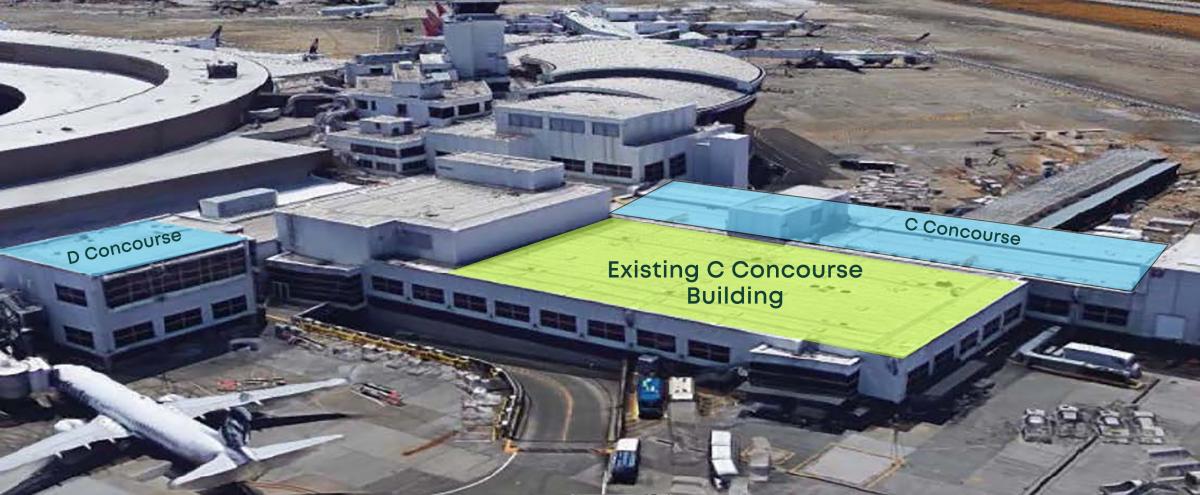 Climate and Community Forward
The Port of Seattle is working to be the greenest and most energy efficient port in North America where the health of the environment and the well-being of travelers is paramount. C Concourse Expansion is the first project of its kind to follow the Port's Sustainable Evaluation Framework, a process to transparently evaluate alternative, sustainable approaches to build capital projects where environmental and societal impacts inform project design, alongside cost and schedule.
The sustainable features of this project will set the precedent for future capital projects at the Port, including:
Fossil fuel free systems (heating, tenant hot water and cooking equipment)
Rooftop photovoltaics, an energy efficient rooftop solar array
Dishwashing capabilities to reduce solid waste and storage location for donated food
Low-flow water fixtures that help conserve potable water
Electrochromic glazing for windows
Biophilic design strategies which create a comfortable environment and a symbiotic relationship between design expression and sustainability
SEA will pursue a Leadership in Energy and Environmental Design (LEED) Silver certification with the C Concourse Expansion project.
The Port is also committed to advancing equity and addressing contracting disparities by increasing the utilization of women- and minority-owned business enterprise (WMBE) and other disadvantaged firms. The project is targeting 15 percent WMBE utilization for its design work with The Miller Hull Partnership and Woods Bagot as well as 20 percent for construction management with Jacobs.
Timeline
Early work began summer 2022 with major construction kicking off in 2024. Construction projected to complete in 2027.
| | |
| --- | --- |
| Commission design authorization | Q2 2020 |
| Design start | Q1 2021 |
| Commission construction authorization | Q4 2022 |
| Construction start - Early work | Q2 2023 |
| Construction start - Major work | Q1 2024 |
| In-use date | Q3 2026 |
Estimated Project Costs
Total estimated project cost is $399 million.
Funding for the project will come from a combination of Airport Development Fund and future revenue bonds. As with virtually all airport projects, no tax-payer dollars will be used to fund the project.
Contractors on this project:
GC/CM: Turner Construction
Design: The Miller Hull Partnership and Woods Bagot (Paxson Fay for PR)