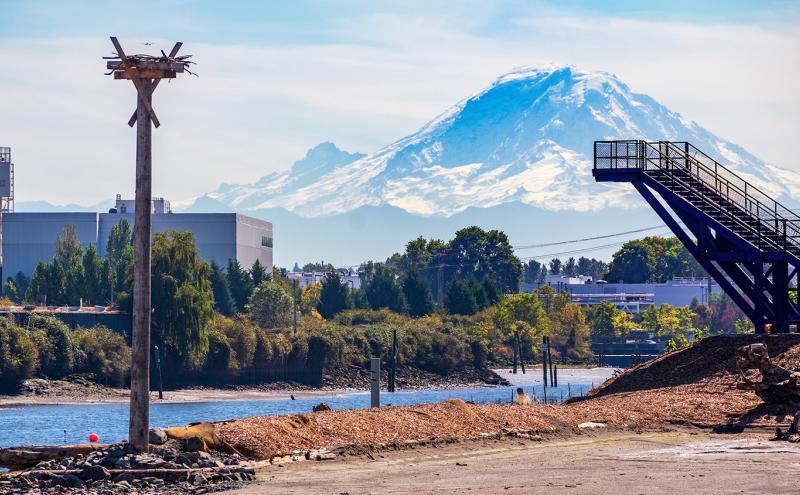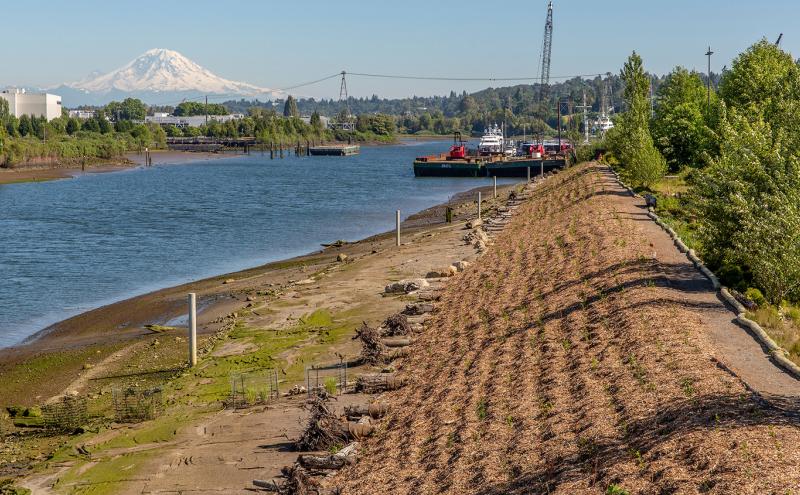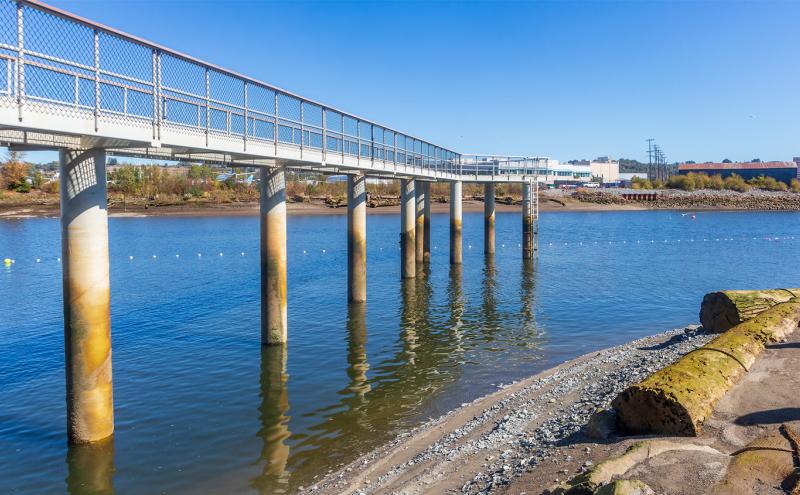 Status: Completed 2022 and open to the public
This project restored 14 acres of habitat and shoreline access located on the west bank of the Lower Duwamish Waterway in South Park. The property was formerly home to Duwamish Manufacturing Company and Malarkey Asphalt Company and more recently it was known as Terminal 117 (T-117). Now that it's open to the public, it is known as the Duwamish River People's Park.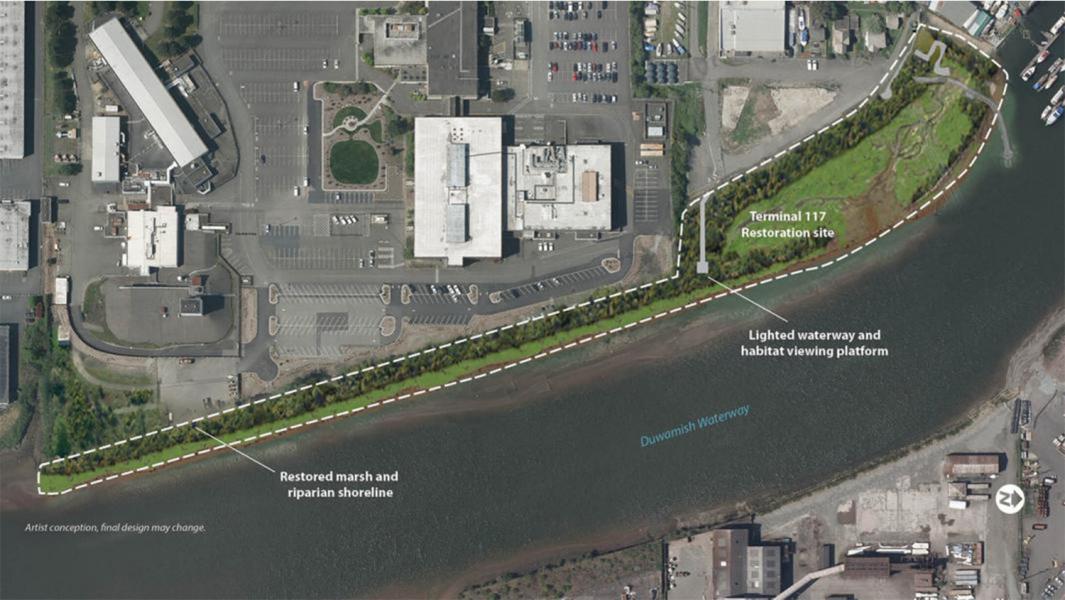 Project Overview
Terminal 117 History
From 1937 to 1993, this site was used for asphalt shingle manufacturing by Duwamish Manufacturing Company and Malarkey Asphalt Company. When it closed in the 90s, left behind was contaminated soil and sediments. 
The Port of Seattle acquired this land in 1999. It was designated as an Early Action Area (EEA) as part of the Lower Duwamish Waterway Superfund site by the U.S. Environmental Protection Agency (EPA). The Port and the city of Seattle have worked side-by-side to conduct multiple large-scale cleanups with oversight by the EPA. 
The large-scale cleanups were done in two phases. The first phase was for the uplands and sediments cleanup which included the removal of pavement, derelict structures, and about 60,000 tons of soil and sediment. Following that, another round of cleanup was done for streets and stormwater. This work included storm drainage pipes under the streets, sidewalks, environmentally friendly landscaping and the installation of art, signage, and rain gardens which will improve the stormwater quality. These two phases of cleanups were wrapped up in 2015 and 2016. 
While this project began as a habitat restoration project, the community saw a bigger opportunity to make use of the space. This cleanup work would lead to the development of turning this property into a public-use park and habitat reserve.
Becoming Duwamish River People's Park
The Port broke ground on the Duwamish River People's Park in 2020. It is 14 acres of critical fish and wildlife habitat and public shoreline access. This project contributes to salmon recovery in the region, which can also support the endangered Southern Resident orca population. This area along the river is also used by Tribal fishers to harvest chinook, coho, pink, chum, and steelhead salmon as they practice their Treaty Fishing Rights during the salmon migration season. Preserving this waterway and honoring the land and practices of the indigenous cultures is a priority for the Port. 
This project establishes the Port's first "habitat credit bank." This will enable third parties to invest in habitat projects as mitigation credits to comply with the Clean Water Act and the Endangered Species Act. Any revenue generated by the Port will help fund additional habitat restoration projects in the Green-Duwamish Watershed and Elliott Bay. In addition, the site will serve as a learning lab for young environmentalists seeking skills training and hands-on experience with careers in habitat restoration and marine wildlife conservation.
The park will be open for all to enjoy the views of the Duwamish River and its shoreline marsh habitat. Some of the park's features include:
Pathway and bridge to 275-foot-long pier
Gathering area, seating, and entrance to shoreline pathways and viewpoints
Public art and interpretive features
Interpretive trail to 0.5 acre restored marsh and riparian area
Marsh platform and stepping stone pathway
Hand-carried boat launch
5.5 acres of restored marsh and native riparian shoreline
750 feet of lighted pathway to viewpoints and interpretive information
Access stairway to 35-foot-high waterway and habitat viewing platform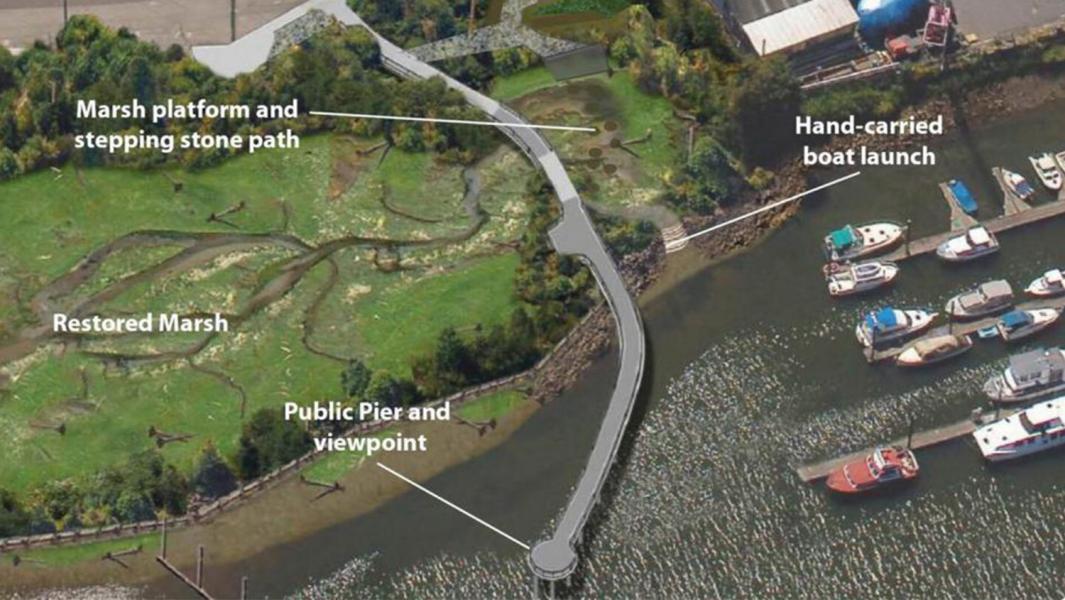 Art Program
The park contains public art and interpretive features.
Timeline
The park opened to the public in summer 2022.
Estimated Project Costs
The project cost an estimated $25.9 million and used previously approved Environmental Remediation Liability funding (tax levy) in addition to funds from a 2008 insurance settlement.