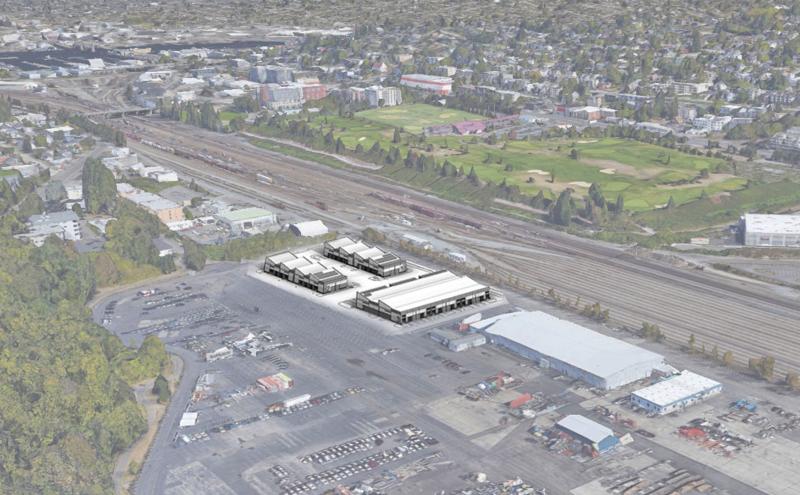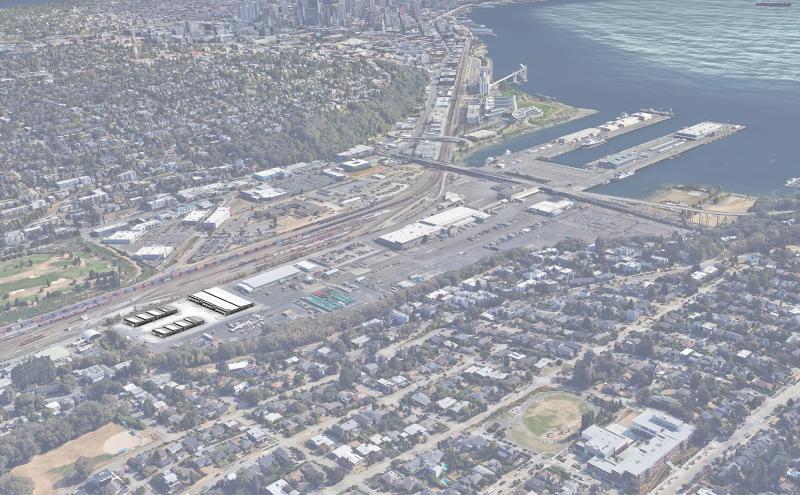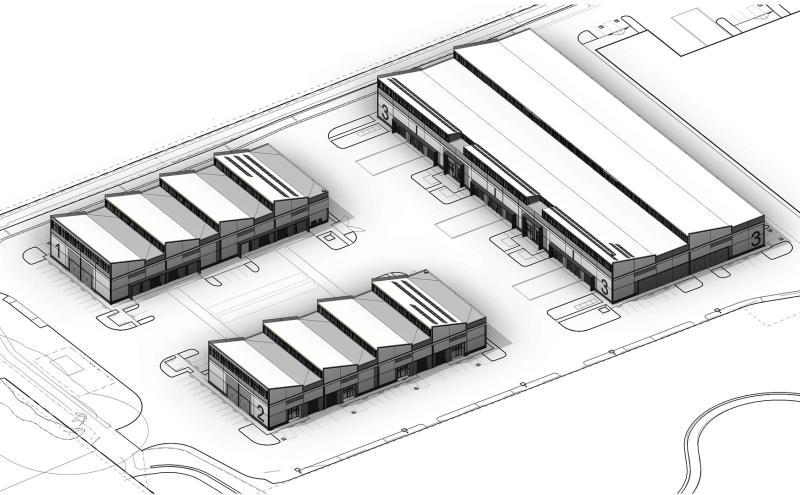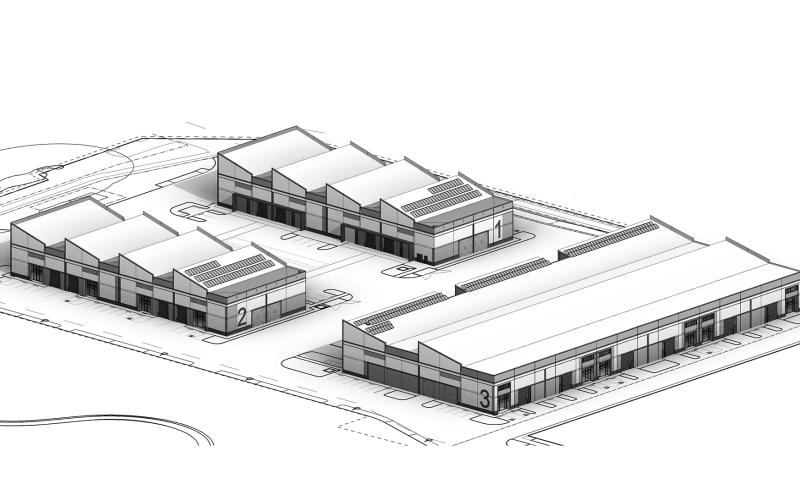 This property lies near the Ballard Interbay Manufacturing Industrial Center and is a vital piece of the Port of Seattle's real estate portfolio. This industrial land is a gateway to the region's economic growth and vibrant maritime community and creates industrial business opportunities within close proximity to Interbay, Ballard, the Lake Washington Ship Canal, and Elliott Bay.
This two-phase project will construct flexible, light industrial building space to help support maritime manufacturers and fishing industry suppliers.
Project Overview
The T-91 Uplands Development Project will add approximately 400,000 square feet of building space to help support the maritime and fishing industries where this Ballard neighborhood is short on industrial space. Developing these buildings will help the maritime and manufacturing companies in an area that lacks affordable industrial space.
The first phase will develop the northernmost piece of this property by creating approximately 120,000 square feet of light industrial space with a three-building design scheme, as well as other site improvements including stormwater upgrades. These buildings will house current T-91 tenants and other maritime companies that have expressed interest an interest in growing their businesses. The second phase would develop another almost 300,000 square feet of additional light industrial space along with other improvements including extensive utility improvements. 
There are many potential benefits to developing this land:
Achieves Port objectives of supporting fishing and maritime clusters 
Improves long-term financial viability of T-91 
Adds major maritime business tenants at T-91
Adds needed light industrial space in the Ballard Interbay area at T-91
Replaces existing aged storm water infrastructure with effective stormwater management controls, including water quality treatment to put T-91 in full compliance with Port and City of Seattle standards
Adds a new sewer system to serve T-91 facility north of the Magnolia Bridge to support existing and future development
Improves existing lighting, electrical, communications, and circulation related infrastructure at T-91 including new bike commuter improvements
The first phase of the T-91 uplands is being designed and built "on spec" ; that is with a wide variety of potential leased space for several contemporary maritime businesses. The new buildings are designed as flexible industrial buildings that can accommodate a wide range of users that are increasingly being displaced from other close-in locations.
Community Benefits
The development of the T-91 Uplands area north of the Magnolia Bridge supports the following Economic Development Division and Maritime Division goals toward achieving Century Agenda objectives:
Continue to grow the economic value of the fishing and maritime cluster including the number of local jobs and business revenue
Generate new revenue to support the Port's commitments to stakeholders
Prioritize uses that support the commercial fishing industry, with a focus on anchoring the North Pacific fishing fleet
Support anticipated growth in cruise ship operations
Prioritize development that maximizes utilization of facility assets
Business Plan Objectives
Support fishing and maritime supply chain companies seeking to expand within the Ballard-Interbay area
Create additional industrial space for fishing fleet and maritime industrial sectors
Support new jobs, generate new revenue and advance maritime innovation for long-term financial stability
Timeline
Phase 1 is the design phase which is expected to complete in 2024 and will likely start construction in 2025.
Phase 2 is expected to begin pre-planning in 2024.
Estimated Project Costs
| | |
| --- | --- |
| Phase 1 | $84 million |
| Phase 2 | TBD |
*On October 10, 2023, the Commission authorized additional design funding to execute the remaining service agreements for professional design and port-related costs for all project elements and improvements necessary to complete design, and inclusion of a 1 percent art program investment for a total estimated project cost of $84 million (previously approved for $80 million).
Contact for this project is Kyra Lise, Lise.K@portseattle.org
See the Port of Seattle's Waterfront Vision