Experience the City of Music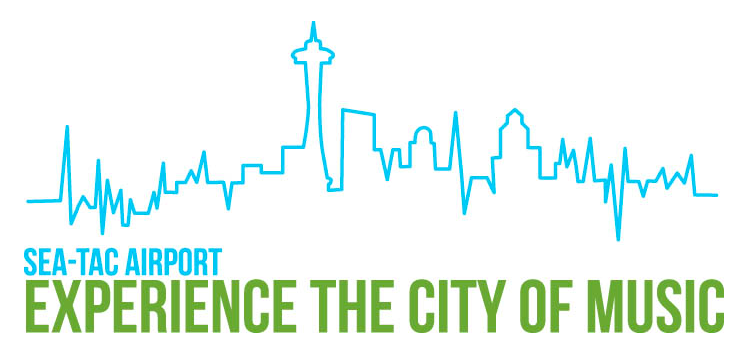 Introduced in 2012, the Experience the City of Music Program is a cooperative effort by the Port of Seattle, the Office of Film + Music, Seattle Music Commission and PlayNetwork. It is a comprehensive effort to showcase the Northwest's diverse music culture and enhance the experience of millions of travelers who pass through the airport.
In 2013, the program was honored as Best Arrivals Experience by the Future Travel Experience Awards to recognize innovative, ambitious and effective initiatives and organizations in the airline industry. Travelers may experience:
Live performances seven days a week at locations throughout the terminal
Overhead music exclusively by more than 240 Northwest artists
Videos featuring clips about Seattle's music scene and history on terminal and baggage claim monitors
Multi-genre web radio available through the airport's free Wi-Fi Network
Music-themed art exhibits curated by MoPOP (Museum of Pop Culture).
Our Partners
The Sea-Tac "Experience the City of Music" initiative is highly successful due to the contributions and collaboration of our community partners.
How to Submit Your Music
All music, video and messaging added to the Sea-Tac Airport playlist will be selected by a committee with members from PlayNetwork, the Port of Seattle and the Seattle Music Commission. These submissions will be reviewed quarterly for inclusion in the program. Decisions will be made based on suitability for a public audience of all ages.
For music submissions
Submit to Play Network via label representative, if possible. Interested musicians should follow the instructions below for submitting music and video content for consideration.
For FTP/digital delivery
(preferred Format – 320kbmp3)
Please send email for login information: PlayNetwork Gabriel Marowitz: Gmarowitz@playnetwork.com
You must use a FTP software interface to transfer files – such as filezilla.
For CD hardcopies
Please send to: PlayNetwork
Attn: Sea-Tac Airport Music Submission 8727 148th Ave NE Redmond, WA 98052
For electronic music submits for mp3's
(using transfer such as YouSendIt, WeTransfer, DropBox) or a link from a hosted site
Please email: PlayNetwork Gabriel Marowitz: Gmarowitz@playnetwork.com
MUSICIANS WANTED:
Gigs4U helped create the live music program for the Port of Seattle at Sea-Tac International Airport in March 2013.   Travelers may experience some of the three live performances programmed by Gigs4U seven days a week at locations throughout the terminal.
Interested in performing at the airport