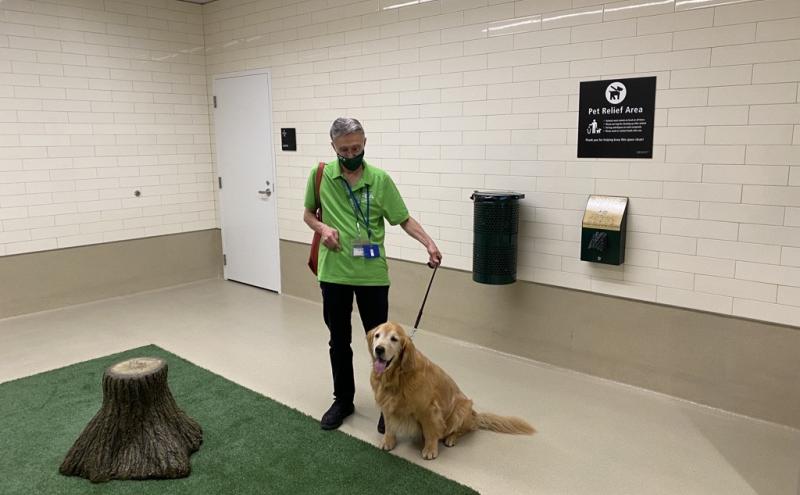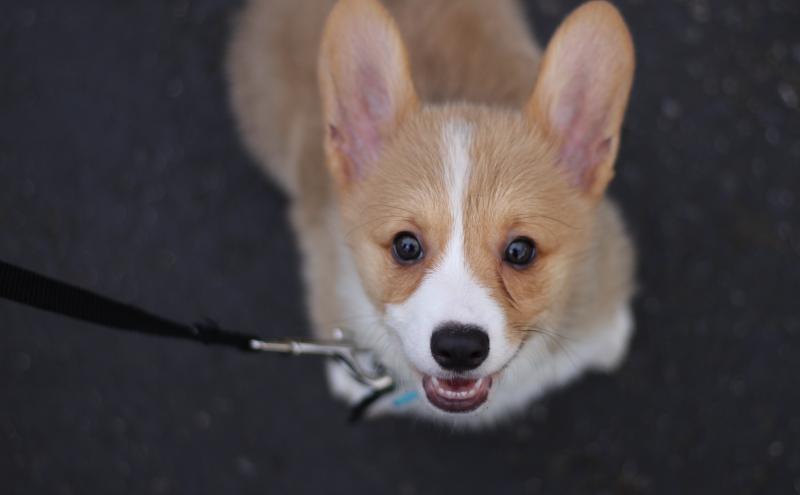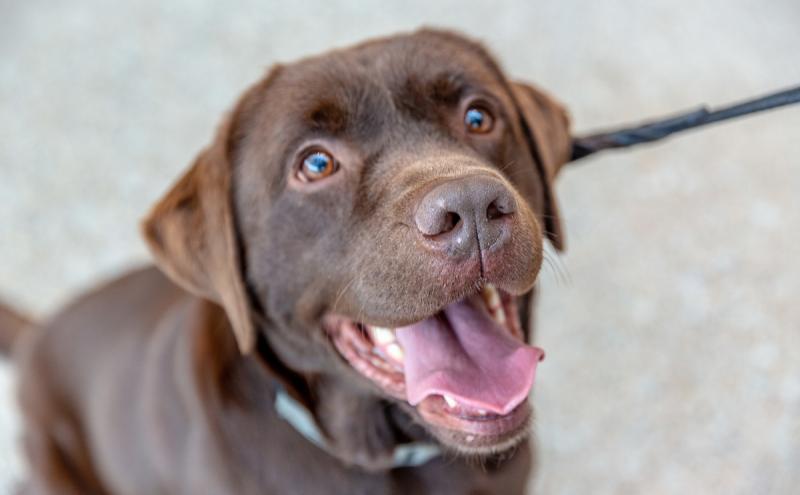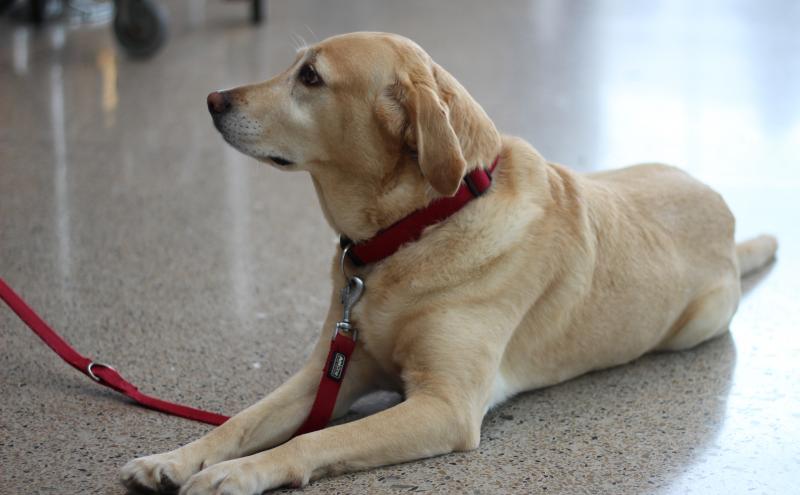 Traveling with an animal at the airport
Pet Travel Requirements
If you're traveling with your pet, be prepared by knowing the strict regulations governing international pet travel. Remember to make arrangements with your airline in advance. Help keep your animals safe! Handlers should keep pets leashed at all times while going through TSA screening, at the Pet Relief Areas, and throughout the terminal. When navigating the terminal with a pet please use the elevators, not the escalators, in order to prevent injury. Make sure your pet is healthy and fit to fly prior to traveling! Whether it's in the cabin, in the belly, or as checked baggage the American Veterinary Medical Association can help with clearing your pet for air travel.
Before you travel, do the following:
Coordinate and book your pet's flight through your airline directly. If your pet is too big to travel as carry-on baggage, isn't a service animal, or if pets aren't allowed to travel in the cabin to your destination country you may have to book them as cargo. Check the airline's policies on flights as some with an average flight time of greater than 12 hours will not accept animals traveling as cargo for their health and safety.
Contact the embassy or consulate of the destination country to determine pet travel regulations
Obtain all necessary paperwork (such as health certificates and documentation ) regarding your pet's travel
Contact your local veterinarian to ensure your pet is in compliance with foreign health regulations
Check with the CDC about the importation of pets into the United States
Check with APHIS about international animal export regulations
Traveler Alert: Service Animal Policy Changes
Effective Jan. 11, 2021, the U.S. Department of Transportation (DOT) announced upcoming changes to the Air Carrier Access Act that impacts emotional support and service animals for air travel.  Anticipated changes include, but aren't limited to: airlines will recognize emotional support animals as pets rather than service animals, forms may be required 48 hours prior to travel, the number and type of service animal a passenger can have, and other limitations. For more specific information please refer to the rules set by DOT or to find out their pet and service animal policies and if you have any questions regarding animals on flights, please contact your airline directly.
TSA Screening
Animals should not be screened through an x-ray. Handlers should securely lead the leashed pet or service animal through TSA screening processes. Service animal accessories such as carriers, harnesses, and vests, etc. are also subject to screening. Animals are not allowed in TSA screening lanes while the K9s are working. If you have a pet going through TSA screening, you may be redirected to another checkpoint by an airport employee if the TSA K9s are working that checkpoint.
Pet Relief Areas
We know how important it is to take care of your furry ones, so we have pet relief locations for them both inside and outside of the terminal. All pets must be in their travel carriers and leashed when in the Terminal. The only exception is training/service dogs and other specially trained pets assisting travelers with disabilities.
When using the Pet Relief Areas, please clean up after your pet with the pet waste bags, hand sanitizer, paper towel dispenser and trash for proper disposal provided at each unit.
If any janitorial maintenance is needed at any of these units, please call (206) 787-5229.
More Pet Relief Areas are to be expected to accommodate for our passenger's four-legged friends! See a map of current pet relief locations as well as find our Pet Relief Areas on our interactive map.
In the Terminal
There are currently four pet relief areas in the secured section of the terminal. These units have pet waste bags, hand sanitizer, a paper towel dispenser, and trash for proper disposal.
CONCOURSE D pet relief area is located on the Subway level of the D Gates near the yellow wall. This location is the closest to the North Satellite during its construction.

CONCOURSE S pet relief area is located on the Mezzanine Level of the South Satellite near the escalators.

CONCOURSE N pet relief area is located on the Train level of the North Satellite near the restrooms.

CENTRAL TERMINAL pet relief area is located across from Hudson News in the Central Terminal, just before the Concourse B exit. 
INTERNATIONAL ARRIVALS FACILITY pet relief area is located on the Mezzanine Level for internationally arriving passengers only in the U.S. Customs area near the restrooms.
Outside the Terminal
There are currently four locations outside the Main Terminal equipped to serve as "pet potties" for traveling animals
​​On the North end: Located outside of door #33 by Alaska Airlines on the Ticketing level/Departures Drive
On the North end: Located outside of door #26 by Alaska Airlines on the baggage claim level/Arrivals Drive
On the South end: Located at the south end of the airport near door #05 by the International counters on the Ticketing level/Departures Drive
On the South end: Located at the south end of the airport near door #00/02 on the baggage claim level past Carousel 1
Near the Parking Garage: Located outside on the first level of the parking garage near the blue elevators and the cruise lobby's exit to transportation