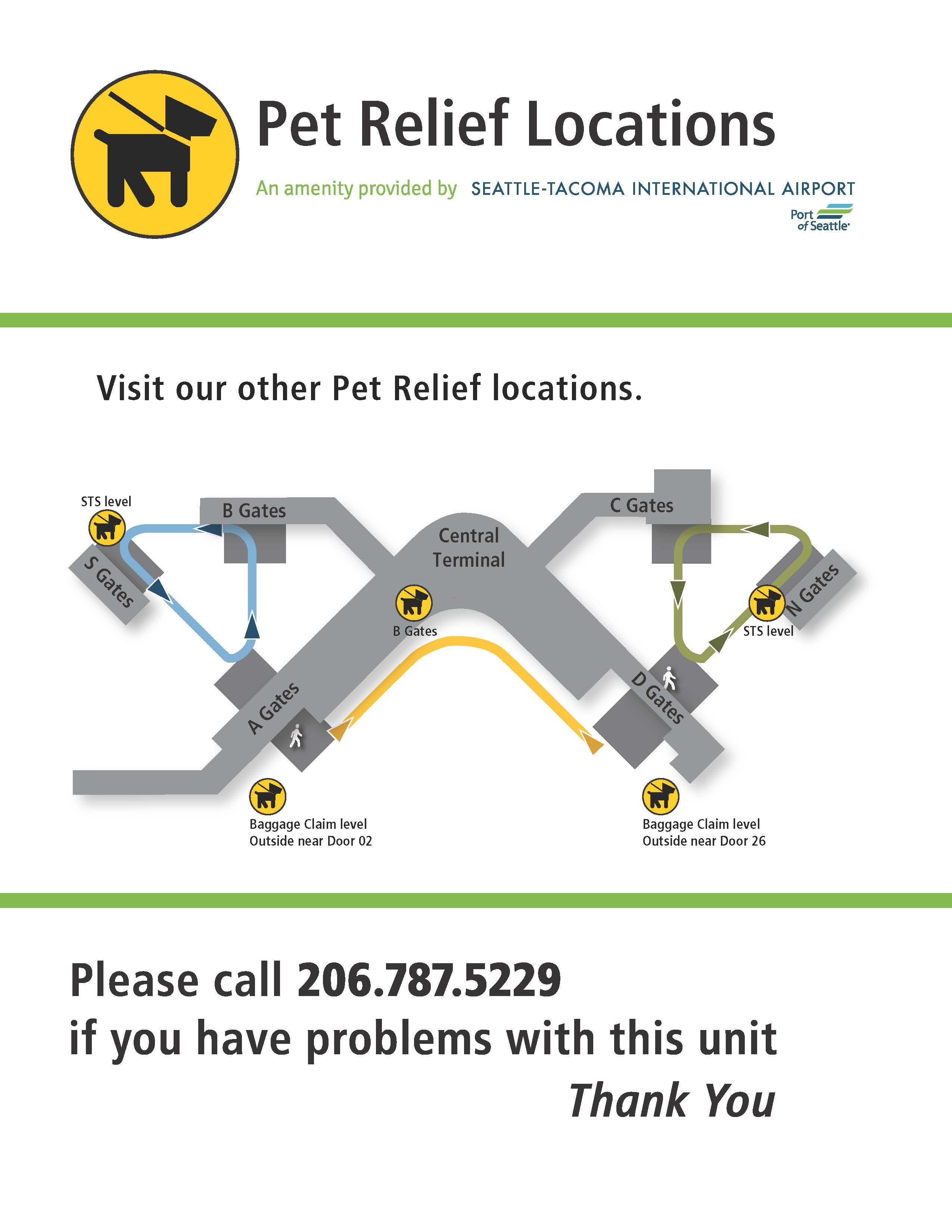 We know how important it is to take care of your furry ones, so we have pet relief locations for them, both inside and outside of the terminal.
In the Terminal
All pets must be in their travel carriers when in the Main Terminal building. The only exception is training/service dogs and other specially trained pets assisting travelers with disabilities.
There are currently three pet relief areas in the secured section of the terminal. These units have pet waste bags, hand sanitizer, a paper towel dispenser and trash for proper disposal.
NORTH SATELLITE pet relief area is located on the STS level of the N Gates near the escalators

SOUTH SATELLITE pet relief area is located on the STS level of the S Gates near the escalators

CONCOURSE B pet relief area is located across from Hudson News, just before the Concourse B exit. 
If any janitorial maintenance is needed at any of these units please call (206) 787-5229. See a map of current pet relief locations below.
Outside the Terminal
There are currently two locations outside the Main Terminal equipped to serve as "pet potties" for traveling animals. More Pet Relief Areas are to be expected to accommodate for our passenger's four-legged friends!
​​One is located outside of
Baggage Claim
outside of
door #26
, just past
Carousel 16
. It is a small sandy area to the left under the stairs. The other Pet Relief Area is located at the south end of the airport near
door #00/02
on the baggage claim level past 
Carousel 1
.
Picking up or shipping pets or other live animals
If a traveling passenger has checked in a live animal as baggage, it can be picked up at baggage claim. Passengers should contact their airline directly for further information. If a live animal has been shipped unaccompanied, the animal can be picked up at Sea-Tac's air cargo facilities. Customers should contact their specific freight carrier for more information.