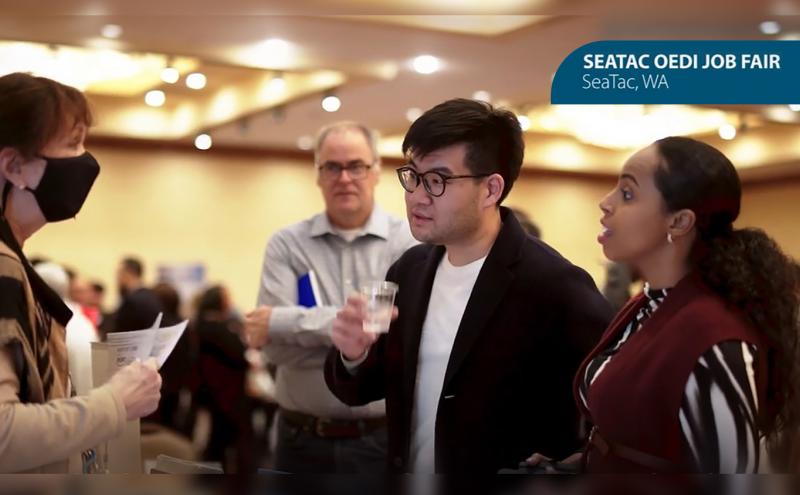 Jun 14, 2022
Port job fairs
As your Port of Seattle Commissioner, I am focused on expanding economic opportunity across King County. This focus is why I was excited to participate in one of four job fairs the Port recently organized. These events gave people the ability to meet either in person or virtually with over two dozen potential employers advertising hundreds of available positions.
While I personally see the abundance of available jobs as a good sign that the local economy is recovering from the effects of the pandemic, I also recognize that some people are facing barriers to participation in the workforce. We need to work to remove these barriers by increasing childcare and senior care options for families, providing medical benefits, and incentivizing flexible scheduling.
Please watch a brief video I recorded at the job fair talking about additional supports that the Port is working to provide to local businesses to boost economic recovery.
My favorite space at SEA
Have you had a chance to see the new International Arrivals Facility (IAF) at SEA? I was lucky enough to get the chance to greet the very first planeload of passengers to use this new signature feature of SEA after they flew all the way from Incheon International Airport in Korea.
When these passengers arrived at SEA, they crossed the longest walkway over an active airplane taxi lane in the world – 780 feet long and 85 feet above the ground. These passengers then entered the IAF's Grand Hall, a 450,000 square-foot baggage claim and customs processing area that is more than four times the size of the previous space in the S Concourse. With its sweeping views of the local area and the Cascade Mountains beyond and bold permanent artwork installations, this is my new favorite place in the whole airport.
Please view a photo gallery of the International Arrivals Facility marking the momentous occasion for our region.
Naturalization Ceremony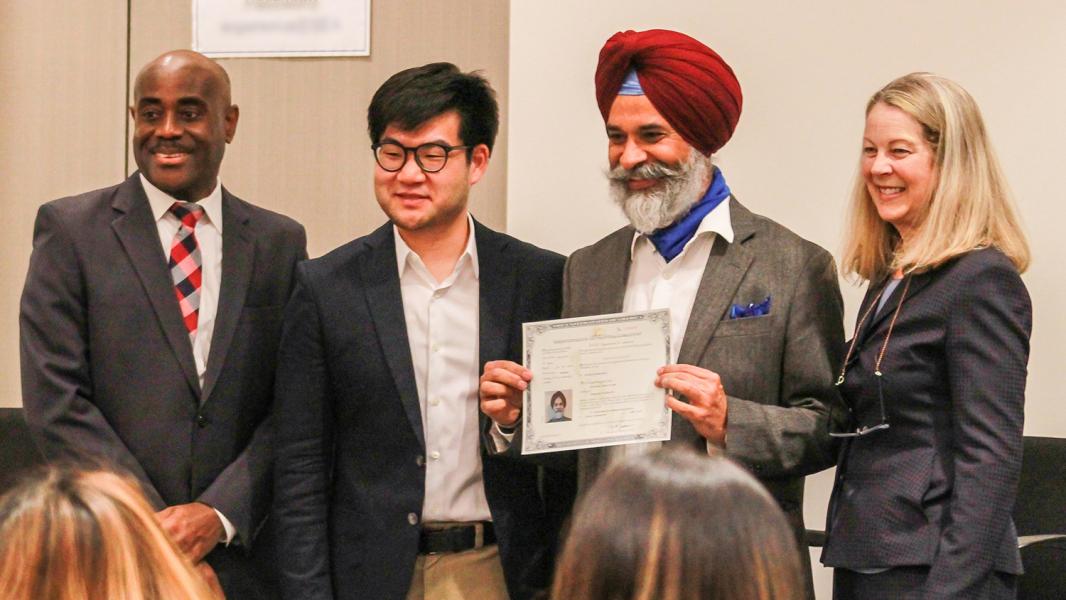 Last month I had the distinct honor of giving the keynote address at a naturalization ceremony for thirty-five brand-new US citizens. I'm proud of the commitment the Port of Seattle has made to supporting immigrants and refugees who come to our region. This is only fair, as the Port exists because of immigrants and international visitors.
We serve international travelers who are eager to visit our region through our airport and cruise terminals. We facilitate global consumer and commercial trade that is boosted by labor and innovators from around the world. Finally, every day we welcome thousands of immigrants who either work for the Port directly or work for companies that operate in or around our facilities.
As a global gateway and a King County-wide government, the Port has both an economic and moral responsibility to be a local and national leader on immigration issues and to engage in activities to support and protect the rights and quality of life of immigrants, refugees, and foreign visitors. I offer my hearty congratulations to these new citizens.
Select the link to view a photo gallery of the Naturalization ceremony.
Supporting Asian American, Native Hawaiian, Pacific Islander communities
Finally, Commissioner Hasegawa and I had the opportunity to co-sponsor a proclamation honoring our diverse community and workforce in honor of Asian American, Native Hawaiian, and Pacific Islander (AANHPI) Heritage Month. Please watch a short video highlighting the Port Commission proclamation we introduced in support of the AANHPI community.