Aug 20, 2021
I had the distinct honor of spending two days this week alongside U.S. Department of Transportation Deputy Secretary Polly Trottenberg. 
This isn't the first time the Port of Seattle has garnered interest from the Secretary's Office. Back in May, Executive Director Metruck and I co-authored an OpEd for the Seattle Times about Broadening the Vison of Port Infrastructure. A few days later, @SecretaryPete gave us a shout out: "Ports like the Port of Seattle are vital to our trade and manufacturing. We need to invest in the success of our ports and waterways on Twitter." It's great to know that your message reached its target audience.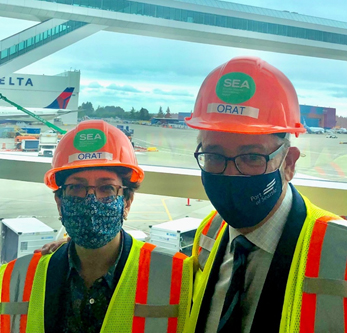 The Port of Seattle is especially appreciative of the Biden Administration's leadership in pursuing the Infrastructure Investment and Jobs Act and especially Secretary Buttigieg's commitment to assuring critical Port infrastructure investments are included in the package.
In particular, we're deeply grateful for the proposed $20 billion in airport infrastructure investments that will not only help us build world-class travel and trade facilities that create jobs and stimulate our economy, but also recognize the need to reduce our impacts to surrounding communities and the climate. The Port of Seattle has a goal to be the greenest port in North America. 
In particular, we strive to power every flight fueled at Seattle-Tacoma International Airport (SEA) with at least a 10 percent blend of Sustainable Aviation Fuel (SAF) by 2028. The Port has been working on this issue for over a decade, partnering with our airlines, with Washington State University, and most recently with King County to identify the infrastructure, financing, and feedstocks to make our SAF vision a reality. On Tuesday, Executive Director Metruck and I welcomed Deputy Secretary Trottenberg to SEA. 
 
Pre-pandemic, SEA has been one of the fastest growing airports in the country. We finished 2019 as the 8th busiest airport in the country by passenger volumes with almost 52 million passengers – up from 31 million 2010. While we're currently operating at 30% below 2019 domestic passenger levels and 70% below in international travel, the numbers are rebounding quickly; we have to continue to invest to meet growing demand. The nearly billion-dollar International Arrivals Facility will provide a world-class customer experience in a new multi-level, 450,000 square-foot facility to accommodate increasing demand while demonstrating our commitment to being a leading business and tourism gateway. 
On Wednesday, my fellow managing member of the Northwest Seaport Alliance (NWSA) Commissioner Deanna Keller and I had the privilege of hosting U.S. Senator Maria Cantwell at the Port's Terminal 5 for a press conference welcoming Deputy Secretary Trottenberg to Seattle. As noted in the senator's press release, the event was to "see first-hand how the Port of Seattle is cutting maritime emissions, improving air quality, electrifying and decarbonizing operations to tackle climate change, and increase economic competitiveness."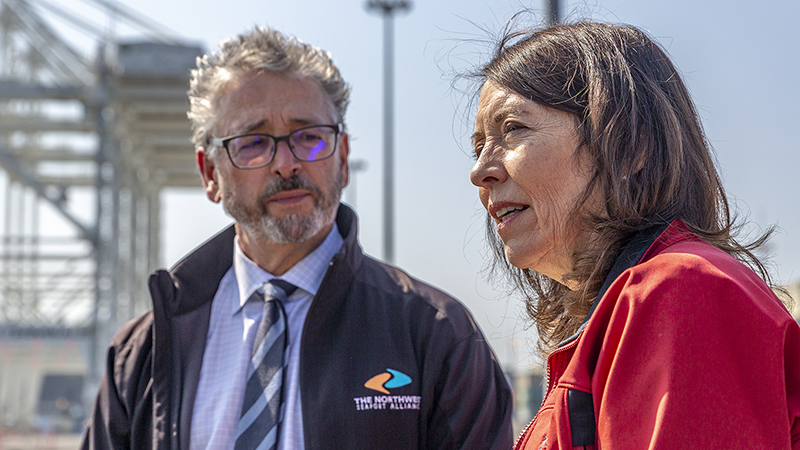 Several years ago, the NWSA made the decision to invest in modernizing Terminal 5 to be "big ship ready." A key element of this project is the upgrades to the terminal's electrical capacity and installing shore power infrastructure which enables ocean carriers to run their ships while at berth with clean hydropower from Seattle's electric grid. The additional power will also enable us to electrify cargo handling equipment. SSA Marine just invested $50 million to bring in four electrified super post Panamax cranes which will allow us to move more containers per ship call. The existence of on-dock rail will further reduce emissions by decreasing the need for some drayage trucks – another element of the supply chain which we are also seeking funding to transition away from diesel. Reducing emissions from truck, cargo handling equipment, and vessels at berth benefits nearby communities as well as the climate.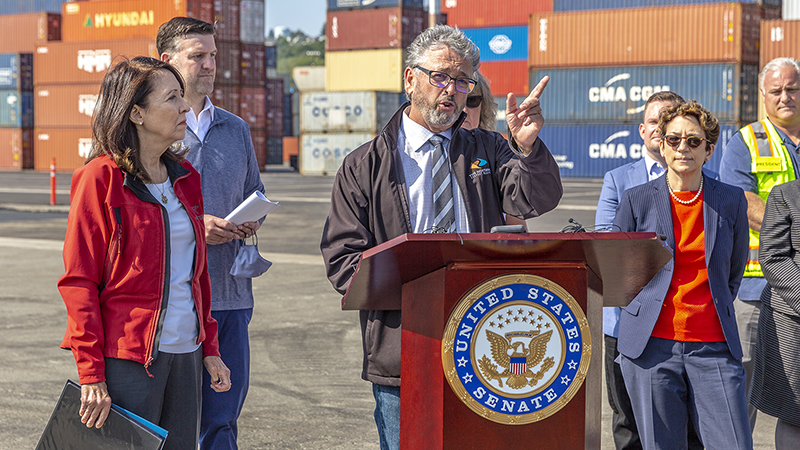 Deputy Secretary Trottenberg's visit was a great opportunity to showcase that the Port of Seattle and the NWSA are leaders at the intersection of innovation and sustainability. Moreover, from the launch of the regional, state, and federal Quiet Sound program, to the adoption of the 2020 Northwest Ports Clean Air Strategy, to supporting the enactment of a statewide Low Carbon Fuels Standard, these projects are just a few examples of how we have demonstrated that we are well on our way to reaching our goal to be the greenest port and gateway in North America.
Approval of the "once-in-a-generation investment in American infrastructure" bill would deliver $6 billion to the state of Washington overall – a large portion of that is earmarked for the Port of Seattle. I am grateful for the opportunity to highlight the many ways in which this federal funding will benefit our port, our region, and our state. To show my gratitude, I gave Deputy Secretary Trottenberg a photo of mine, depicting a killer whale and a freighter, to remind that we want to green our ports to enable commerce, communities, and killer whales to co-exist.
We call on Congress to pass the Infrastructure Investment and Jobs Act (IIJA) and the larger infrastructure bill through reconciliation, so we can build back better together.
Photo at top of story shows Commissioner Felleman presenting Deputy Secretary Trottenberg with a photo he took of an Orca in Puget Sound.