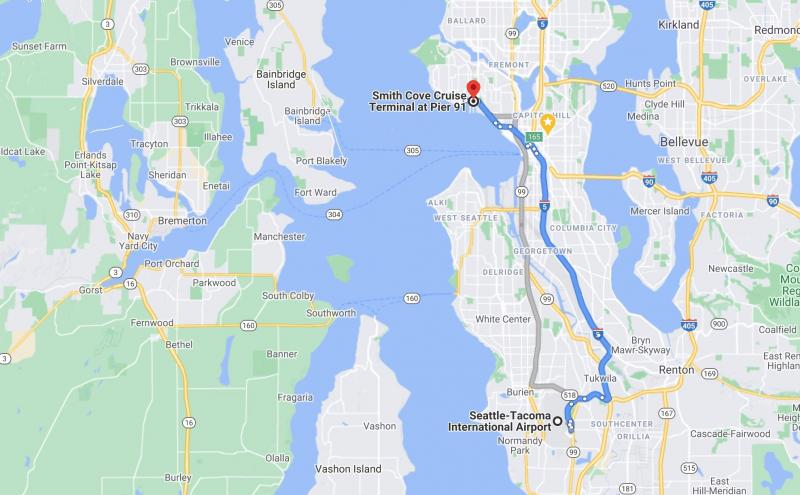 Terminal Address
Smith Cove Cruise Terminal at Pier 91
2001 W Garfield Way, Seattle, WA 98119
Airport to Terminal
Direct - Airport to terminal in one 30-40 minute ride
Rideshare: The app-based rideshare pickup area is located on the third floor of the SEA airport parking garage in parking rows G thru J (stalls 1-34) in the orange and purple sections of the garage.
Taxis: Taxis are stationed on the third floor of the SEA airport parking garage on the north and south curb. For assistance navigating to the taxi pick-up location, please use our interactive map.
Motor Coach Transfer: Some cruise lines and travel planners offer motor coach transfer service from SEA airport to direct to Pier 91. Contact Your Cruise Line or travel agent to confirm availability and make arrangements before your trip.
Scheduled Airport Shuttle Transfer:  Here is a link to the operators website that provides scheduled shuttle transportation from SEA airport direct to pier 91.
Multi-mode
There is no direct mass transit option from Seattle-Tacoma International Airport to Smith Cover Cruise Terminal at Pier 91. Train and bus service are available to downtown Seattle only. 
From downtown Seattle, utilize taxi or rideshare services to reach the Smith Cove Cruise Terminal.
---
Driving Directions 
 
From Interstate 5
Take the Mercer Street Exit (Exit 167) then turn left at Fairview  Avenue North. Turn left at Denny Way and continue straight. Bend right to Western Avenue. Western Avenue joins to Elliott Avenue West. Follow signs to Magnolia Bridge. Turn right at 14th Avenue West (signal light at intersection). Stay to the right and follow ramp to join the Magnolia Bridge (West Garfield Street). Exit right. Follow signs to Smith Cove Park and Cruise Terminal. Turn right at bottom of ramp and follow signs for cruise terminal parking or cruise terminal.
---
Parking
 
General Parking
Pier 91 parking is available to all cruise passengers. The secure lot offers 1,000 spaces and is conveniently located on-site. A complementary shuttle makes parking easy. Friends and family who pick up or drop off passengers also are encouraged to use the lot or the free cell phone lot.
General parking is available for $27* per day. Book online at Republic Parking Northwest
1,000 secure spaces available
Complementary shuttle from parking to terminal
Questions? Call the Republic Parking at (206) 783-4144
RV and Trailer Parking
RV and trailer parking is available for $40.00* per day. RV parking must be reserved and prepaid online to guarantee a space. Questions? Call the Republic Parking at (206) 783-4144.
*Rates subject to change.