Hotel and Offsite Courtesy Shuttles
ATTENTION: The Hotel and Off-Site Parking Courtesy Island will be closed Mon, Mar 16 thru Sat, Mar 21 to all vehicles and travelers. During this time all Courtesy vehicles will be pick up at Door 6 (South End of Baggage Claim) and Door 22 (North End of Baggage Claim.)  To contact your Hotel please use the list below or the list and free phones located on the escalator banks on Baggage Claim.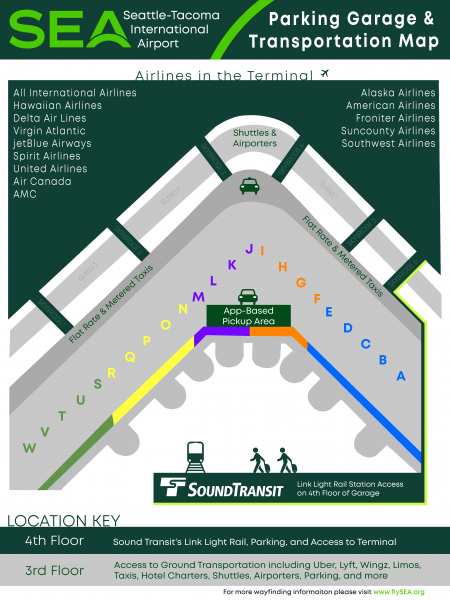 ​
Hotels, Motels, and Off-Site parking companies offering Courtesy Shuttles will pick up and drop off on the courtesy island shuttle lane. This is located on the 3rd floor of the parking structure on Island 1 and 3. Courtesy phones to contact your hotel or off-site parking company are located along the courtesy islands. Please contact your Hotel, Motel or Off-Site parking company directly to see if they offer a courtesy shuttle and for any ADA accommodations needed.
Directions from the Baggage Claim Level to Bus Charter Lot:
View an expanded version of the SEA Airport Garage and Ground Transportation Map. For navigation assistance, please use our interactive map (search "courtesy vehicle shuttle") or download the SEA Mobile App for step-by-step directions.
Continue down Baggage Claim to Baggage Claim 16. Take the Elevator or Escalator up to the "Parking" Level. Cross the Sky bridge into the parking structure where you will find the Blue/White Striped Elevator Bank. Take the Blue/White Striped Elevator to "Floor 1." Once on Floor 1, follow the signage to "Cruise and Charter Buses along the white gated pathway. Enjoy Your Visit!
Charter Bus Information
Booked a Charter Bus for your group? Once everyone in your group has picked up their baggage, call 206-787-5906 to have your bus dispatched.  Proceed to the North East Charter Bus Lot located on the North End of the Parking Structure.
Hotel Courtesy Vehicle Contact Information
Hotel

Courtesy Island

Speed Dial

Direct

Phone Number

Hotel

Address

Aloft Hotel

65
206-444-7580 
19030 28th Ave S, SeaTac, WA 98188

Best Western - Airport Executel

14
206-878-3300
20717 International Blvd, Seattle, WA 98198

Best Western - Evergreen Inn & Suites

92
253-529-4000
32124 25th Ave S, Federal Way, WA 98003

Best Western - Plaza By the Green

22
253-854-8767
24415 Russell Rd Kent, WA 98032

Cedarbrook 

56
206-901-9268
18525 36th Ave S Seattle, WA 98188

Clarion - Renton 

21
425-251-9591
3700 E Valley Rd, Renton, WA 98055

Clarion - SeaTac  

38
206-242-0200
3000 S 176th St, Seattle, WA 98188

Coast Gateway

45
206-248-8200
18415 International Blvd, Seattle, WA 98188

Columbia Pacific Aviation

64
206-572-9935
7610 Andrews St NE Moses Lake, WA 98837

Comfort Inn - Kent

67
253-872-2211
22311 84th Ave S, Kent, WA 98032

Comfort Inn & Suites - SeaTac

51
206-878-1100
19333 International Blvd, SeaTac, WA 98188

Comfort Suites - Tukwila 

02
425-227-7200
7200 Fun Center Way, Tukwila, WA, 98188, US

Country Inn and Suites

88
206-433-8188
 3100 S 192nd St, Seattle, WA 98188

Courtyard By Marriot - Fed. Way

24
253-529-0200
31910 Gateway Center Blvd S, Federal Way, WA 98003

Courtyard By Marriot - Southcenter

36
206-575-4641
400 Andover Park W, Tukwila, WA 98188

Courtyard By Marriot - Tukwila

95
425-255-0300
16038 W Valley Hwy, Tukwila, WA 98188

Crown Plaza - SeaTac

28
206-910-6284
17338 International Blvd, Seattle, WA 98188

Days Inn - SeaTac Airport 

35
206-244-3600
19015 International Blvd South, SeaTac, WA 98188

Days Inn - South Seattle

48
206-241-2200
13050 48th Ave S, Seattle, WA 98168

Doubletree Hotel - SeaTac Airport

85
206-246-8600
18740 International Blvd, Seattle, WA 98188

Doubletree Guest Suites - Southcenter

08
206-575-8220
16500 Southcenter Pkwy, Seattle, WA 98188

Econo Lodge - SeaTac Airport 

17
206-431-9502
13910 Tukwila International Blvd, Seattle, WA 98168

Embassy Suites Hotel - Southcenter 

41
425-227-8844
15920 W Valley Hwy, Seattle, WA 98188

Extended Stay - Southcenter

01
206-244-2537
15635 W Valley Hwy, Tukwila, WA 98188

Extended Stay America - Renton

81
206-244-2537
1150 Oakesdale Ave SW, Renton, WA 98057

Fairfield Inn By Marriott - SeaTac

03
206-592-8760
19631 International Blvd, SeaTac, WA 98188

Four Points by Sheraton - Seattle Airport South 

12
253-642-0100
 22406 Pacific Hwy S, Des Moines, WA 98198

Hampton Inn & Suites - Seattle Airport/ 28th Ave 

49
206-244-5044
18850 28th Ave S, SeaTac, WA 98188

Hampton Inn - SeaTac 

42
206-878-1700
19445 International Blvd, Seattle, WA 98188

Hampton Inn - Southcenter

47
425-228-5800
7200 S 156th St, Tukwila, WA 98188

Hawthorn Suites - Kent

40
253-395-3800
6329 S 212th St, Kent, WA 98032

Hilton Garden - Renton

30
425-430-1414
1801 E Valley Rd, Renton, WA 98057

Hilton Garden Inn SeaTac

74
206-734-4500
3056 S 188th St, SeaTac WA 98188   

Hilton - SeaTac Airport

27
206-244-4800
17620 International Blvd, Seattle, WA 98188

Holiday Inn Express

82
206-870-2576
19621 International Blvd, SeaTac, WA 98188

Holiday Inn Express-Tukwila

44
206-294-3700
90 Andover Park East, Tukwila  WA 98188

Home 2 Suites By Hilton - Seattle Airport

84
206-623-7300
380 Upland Dr, Tukwila, WA 98188

Homestead Studio Suites - Southcenter

01
425-235-7160
15635 West Valley Highway, Tukwila WA 98188

Homewood Suites Hilton Tukwila-Southcenter

43
206-433-8000
6955 Fort Dent Way, Tukwila WA 98188

Hotel Interurban 

78
206-945-4902 
223 Andover Park E, Tukwila, WA 98188

La Quinta Motor Inn

99
206-241-5211
 2824 S 188th St, Seattle, WA 98188

Larkspur Landing 

16
425-235-1212
1701 E Valley Rd, Renton, WA 98055

Marina Inn

37
206-824-9920
 22300 7th Ave S, Des Moines, WA 98198

Marriott - SeaTac Airport 

31
206-241-2000
3201 S 176th St, Seattle, WA 98188

Motel 6 SeaTac Airport

58
206-248-9000
18900 47th Ave S, Seattle, WA 98188

Quality Inn - SeaTac Airport

32
206-241-9292
2900 S 192nd St, Seattle, WA 98188

Radisson Inn Gateway 

33
206-244-6666
18118 International Blvd, Seattle, WA 98188

Ramada Inn - Kent 

11
253-395-4300
22318 84th Ave S, Kent, WA 98032

Ramada Inn - Tukwila 

34
425-226-1812
15901 W Valley Hwy, Tukwila, WA 98188

Ramada Inn Limited - SeaTac North 

57
206-244-8800
4006 S 139th St, Tukwila, WA 98168

Ramada Inn - Seattle 

10
206-277-0700
16720 International Blvd, SeaTac, WA 98188

Red Lion - Renton 

18
425-226-7700
1 S Grady Way, Renton, WA 98057

Red Lion - SeaTac Airport  

29
206-246-5535
18220 International Blvd, SeaTac, WA 98188

Red Roof Inn

46
206-248-0901
16838 International Blvd, Seattle, WA 98188

Residence Inn By Marriott - SeaTac

05
206-878-6188
19608 International Blvd, SeaTac, WA 98188

Residence Inn By Marriott - Seattle South

25
425-226-5500
16201 W Valley Hwy, Tukwila, WA 98188

Rodeway Inn

19
206-588-0260
2930 S 176th St, SeaTac, WA 98188

SeaTac Crest Motor Inn

63
206-433-0999
18845 Pacific Coast Highway South, SeaTac, WA 98188

SeaTac Inn

90
206-244-1230
17108 International Blvd, SeaTac, WA 98188

SeaTac Skyway Inn

13
206-878-3310
20045 International Blvd, SeaTac, WA 98198

SeaTac Value Inn

54
206-878-8427
22246 Pacific Hwy S, Des Moines, WA 98198

Sleep Inn - SeaTac

59
206-878-3600
20406 International Blvd, SeaTac, WA 98198

Spring Hill Suites by Marriott - Renton

98
425-226-4100
200 SW 19th St, Renton, WA 98057

Super 8 by Wyndham

52
206-431-6884
3423 S 160th St, SeaTac, WA 98188

Townplace Suites by Marriot - Kent

53
253-796-6000
18123 72nd Ave S, Kent, WA 98032

Townplace Suites by Marriot - Renton 

07
425-917-2000
300 SW 19th St, Renton, WA 98057

Wingate By Wyndham SeaTac Airport

62
206-242-8686
19031 International Blvd, SeaTac, WA 98188